This is a sponsored post written by me on behalf of Orajel™ Kids.
Can I admit something to you? I'm not very good about monitoring my children's oral hygiene habits. I taught them how to brush their teeth, and then I let them go for it, remembering only occasionally to remind them to actually do so.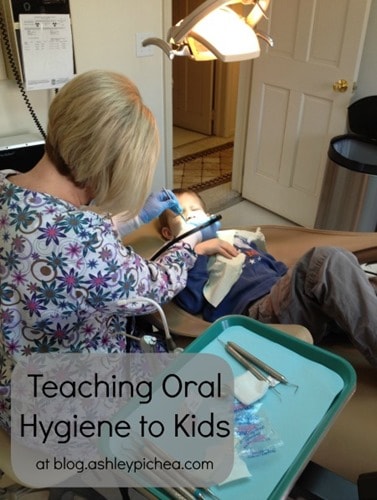 Be Proactive Versus Reactive
In the last two weeks, both Jenny and David have been to the dentist for cleanings, and even though we avoid excessive amounts sugar and other enamel eroding substances, they both have cavities or the start thereof.
Jenny is 7 and is getting her first filling next week.
David is 5 and will probably have to have cavities filled before his sixth birthday if things don't change soon.
Chris will turn 1 before the month is over, and though he's currently toothless, I have a feeling we'll be seeing those pearly whites before too long.
It's time for me to be intentional and proactive about my children's oral hygiene.
Remember the Smilestones
My kids' first cavities aren't the "Smilestones" I want to remember…
I want to remember the day when their first teeth popped through their gums.
I want to remember the day their first wiggly tooth came out.
I want THEM to remember going to the dentist and getting a "great job keeping your teeth clean and healthy" report.
And that's why I was super excited to arrive home from the dentist last week to find a box of Orajel Kids products on my front porch. (Seriously, the timing could NOT have been ANY more perfect!)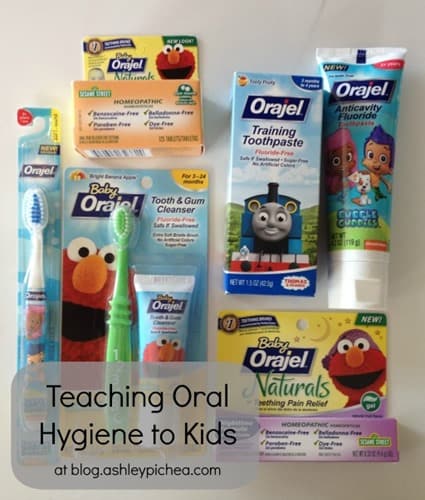 David (who'd just had a sensory meltdown at the dentist's office and refused to let the hygienist clean his teeth) immediately claimed the Orajel™ Bubble Guppies™ Manual Toothbrush and the Orajel™ Bubble Guppies™ Anticavity Fluoride Toothpaste, racing into the bathroom to brush his teeth.

I saw the Baby Orajel™ Naturals Nighttime Teething Gel and breathed a sigh of relief as a certain almost-one-year-old has been MISERABLE these last two weeks with his first teeth trying to make an appearance.
I loved that there are Orajel™ products that fit each of my kids where they are in their oral hygiene "learning process": teething (Chris), training (David), and brushing independently (Jenny)!
Use What Works
Though I'm not normally one to buy "kid-centric" products when we can buy a single product for the entire family to use, I'm all about letting David and Jenny use the Orajel™ kids' toothpaste if it means they want to brush their teeth regularly in order to establish better oral hygiene!
If David will let me help him brush his teeth because he's getting to use Orajel™ Bubble Guppies™ Anticavity Fluoride Toothpaste, give him some Orajel™ kids' toothpaste.
I'm also all about natural and homeopathic remedies, so the Baby Orajel™ Naturals Nighttime Teething Gel is perfect for helping Chris get a better night's sleep while waiting for his teeth to pop through!
Good health starts with a healthy mouth, and I'm ready to be proactive about teaching my kids good oral hygiene!
FREE Daily Teeth Brushing Chart
Now I just need to print off this "I Brushed My Teeth Today" chart and get my kids in the habit of brushing daily!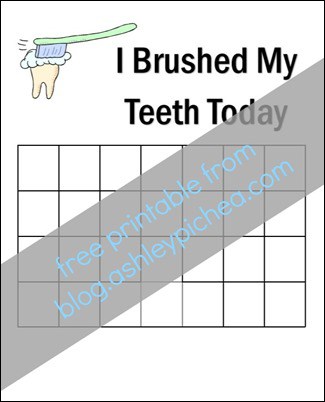 [click image above for printable version without watermark]
Share Your Kids' Smilestones
Orajel™ wants to celebrate your child's smiling milestones – or "Smilestones." Share your favorite Smilestones on BabyCenter's Facebook Page – from baby's first tooth to child's first day of school – and you can be entered to win a grand prize trip for a family of four to Beaches Resorts!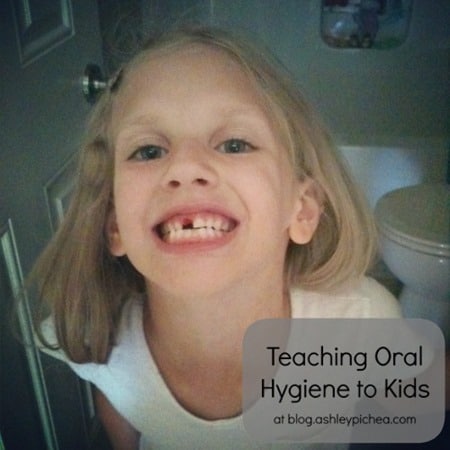 Tell me – what's your favorite smilestone so far?