She came to Eagle Harbor to escape her past indiscretions and start over, swearing that she'd never have anything to do with a lighthouse ever again. What she didn't know was that her past would find her, and she would be forced to face the one thing that scared her most in order to help the ones she loved. Will Tessa concur her fear and find love? Read all about it in Undaunted Hope, the latest title by Jody Hedlund.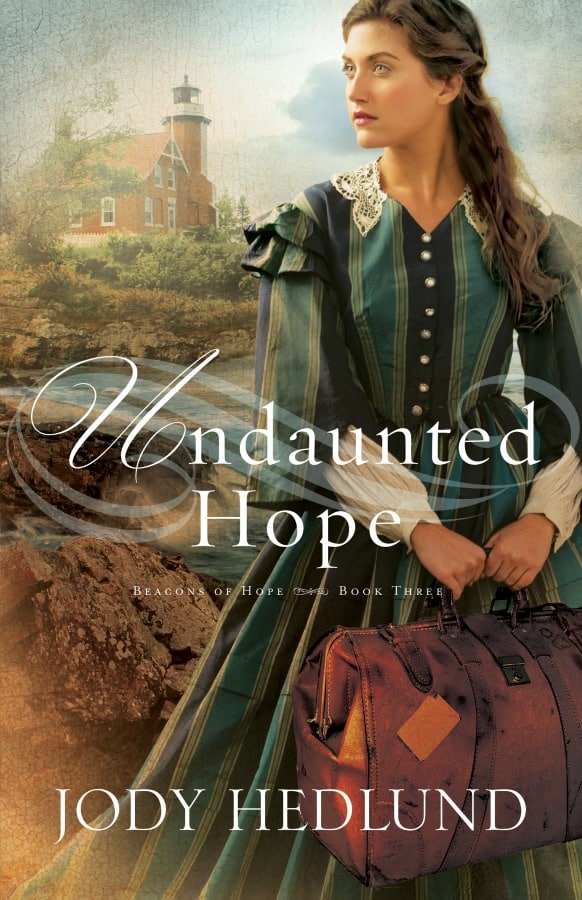 From the Publisher
Running from the mistakes of her past, Tessa Taylor heads to the uppermost reaches of Michigan, planning to serve as the new teacher to the children of miners. She quickly learns the town had requested a male teacher, but Percival Updegraff, superintendent and chief mine clerk, says she can stay through winter since it's too late to replace her. Tessa can't help but thank him and say she is in his debt.
Determined to make herself irreplaceable once spring thaw arrives, Tessa throws herself into her work, and soon two students have decided Miss Taylor is the right match for their grieving father. At the same time, charming assistant lightkeeper Alex Bjorklund makes his interest known, surprising Tessa, who has never had men fight for her hand before. But not all is well as she feels that someone is tracking her every move, and she may not be able to escape the trap that has been laid for her.
My Thoughts
I've grown to really enjoy books by Jody Hedlund, specifically because of their historical setting in my favorite state, Michigan. This particular book, however, fell short, in my mind, of what I've come to expect from Jody Hedlund. Not that it was bad by any means, but I didn't find the story particularly invoking or inviting. I'm not sure why, but I didn't fall in love with the characters or plot like I have previous titles in the Beacons of Hope series.
While this particular story did not stand out to me as one I'd like to read again, I did enjoy seeing the bigger story that is woven throughout the Beacons of Hope series come full circle, tying together the various characters that appeared in each of the books.
If you have read the previous books (Out of the Storm, Love Unexpected, and Hearts Made Whole) in the Beacons of Hope series, you will want to read Undaunted Hope to discover the conclusion to this series of stories set around the east coast of Michigan and its lighthouse communities. If you have not read the previous books in the series, however, you may want to skip this one, opting for another title by Jody Hedlund.
Disclosure: I was given access to a digital copy of Undaunted Hope by Bethany House Publishers in order to share my honest thoughts about this title. You can purchase a copy on Amazon or at your favorite bookseller.