After a summer of reading non-stop, I found myself without a book in my hand for several weeks due to an unexpected bumpy start to the new school year. But now that we've gotten over the bump, I'm finding myself able to carve out some time to read once again – to dive into a good book.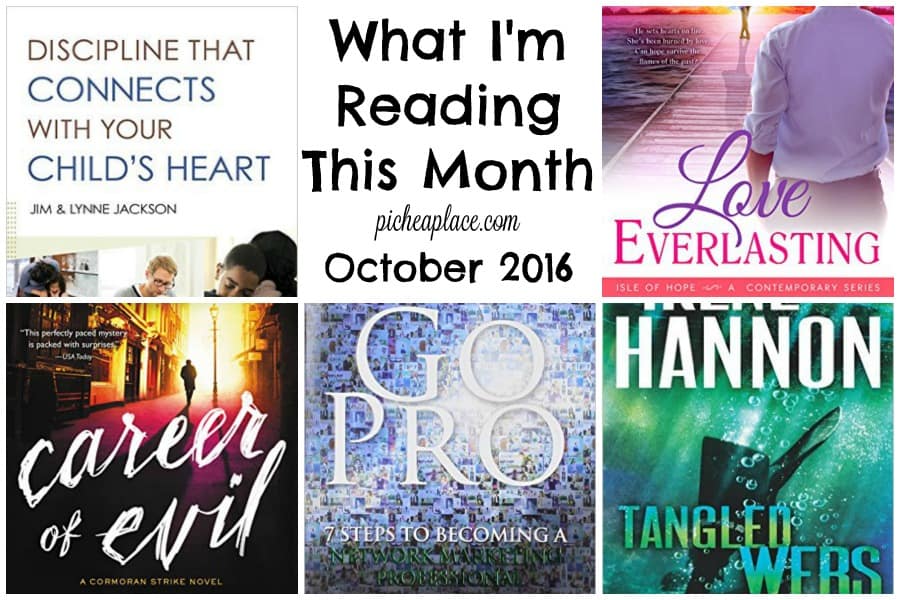 Here's what I'm reading this month…
Julie Lessman is one of my favorite authors. Whether she's writing historical fiction or modern fiction, she writes it in such a way that I quickly get lost in the story, and her characters become like friends to me. She doesn't skirt over the difficult issues in relationships and life, but she approaches them with a real-life approach that applies faith in a natural and genuine way.
I loved reading the newest addition to the Isle of Hope series, Love Everlasting. When life throws them together, Shannon and Sam find themselves falling in love with one another despite their best efforts. As they work through the real and raw emotions associated with wading through the murky waters of life and love, Shannon and Sam must decide what they want in a life partner and what conditions they won't compromise.
I highly recommend Love Everlasting!
I received a free prerelease digital copy of this title from the author in exchange for my honest review.
Go Pro by Eric Warre
Professional development is key to growth in business (and life), and Go Pro was recommended to me by my team leader. Reading Go Pro not only gave me the knowledge I needed to go to the next level in my network marketing business, but it helped build my belief that network marketing does work when you work it correctly. I'm excited to read through it again and begin to apply the knowledge I gleaned from it.
If you're in network marketing, or considering it, I highly recommend reading Go Pro.
With a tagline of "Building Faith, Wisdom, and Character in the Messes of Daily Life," I was instantly intrigued by this parenting book: "Parents want to raise respectful, responsible, and faith-filled kids. But when kids misbehave, parents can often feel lost and confused, and don't realized that their discipline can make things worse in the long run."
What we say to our kids, and how we say it, makes a world of difference in how they receive our discipline and take responsibility for their actions. This book is full of practical parenting advice that helps parents reach the hearts of their children, even in the midst of difficult parenting situations, and help them cultivate strong relationships, make wise choices, and build a strong character.
This is a book I recommend parents read and apply over and over again. It's staying on my bookshelf and will be heavily referenced over the next two (or more) decades.
I received a free copy of this title from Bethany House Publishers in exchange for my honest review.
Irene Hannon is one of my favorite authors, and Tangled Webs did not disappoint. Even in the midst of a busy week, I found time to fly through it, connecting with the characters and frantically "turning pages" (on my Kindle app) to see what happened next in the story.
Finn and Dana have both hidden themselves away (separately) in the woods in attempts to decompress and regroup from recent traumatic events in their lives. Little do they know that they're about to cross paths and find themselves in more trouble.
Well-written, action-packed, and attention-grabbing, Tangled Webs is definitely a book to add to your reading queue!
I received free access to a digital pre-release copy of Tangled Webs from Revell, a division of Baker Publishing Group, in exchange for my honest review.
Some time in the last year, I discovered this series (Cormoran Strike) and then realized it was written by J. K. Rowling (using a pseudonym) after finishing the first book. I really enjoyed the first book, The Cuckoo's Calling, but struggled with the graphic nature of the second book, The Silkworm. Still, I had become drawn to the two main characters – Robin and Cormoran – and I wasn't willing to let go of their story yet, so when I got the email from the library that my hold on Career of Evil was up, I downloaded the book to my Kindle app and found some time to read it.
I definitely enjoyed the story much more than I had the previous book in the series, and I was eager to get to the end to see how all the conflicts resolved. While I was pleasantly surprised with the twists of the "who done it" elements of the story, I was a bit bummed about how the book ended on a "personal" note. For some reason, I was thinking that it was the final book in the series, and as such was looking for an ending that left all the question answered.
What have you been reading this month?