I'm often asked, "What do you do all day?" or "How do you manage to homeschool your kids AND work from home?", so I thought it would be fun to pick a "normal" day and share a day in the life of a work-from-home, homeschooling mom.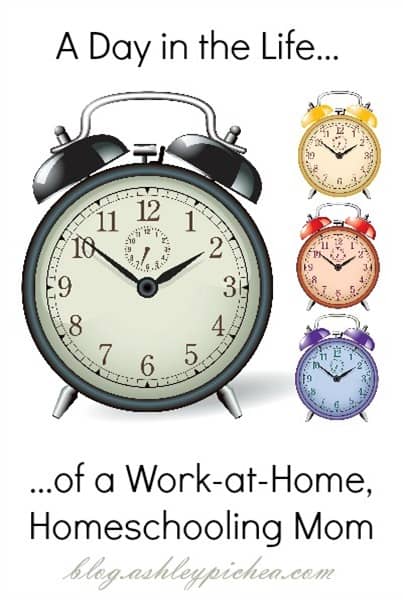 When I looked at my calendar, I decided that last Thursday looked like a "normal" day in terms of what we had going on, so I added a reminder to my Google calendar app, and I set a goal of recording what happened when and taking snapshots of our day to post to Instagram as it happened.
The reality is, no two days look alike. There really is no "normal" day – it just doesn't exist.
But, be that as it may, Thursday looked a little like this:
Good Morning, Mom!
My wake-up call generally is one of the kids coming in my room (or Chris fussing from his crib) to ask me a question that could have waited an hour or two. Thursday's wake-up call was no different.
David came in about 8:30am and asked, "Mommy, can I go play video games downstairs?" My answer was no.
He quietly disappeared, and while I didn't hear the basement door open (points for him!), I couldn't hear him moving around anywhere upstairs, so about 8:40 I decided I'd better check on him (since I'm trying to be more intentional and consistent with follow-through). He was out in the kitchen eating a bowl of cereal.
As I headed back to bed (yes – I'm that person who will crawl back under the covers if I'm not ready to get up, even if I'm awake with little chance of falling back asleep), Jenny came out of her room wanting to know if she can go play video games. My answer is still, "No."
By 8:50am, Chris is fussing in his bed because the big kids left the door open and he wants to get up and play. I ignore him, hoping he'll fall back asleep (like he often does).
Time for School??
Our target school start time is 11am. Most mornings, I'm doing well to be out of bed and dressed by that time. I usually get up in time to clean up the mess from the kids eating breakfast and to change Chris before putting him down for a nap before we start school.
This particular morning, David brought his reading book in to my bedroom to get started with his schoolwork at 8:53am. Since I was actually awake and playing on my tablet, I didn't kick him out. After reading two pages in The Reading Lesson, David declared he was done with reading and went to get his math. It was 9:11am.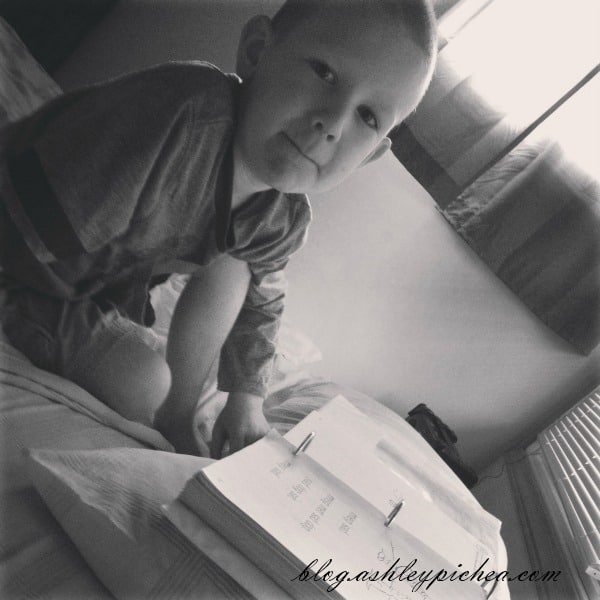 At 9:23am, Chris was fussing again (he'd been playing quietly in his crib for a few minutes), Jenny had brought in a Lego creation she made, and I was playing Candy Crush Saga on my tablet while helping David with his math (still in my bed).
I sent Jenny to check on Chris (to see if I needed to get out of bed again). It turns out Chris' leg was stuck in the crib, so I got up to free him and changed his diaper. Then I got back in bed to help David finish his math while sending Chris to the kitchen with Jenny to get some cereal and milk for breakfast.
[Note: Our house isn't very big, so I can easily monitor the goings on of the entire main level from my room.]
By 9:35am, David is done with math and done with school for the day (1.5 hours before we are "scheduled" to start).
At 9:40am, Jenny wants to play video games but is not ready for the day nor does she have her household responsibilities done. She heads off to get dressed and practice the piano.
At 9:43am, I hear Chris drop his cup on the floor indicating he is done eating, so I head out to the kitchen (managing to smash my toes on the way out of the bedroom – #ouch) to clean him up.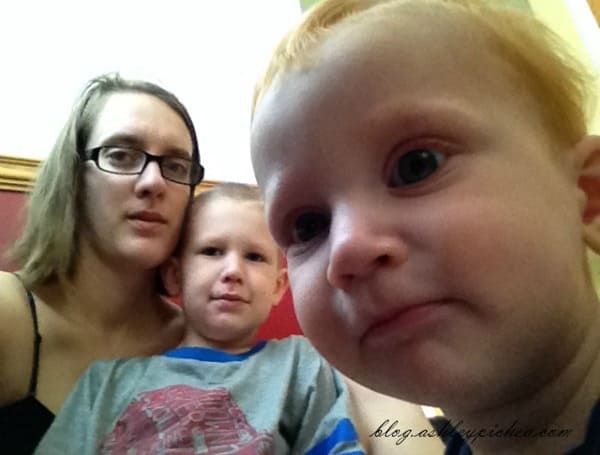 At this point in the day, I'm already "ahead of schedule," and I'm starting to feel a bit "lost" in terms of what to do with myself to "kill time" until school officially starts at 11am.
By 10:00am, the big kids were both ready for the day and had their household responsibilities done, so they headed downstairs to play video games until school started at 11am. I sat on the floor in the kitchen and watched Chris play (and checked Facebook).
About 10:15am I decided to get ready for the day. After getting dressed, I put Chris down for a nap (though he played quietly in his crib for quite awhile before falling asleep) and cleaned up the kids' mess from breakfast before making myself something to eat. Since I had time and there were no kids around to interrupt me, I sat down and had my quiet time while eating breakfast.
School Time
11:00am is the start of our school day. Normally, we are racing around to be ready to start at 11am. It feels like we've been up for hours already this particular day.
School starts with Bible. Jenny read Proverbs 21 and chose verse 31 to memorize.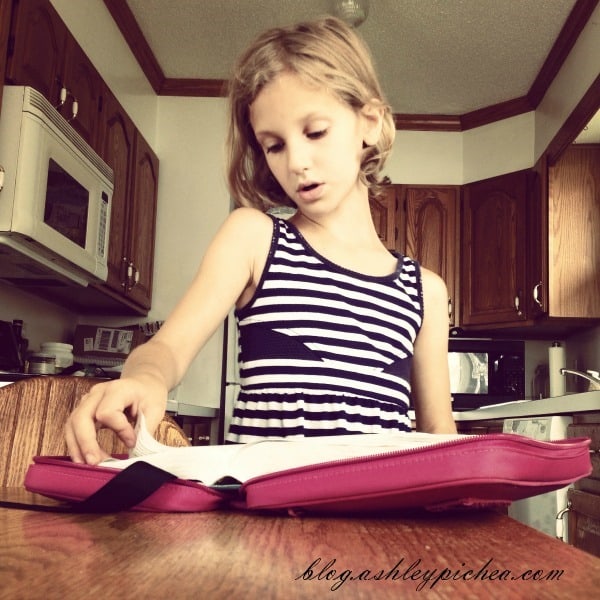 After Bible is math. Generally Bible and math take us all the way to lunchtime – around 1pm.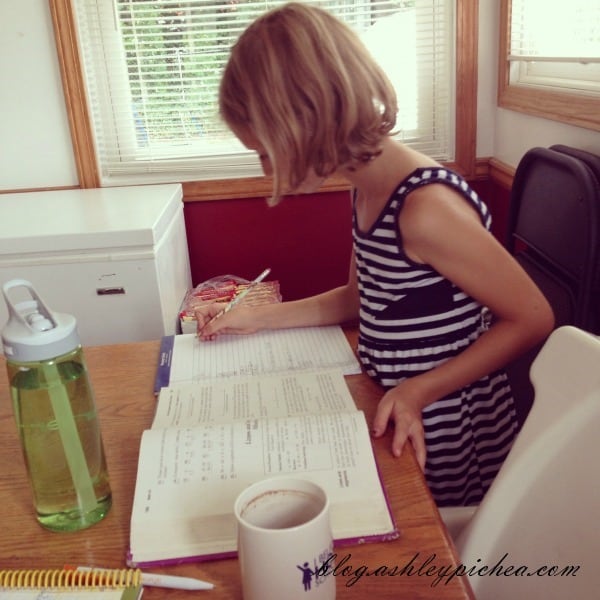 David decided he wanted to do some more math and reading. [His reading got more confident as the week progressed – he went from fighting me on it to asking to read the same page over and over.] He was trying to earn technology points so he could go play more video games. I said no more video games, but I let him get on the iPad to watch PBSKids.
By 12:00pm, Jenny had completed her math for the day – in record time, too! Since we had time before lunch, she got started on her Paths of Exploration.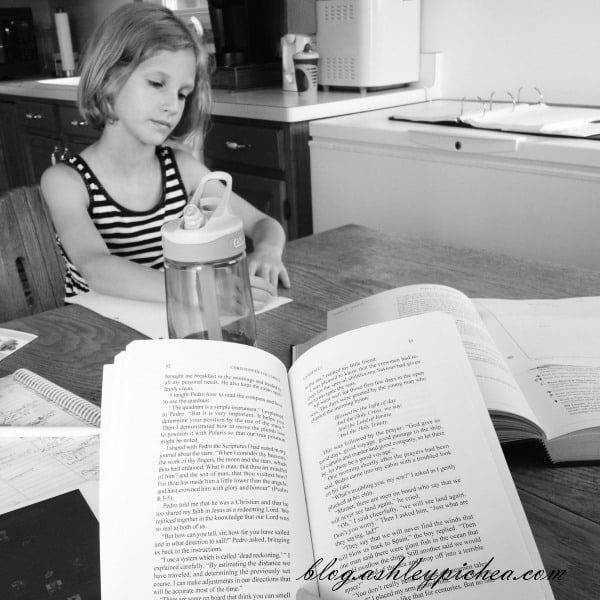 At 1:15pm, we took a break for lunch.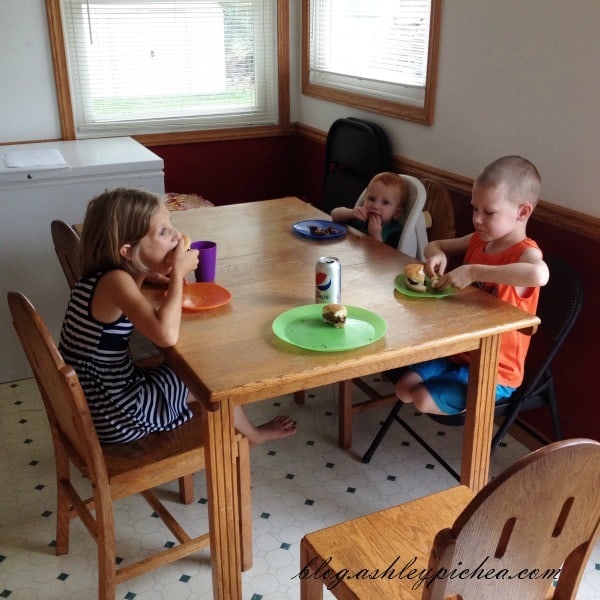 After lunch (around 1:45pm), the boys went to their room for quiet time while Jenny got back to work on Paths of Exploration. By 2:15pm, she was done with the day's assignments.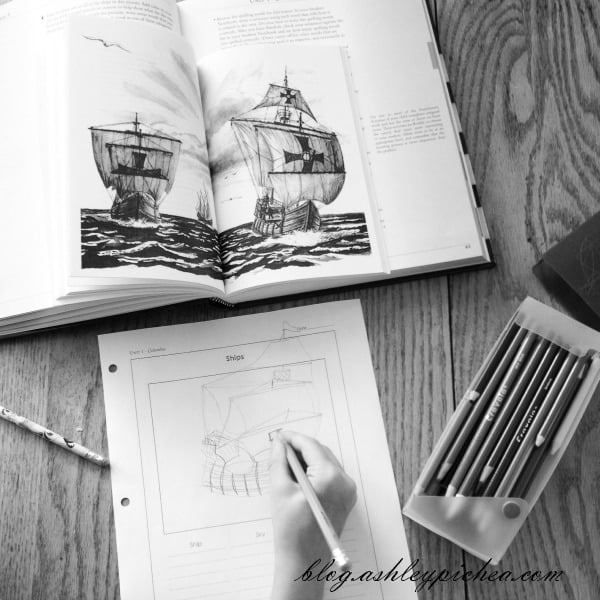 After School
The earliest Jenny had finished since starting three weeks ago had been 3:00pm. I seriously did not know what to do with myself (or the kids) for the rest of the afternoon!
I let the big kids play (educational) games on the LeapsterGS and iPad [our favorite iOS apps for homeschool] while Chris was "napping" (aka playing quietly in his crib). Since it was only 2:40pm, and we had nothing on the agenda until supper, I headed to my room to take a nap.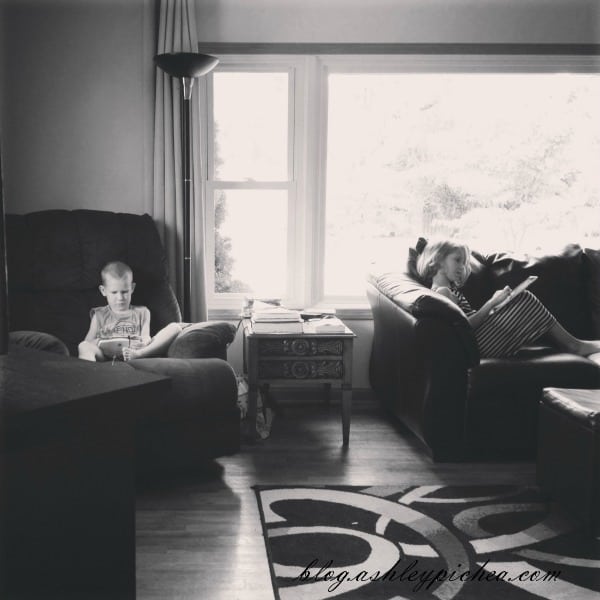 That didn't last long. At 2:58pm, David came in wanting to go play more video games downstairs. I didn't really want him to have more screen time, but I was tired, so I caved and said they could spend the afternoon playing video games.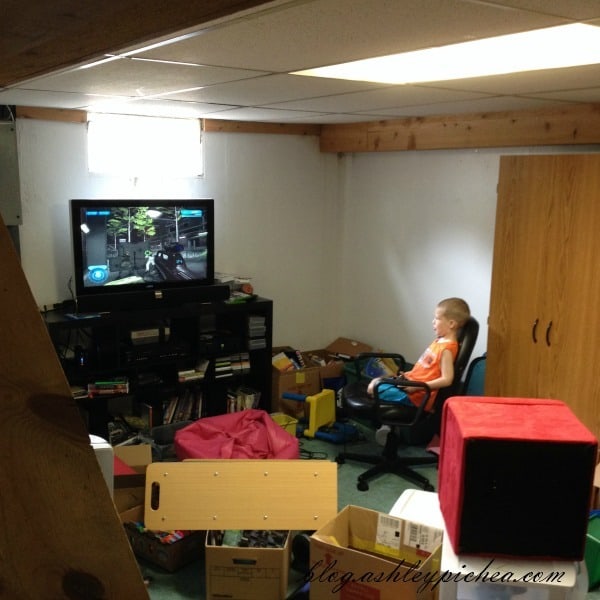 About that time, Chris (who hadn't actually napped after lunch) was fussy so I changed his diaper. While doing so, I realized he was running low on diapers, so I went downstairs to put a load in the washer.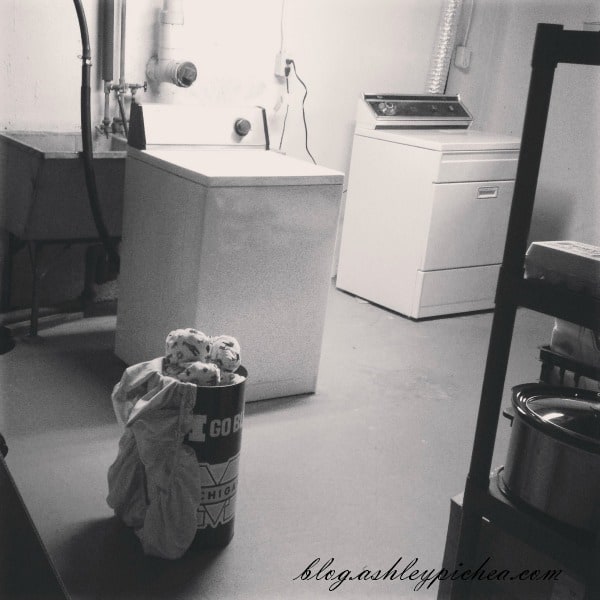 After starting the washer around 3:05pm, Chris asked to go outside, so he and I went out to the swingset for a bit.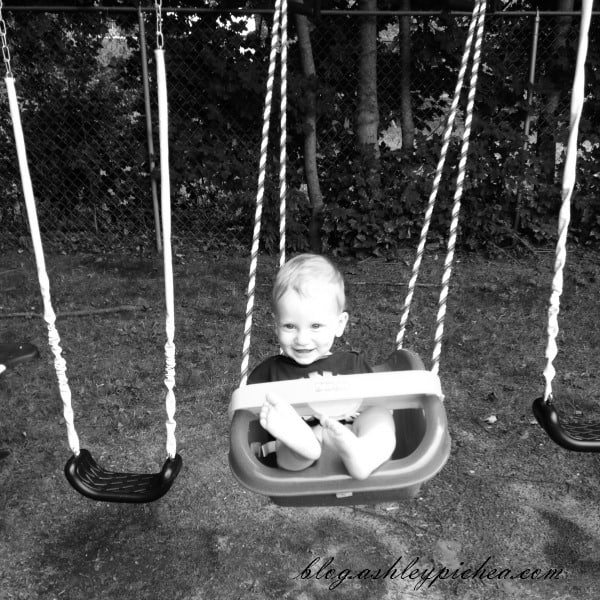 Jenny came out and joined us. She fell off the swing set and landed face first in the dirt – thankfully she wasn't hurt (just a skinned knee) and recovered quickly.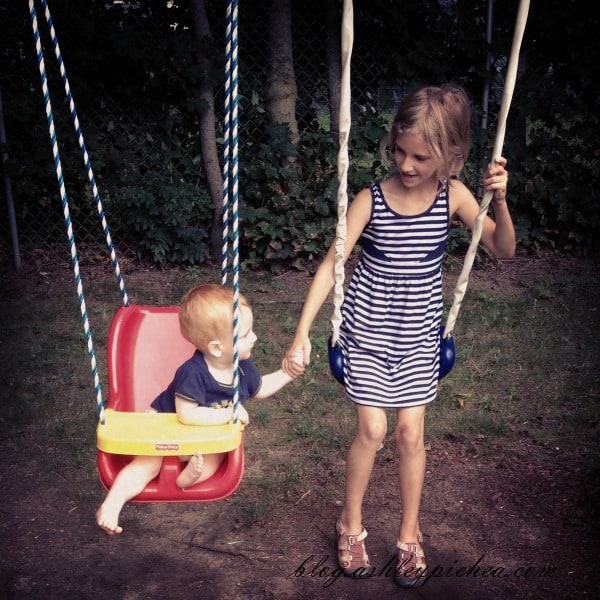 Once Chris was done swinging, he bounced on the trampoline and crawled around the backyard while Jenny and I threw a Frisbee back and forth. When Chris disappeared around the corner, we realized that he was making a beeline for the road because David had left the gate open earlier when he went to get the mail. That ended our Frisbee throwing as I went to "rescue" him and take him inside around 3:50pm.
When we came back in Chris was being a troublemaker (an indicator that he's tired) so I put him down for a nap. This time he actually fell asleep!
More School??
After I put Chris to bed, Jenny decided she wanted to do the next day's math, so she and I sat on the couch (playing on my tablet) while she worked on it.
By 4:50pm, Jenny had finished Friday's math assignment and had moved on to her Paths of Exploration assignment for Friday, and then she did her Bible assignment for Friday as well.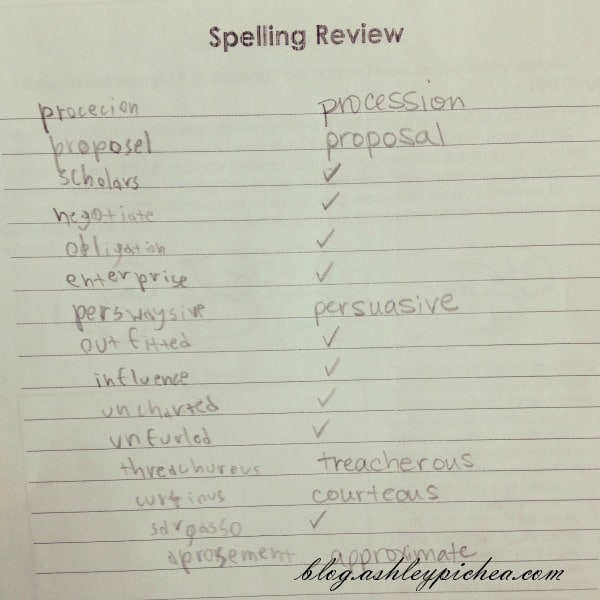 She finished Friday's school work about 5:20pm (on Thursday) – the same time Chris woke up from his nap.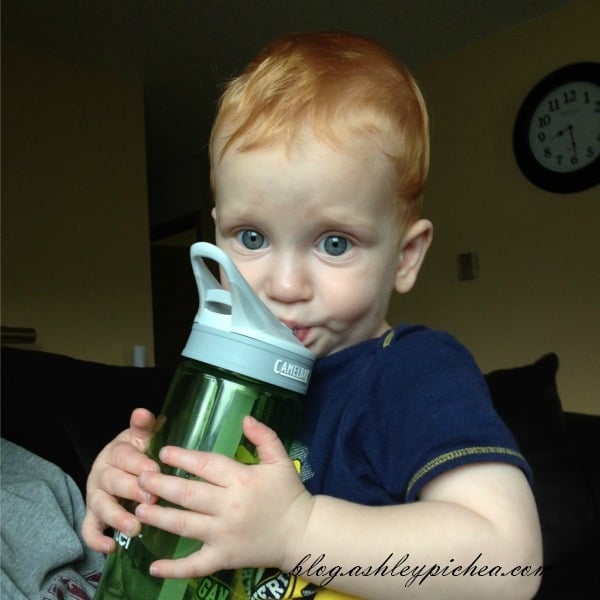 The "Witching Hour"
When he woke up from his nap, Chris was in "a mood," and toddler tantrums were the name of the game. He made a beeline to the kitchen where he proceeded to get into all of the "no no" cupboards and drawers and threw a major fit (face down on the ground with a eardrum-shattering scream) every time I said "no" or close a drawer/cupboard.
I finally gave up trying to contain him and let him have free reign of the cereal cupboard while I attempted to make a quick and easy dinner [a quesadilla-twist on my chicken and black bean burrito bowl recipe].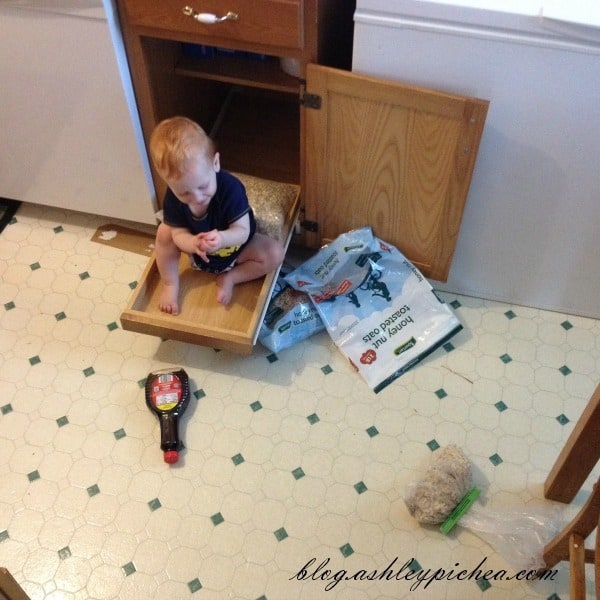 It was also about this time (5:42pm) that I remembered to go downstairs to switch the diapers from the washer to the dryer.
Supper and Sundown
Since "Daddy" was working out of town that day, we didn't need to wait on him for dinner. As soon as I had the food ready (5:48pm), I plopped Sir Tantrum Thrower into his highchair where he made it clear that I was not fast enough to serve him.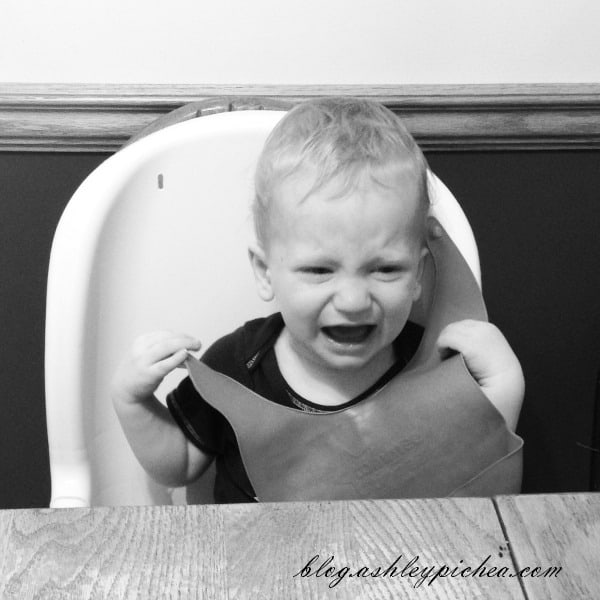 I gathered the kids at the table to eat while I stood nearby in the kitchen, serving the food and taking drink orders.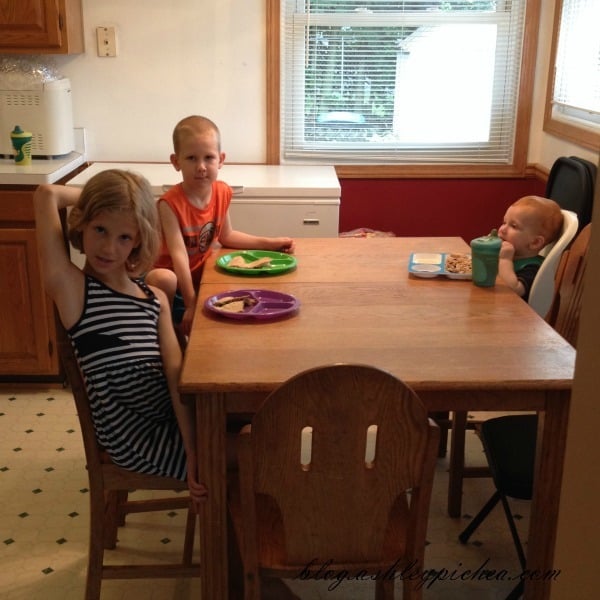 Jenny make quick work of her supper and decided she wanted to do a craft at the table when she was done eating. She "designed" a paper model of the Santa Maria to go along with the Christopher Columbus unit she'd been doing in her Paths of Exploration book.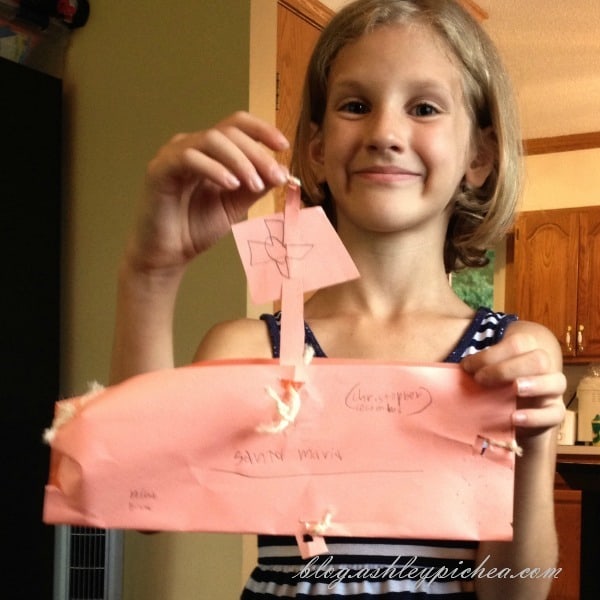 By 6:22pm, the kids were ready to start winding down for bed. Jenny and David sat on the couch together and watched the PBSKids app on Jenny's Kindle Fire while Chris played with his toys. It wasn't long before Chris was into the DVDs and electronics, so I put him in his crib to play until bedtime.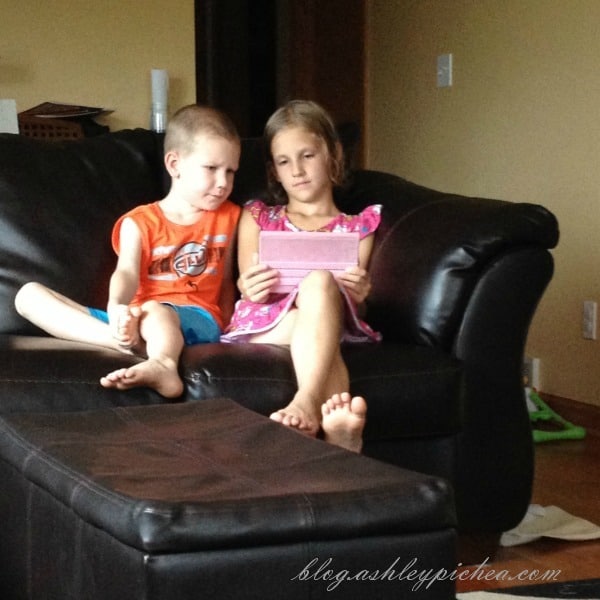 About 6:50pm, I sent Jenny to the shower, and David and I turned on CBS to watch the last few minutes of the CBS Evening News and Wheel of Fortune.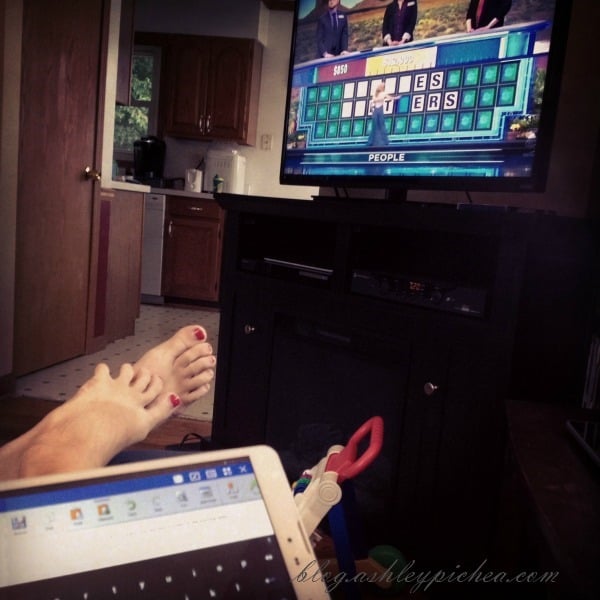 Bedtime for Babies
At 7:54pm, I sent the big kids to bed (and they actually both went to bed and stayed in bed for once!), and I finally pulled out my computer to get some work done.
[I've discovered that working during the day isn't very productive, so I've been waiting until the kids are in bed at night on the nights when my husband is working out of town to do so.]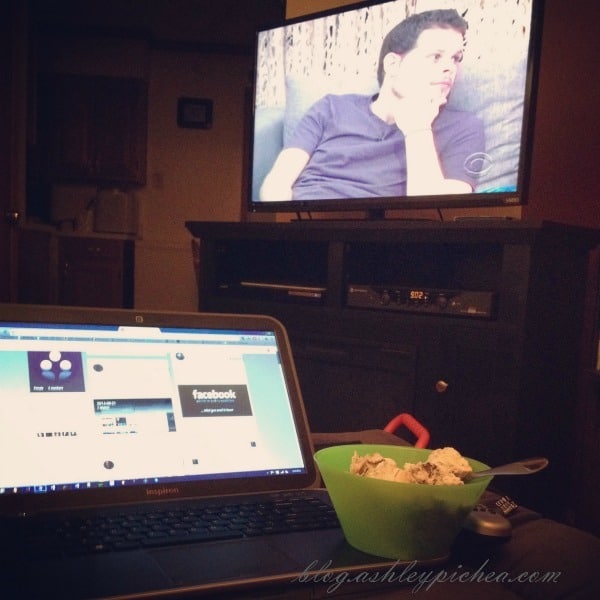 I didn't shut the TV off when I got the computer out, so I didn't really manage to get much work accomplished until after 10pm when I finally shut the TV off for the night.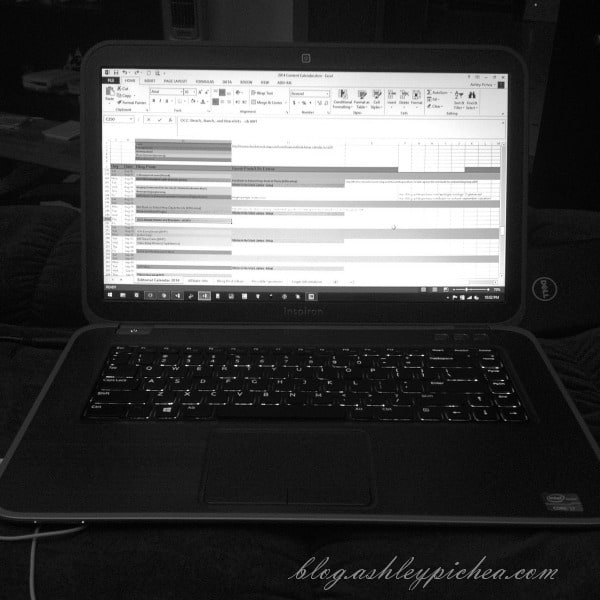 At 11:10pm, the boys both woke up randomly, and David came out to the living room (where I was – finally – working). I think it was because their room was stuffy (it was 85 degrees in the house), so I turned on the air conditioning and put them back to bed.
I spent a few minutes making a list of all the deadlines I had for the next week, trying to come up with a game plan and to prioritize my to-do list. Once I had my list, this post was at the top of it, so I uploaded all my photos of the day from my phone to my laptop, copy/pasted my notes from my tablet to my blog, and (about 11:45pm) I started writing this post.
Ten minutes later (11:55pm), David came out of his room again, and made a beeline for my lap.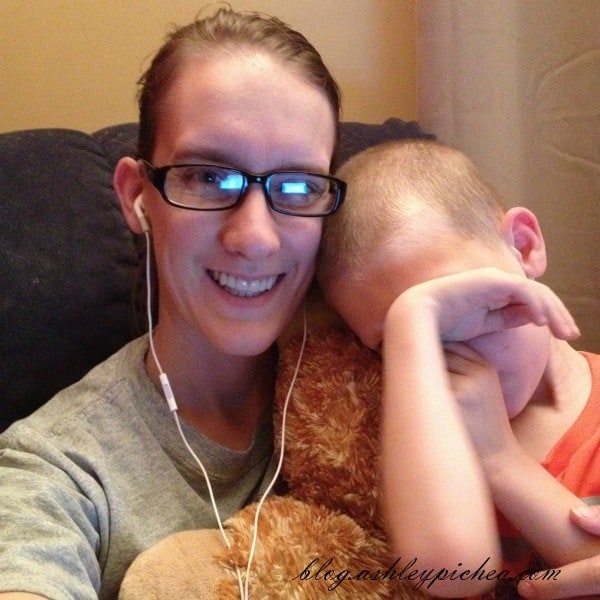 That made it a bit tricky to type, so I convinced him (begrudgingly on his part) to relocate to the couch if he was going to be out of his room. I kept working, and by 12:35am, he had gone back to his bed.
It's Tomorrow Tonight
Most of my days lately have been ending on the next calendar date. It's not uncommon for me to (finally) head to bed around 2am – thus my late start in the morning. It's not necessarily ideal, but it is currently working for the season of life we are living in at the moment.
The post wasn't quite finished (I had some photo editing to do yet), but I called it a night at 1:50am, turned off the computer, and headed to bed after checking on my kids (and finding David asleep with the iPad in his bed).
Talk to Me…
What's a "normal" day look like in your world?
---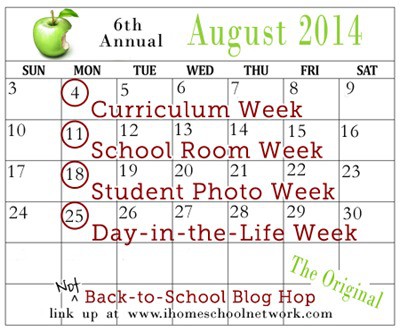 Day-in-the-Life Week [8/25-8/29]