I Hate Yelling
I really hate yelling.
And yet I've been yelling a LOT lately. Way too much in fact.
David has stopped listening, and I've started yelling to try to get his attention. Only problem? He still doesn't listen even when I yell.
So I'm really just yelling for no reason.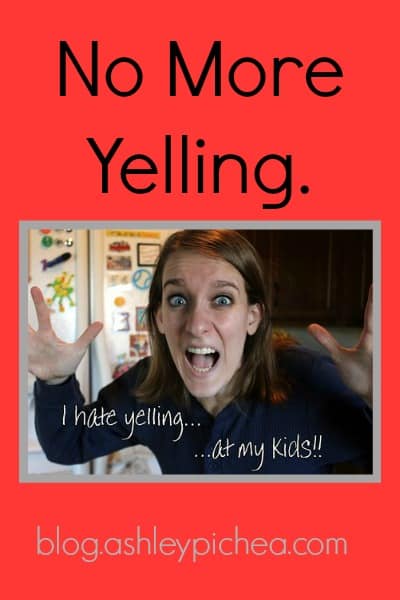 And, because she's heard me yell so much lately, Jenny has started yelling a lot lately, especially when David is bothering her or not doing what she wants him to do.
Today, neither of the kids was listening and it was getting extremely close to being time to leave the house. After asking, then telling them to get the house picked up and get themselves ready to go, they were both still messing around and were not listening at all.
The yelling began.
I yelled: "Please do what you were told to do. I'm getting upset, and I really don't want to be upset with you!"
All I could think was, "I hate yelling. I really, really hate yelling!"
Thankfully, Jenny got the message – Mommy was at her breaking point – and she began to do as she had been told.
David, however, was a different story.
But such is the case with him most of the time lately.
Any ideas on getting a 3.5 year old boy to listen and obey?
—
Hiding God's Truths in My Heart
—
Counting My Gifts: #136-160
coffee date with a friend
extra diapers in the church nursery {I donated our old diapers when David finished potty training MONTHS ago, only to have him end up needing one during a meeting on Wednesday night}
productive meetings
Little Man's first visit to the dentist
no cavities or other issues with my teeth
lunch dates with my family
the local Chinese buffet
helpful and knowledgeable sales people
kid-friendly AT&T store
a new client
renewed Amazon Prime membership {I heart two-day shipping}
kids who play well together *most of the time*
time spent with my aunt
time spent with my parents and sister
"Grandpa-time" for David
"Grandma-time" for Jenny & David
games and puzzles that educate while the kids play
green lights and light traffic when I'm running late
a line at Starbucks to prevent me from spending money on a coffee I don't need
well-behaved kids {mostly} while grocery shopping
a clean car
a package from Amazon.com
an OtterBox for my new phone
"quiet" time for my kids
—
Be sure to see where I link up…