If you've been following along on my 3 Small Things challenge this year, you've probably noticed a lack of an April post. Well, I was a little bit busy waiting for a baby to arrive and then getting into a new rhythm and routine once she made her appearance. Thus, I decided not to worry about choosing any goal for April other than coming out of it as a functioning family of six.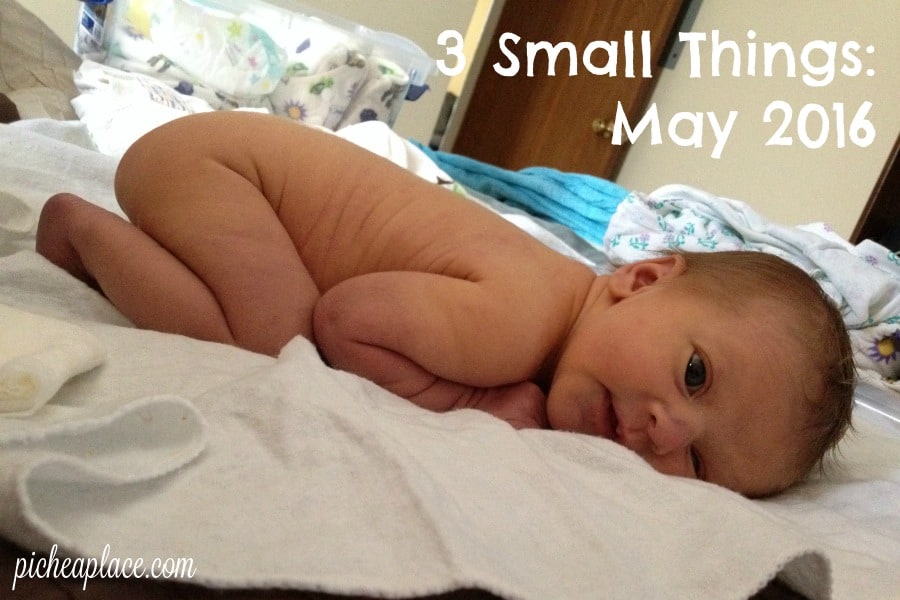 If you've not seen my previous 3 Small Things posts, you can find them here:
The challenge is simple, really. I pick 3 small things I want to accomplish during the month, share them on the blog for accountability, and then recap the next month on whether or not I was successful in meeting my goals (and anything I might have learned along the way).
If you want to "play along," feel free to choose 3 small things of your own to work on this month and share them with me!
March Recapped
Wash and inventory the baby clothes and supplies – done!
Start a Mother-Daughter Journal with Jenny – nope.
Send a card of encouragement to four friends – nope. I did send a LOT of mail during the month, as I wrote many "thank you" notes, but I only sent two encouragement cards.
While March wasn't as successful as I would have liked, I did more than I would have had I not made the goals, so it wasn't a complete bust.
May Goals
It's a new month, and although I'm still "recovering" from childbirth (the last week or so was exhausting on so many levels), I'm ready to challenge myself once again to be intentional about doing life this month.
1. No [extra] sugar.
This means no sweet snacks, no ice cream, no candy bars. Basically, I'm getting my body ready for June when I'm hoping to start the Plexus TriPlex Combo, which will help me balance my gut and blood sugar. By starting the "sweet" purge now, I can (hopefully) avoid some of the more uncomfortable symptoms of Candida die-off that I would otherwise experience with the TriPlex.
2. No dairy.
This one is going to be a MAJOR challenge for me as I love all things dairy… ice cream, cheese, etc. But I know my pregnancy hormones are going to start balancing out again, and I'm guessing my dairy allergy (which seems to be hormone-induced) will be coming back. Plus, I think my dairy intake is affecting Miss Audrey a bit, causing her some gassy discomfort, and I'd like to try to be a good mommy and not cause her unnecessary discomfort just because I like dairy.
3. Lots of water.
When I was pregnant, I drank water CONSTANTLY and still felt dehydrated most of the time, especially the last few weeks. Since giving birth, my constant thirst hasn't been there, and I've started forgetting to drink – some days going without finishing a single bottle of water. I need to get back to drinking 3-4 bottles a day in order to keep myself hydrated and keep my milk supply up.
What 3 Small Things do you want to accomplish this month?