Welcome to Pichea Place!
We are a busy family of six from Jackson, MI, on a mission to help busy families stop striving and start thriving. That's why you'll find our blog to be a wealth of resources for busy families – tips, tutorials, recipes, and encouragement – all with the goal of helping your busy family to be intentional about doing real life together.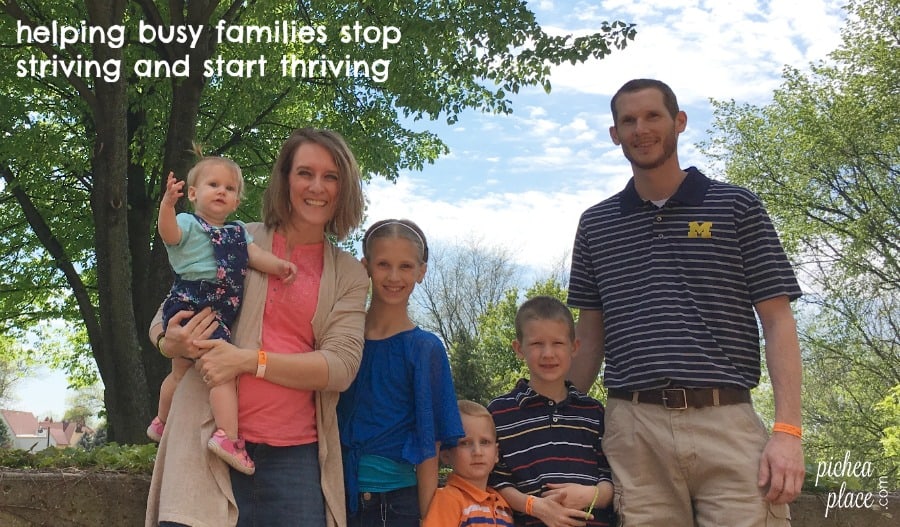 Audrey (1), Ashley, Jennifer (11), Christopher (4), David (9), & Jason
You can connect with us on…
… to see how we're doing life on a daily basis and to see the most recent resources we've shared and/or discovered!
---
---
On Pichea Place, you'll find lots of great resources for busy families. Here are a few of our favorite topics…
This topic pretty much encompasses the majority of the resources we share – we are all about doing life together as a family!
–> recent posts <–
We don't have it all figured out… but we're striving to raise our kids to be adults to the best of our ability, and we're sharing tips and encouragement with you along the way.
–> recent Parenting posts <–
–> Parent-Child Date Ideas <–
A healthy family starts with a healthy relationship between Mom and Dad – that's why we're intentional about providing lots of great resources for building and strengthening marriages.
–> Praying God's Word for Your Marriage <–
–> Perfect Date Ideas for Busy Parents <–
Our family is built on a foundation of faith in Christ. As parents, we need to be relying on God's strength each and every day as we seek to build a foundation of faith in our kids.
–> Practical Faith for Parents <–
–> Practical Faith for Kids <–
Every family needs to eat, but when you're a busy family, you need quick and easy meal options – ones that don't require a lot of prep work or time spent in the kitchen. We're all about sharing recipes that our family loves that are easy to prepare and allow for more time together as a family around the table.
–> Easy Recipes for Busy Families <–
While homemaking is not an area in which we excel, we do strive to keep a clean and tidy home, and we share our tips and tutorials with you for getting the whole family involved in this pursuit.
–> recent Home posts <–
You'll find that while we are a busy family, we are also intentional about spending lots of time reading. We are all bookworms, and we love to share what we're reading with you!
–> What Mom's Reading <–
–> Best Books for Kids<–
While our "formal" educational choices/methods have changed over the years (we have both homeschooled and utilized our local public schools), we are intentional about learning together in the every day moments, and we share our experiences with you to encourage you and help you to do the same with your family.
–> recent Learning Together posts <–
We are so excited that you've found us and hope that we can encourage you as you seek to do life together with your family!