With kids out of school for the holidays, busy families take advantage of the time off and explore new destinations together, hitting the road for the holidays. Here are some great budget-friendly holiday vacation ideas for busy families.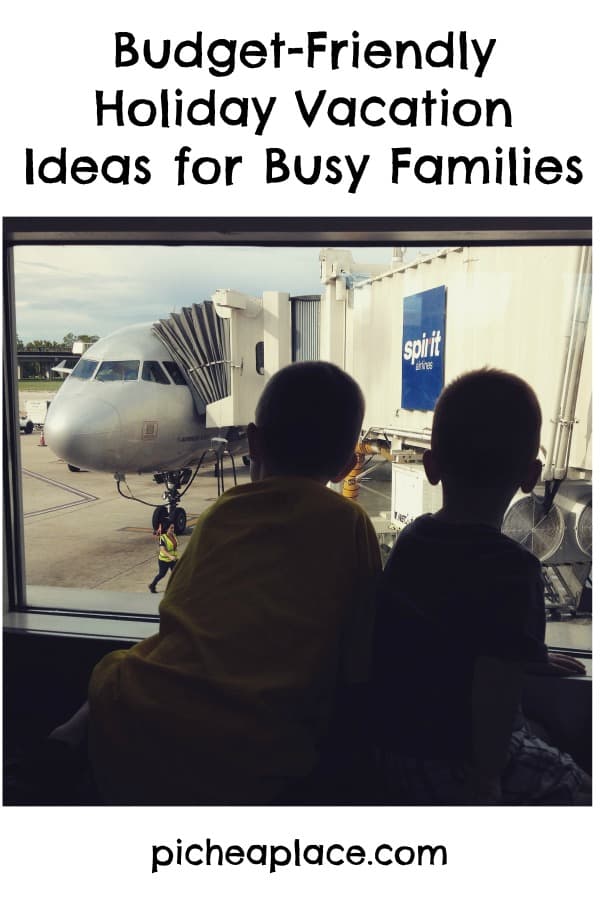 Las Vegas
While this might come as a bit of a surprise, Las Vegas could be a great holiday vacation destination for busy families looking to travel on a budget. Flights are often cheap to Las Vegas, and surprisingly, there is a lot for families to do there.
New Years Eve can be expensive in Vegas but the Christmas holiday is generally pretty affordable. Be sure to check out some of the travel websites for great package deals.
Here are some of the many family activities you can find in Vegas:
Magic shows
Shark Reef Aquarium
Circus Circus
Rock climbing and hiking at Red Rock Park
Roller Coasters
Water parks and hotel pools
All the food you can eat and then some!
Have you ever (or would you ever) taken your family to Las Vegas?
Indoor Water Parks
Visiting a semi-local indoor water park is one of our family's favorite ways to vacation on a budget during the holidays. Who doesn't like to splash in the pool in the middle of December?
We have several options within a 3-4 hour drive, and it's a perfect "tropical" escape during the cold and snowy winter months. We often stay at the attached hotel for ease of access to the waterpark.
If you're in the Michigan/Indiana/Ohio area, here are a few indoor waterparks near you:
Visit a Christmas-Themed Location
Check out Santa Claus, Indiana, or Bethlehem, Pennsylvania, for holiday locations and activities. (Check with the local travel bureau to make sure you and your family will have enough to do while you're there.) Make it part of a road trip to extend the fun; for example, if you're heading to Santa Claus, Indiana, you can also check out the Indianapolis Zoo or visit Bloomington and enjoy the art scene.
Our family loves to visit Frankenmuth, MI, during the holidays and checking out Bronner's Christmas World. Plus, the Bavarian Inn has fun holiday parties to enjoy (we've spent both Thanksgiving weekend and New Years' Eve with them in the past) – a perfect destination for budget-friendly family fun!
Take a Cruise
Cruising is becoming a great way to spend quality family time. Cruises like the Disney Cruise aren't a budget breaker, and they can be a fantastic getaway for the whole family. Check out the package deals online or with a travel agent.
Have you been on a cruise with your family? We're hoping to be able to save up and take our whole family on a cruise sometime in the next few years!
Visit Central America
Nicaragua and Costa Rica are both becoming fantastic places for the whole family to vacation. They're safe, they have jungles and ocean opportunities, and they're budget friendly. Check with a travel guide or online to make plans.
Have you traveled outside of the country with your family?
What fun family holiday travel plans do you have this year?
When it comes to holiday travel, look outside the box for opportunities. Look locally, too. You never know; you may be able to find your best vacation ever, just a few hours away.