As I stated last month, one of my goals for 2016 is to add some more of the personal touch back into the blog. One of the ways I want to do this is to add an element of "accountability" again – to share 3 small things I want to accomplish each month – letting you check in with me and even share your own goals for the month in the post comments. It's a spin off the 3in30 Challenge I used to host, and I'm looking forward to getting back into the habit of setting goals each month!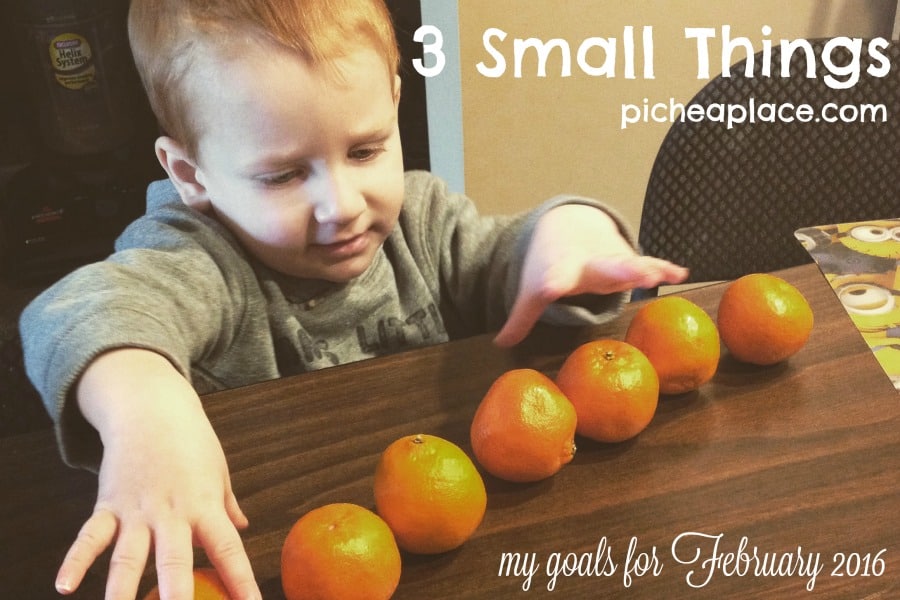 January Recap
I did it!! I completed all of the goals I set in my 3 Small Things: January 2016 post!!
1. Crochet three snowman hats
My first goal was to complete THREE crocheted snowman hats… I actually did a total of EIGHT in less than a week. They were easy to make (once I learned the pattern), and they provided a great creative release for me while watching TV with my husband in the evenings. I ended up making them as gifts for my niece and nephews as well as one for each of my kids (and one for my daughter's friend).
2. Rid our apartment of all the Christmas stuff
This one was probably the closest goal to not being completed… but it wasn't my fault, I promise! The kids and I managed to "take down Christmas" and get it packed away the second weekend of the month, but being six months pregnant made it impossible for me to transport the totes from our upstairs apartment to the van to be taken over to our storage unit. And then the weather turned bitter cold and icy, making the short trip undesirable. So the totes sat stacked in my living room for two weeks. Last weekend, however, the weather cooperated and my husband was able to help me transport the totes from the living room to our storage unit, and Christmas has officially left our home for the season!
3. Read four books
I lost count at some point during the month, but I can honestly say that I was successful in reading at least four books (not including children's books, because I read countless of those to Chris) during the month of January. Here are a few of the ones I read:
I'm pretty sure I read at least one or two other books, so I definitely met this goal!
February Goals
Now that a new month is here, it's time to choose another 3 small things to accomplish during the month.
Here are my goals for February:
Get dressed every morning. This one is going to be a major challenge for me… being a stay-at-home mom means there are multiple days a week where I don't have to leave the house. And even when I do, I generally lounge in pajama pants and a sweatshirt all day, only throwing on a pair of jeans as I'm getting ready to walk out the door. But I'm tired of feeling gross (because when I don't get dressed, I tend to avoid the shower as well), so I'm making it a goal to get dressed every morning during the month of February. Look for documented proof (i.e. photographic evidence) on my Instagram account each morning.
Finish and file our taxes. Minus the few tax forms I'm still waiting on, our taxes are just about done. My goal is to have them electronically filed by the middle of the month – once I have those final forms in hand.
Put together kids' classroom Valentines. I've been busy gathering ideas for my kids' first ever Valentines exchange, and now I need to pick one for each of them and help them to assemble the final product. This is kind of a "cop out" since it's a "must do," but having it as one of my three small things for the month might help me be a bit more creative and put some effort into the Valentines for their classmates (versus buying a box of perforated cards for them to sign).
What do you want to accomplish this month?