This shop has been compensated by Collective Bias, Inc. and its advertiser. All opinions are mine alone. #WetSkinMoisturizer #CollectiveBias
As a busy mom, I don't have a lot of time to mess with the effects the dry winter air (and subsequent hot dry air indoors) has on my skin, and I find myself looking a bit like an alligator's back by the time that spring finally arrives in Michigan. But when winter has barely appeared and my kids are already commenting on the fact that my skin is dry and cracking, I know I need to do something. That's why I've put together a winter dry skin relief for busy moms basket with three simple products that will help me fight off the effects of the dry winter air without spending a ton of time or money.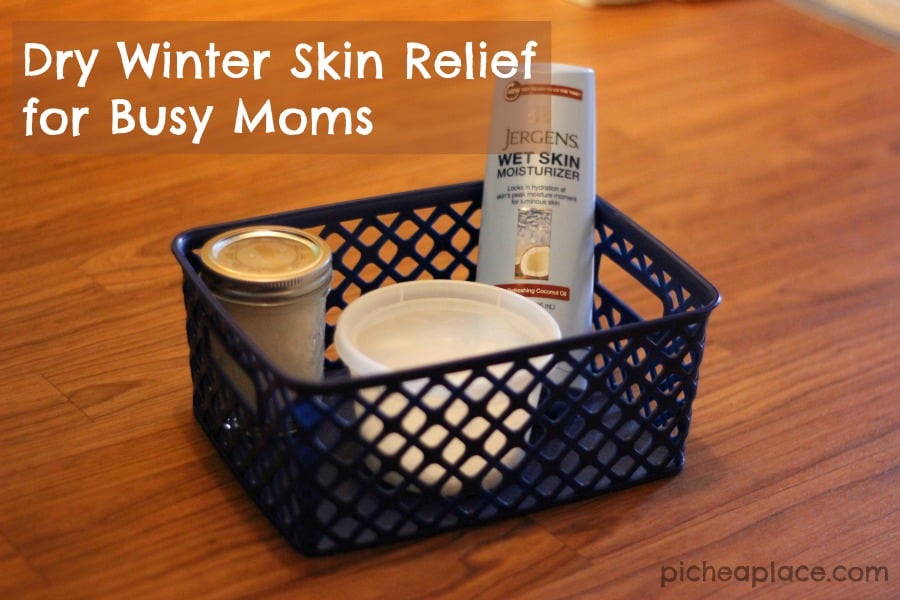 DIY Bath Salt
My heels are one of the areas where I struggle the most with dry winter skin. I'm not a fan of wearing socks, so my heels don't get the benefit of being protected by a soft cotton layer all day. Most days, I'm running around in slippers, moccasins, or boots, and it's not long before my heels look pretty scaly.
Soaking in a Epsom salt bath not only relaxes my tired feet and legs and helps to relieve the stress of a long day, but it also helps to soften the skin on my heels. I can soak just my feet in a small tub (use about 1/2 cup of bath salt in a large pan of warm water), or I can soak my entire body in the bath tub (use up to 2 cups in full bath of warm water).
Making your own bath salts is super easy – just add 10-15 drops of essential oil to 2 cups of Epsom salt and mix well (I generally shake the closed container until the oil has been evenly dispersed throughout). I recently made a batch of peppermint bath salts…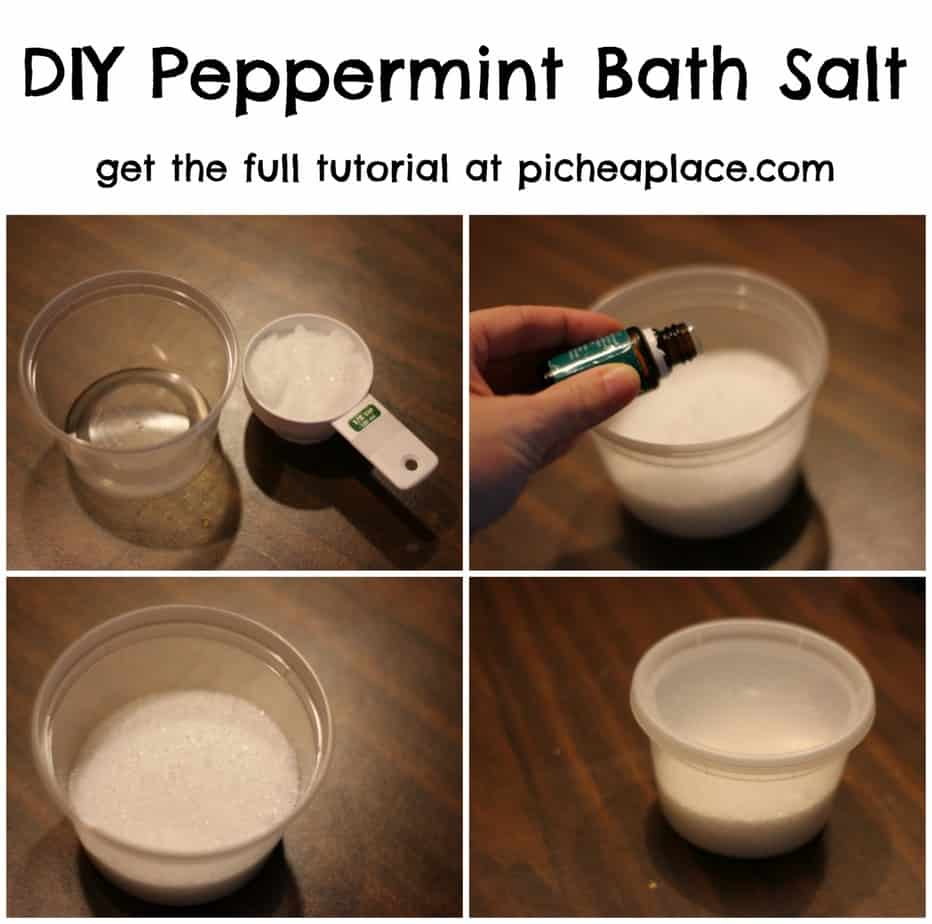 I store my homemade bath salts in my bathroom cupboard for easy access whenever I want to soak the stress of the day away and moisturize my skin in the process.
DIY Sugar Scrub
My hands are another area where I'm prone to dry winter skin. I'm constantly washing them to fight the germs my kids bring home from school or as I'm cleaning up after the toddler, and it's not long before my fingers start to crack. This winter, I made a batch of peppermint sugar scrub to keep under the skin in the bathroom and on the kitchen counter – perfect for helping to keep my hands soft in spite of the dry winter air and constant washing away of dirt and germs.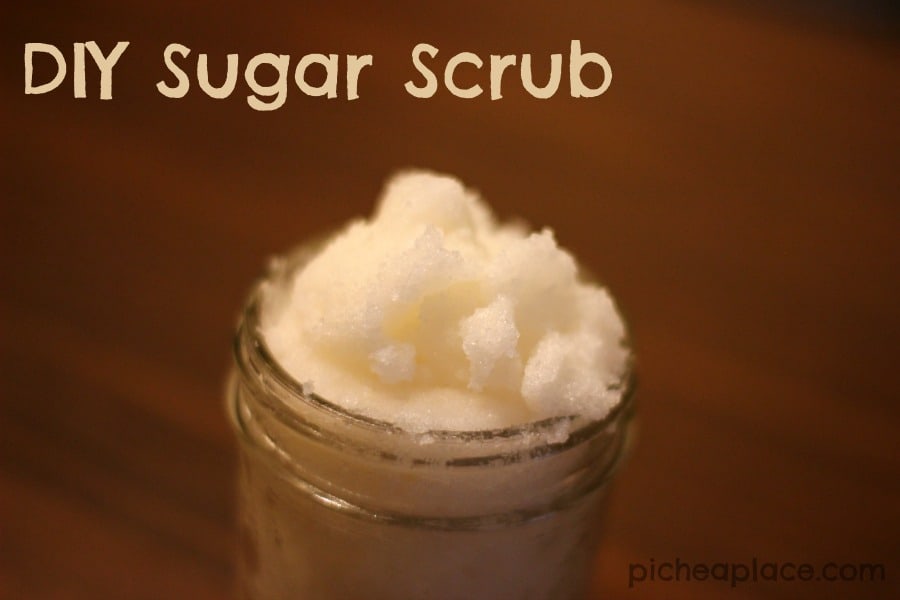 Sugar Scrub Ingredients:
1 1/3 cups of sugar (you can use brown or white – I used white)
1/3 cup of coconut oil (softened)
10-15 drops of essential oil (I used peppermint)
Sugar Scrub Instructions:
Put coconut oil in a mixing bowl.
Add sugar.
Add essential oil.
Mix well until all ingredients are blended together.
Store in a sealed container.

Jergens Wet Skin Moisturizer
And what about the rest of my body? It definitely suffers from the dry winter air, too, but as a busy mom, I don't really have time to stop and apply lotion to my entire body throughout the day. That's why I've included Jergens Wet Skin Moisturizer in my winter dry skin relief for busy moms basket.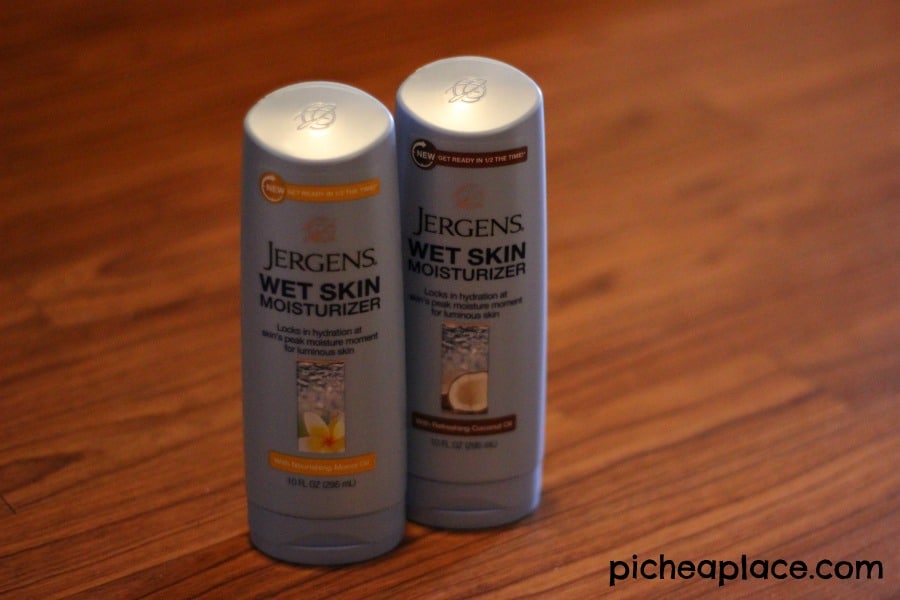 For under $7 at Walmart, I was able to pick up a bottle of this wet skin moisturizer that saves me time in the mornings and keeps my entire body moisturized all day long.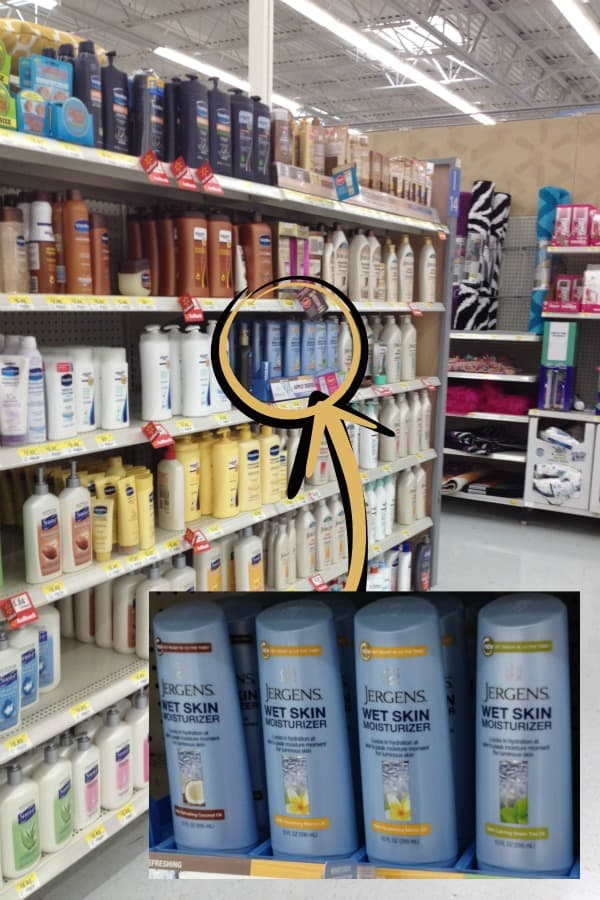 By applying to my wet skin before patting dry, I can save myself several minutes during my morning routine. It not only absorbs 2x faster for 24 hours of soft skin, but it instantly locks in moisture on wet skin.
What would you include in your winter dry skin relief basket?
With a little bit of planning ahead, I can save myself from dry, chapped and cracked skin this winter without having to spend a lot of money or time in the process.