Sometimes in the midst of raising a big family, we get so caught up in the chaos of corralling the herd that we forget to focus on engaging the individual hearts of our kids. I've found this to be true more times than I care to admit. And when behavior issues begin to rear their ugly heads, it's usually indicative of a child who has been left to his or her own devices for too long. Instead of reactive parenting, we are trying to be proactive parents. It's our desire to be intentional in spending one-on-one time with each of our kids, and these parent-child date ideas are a great way to do this!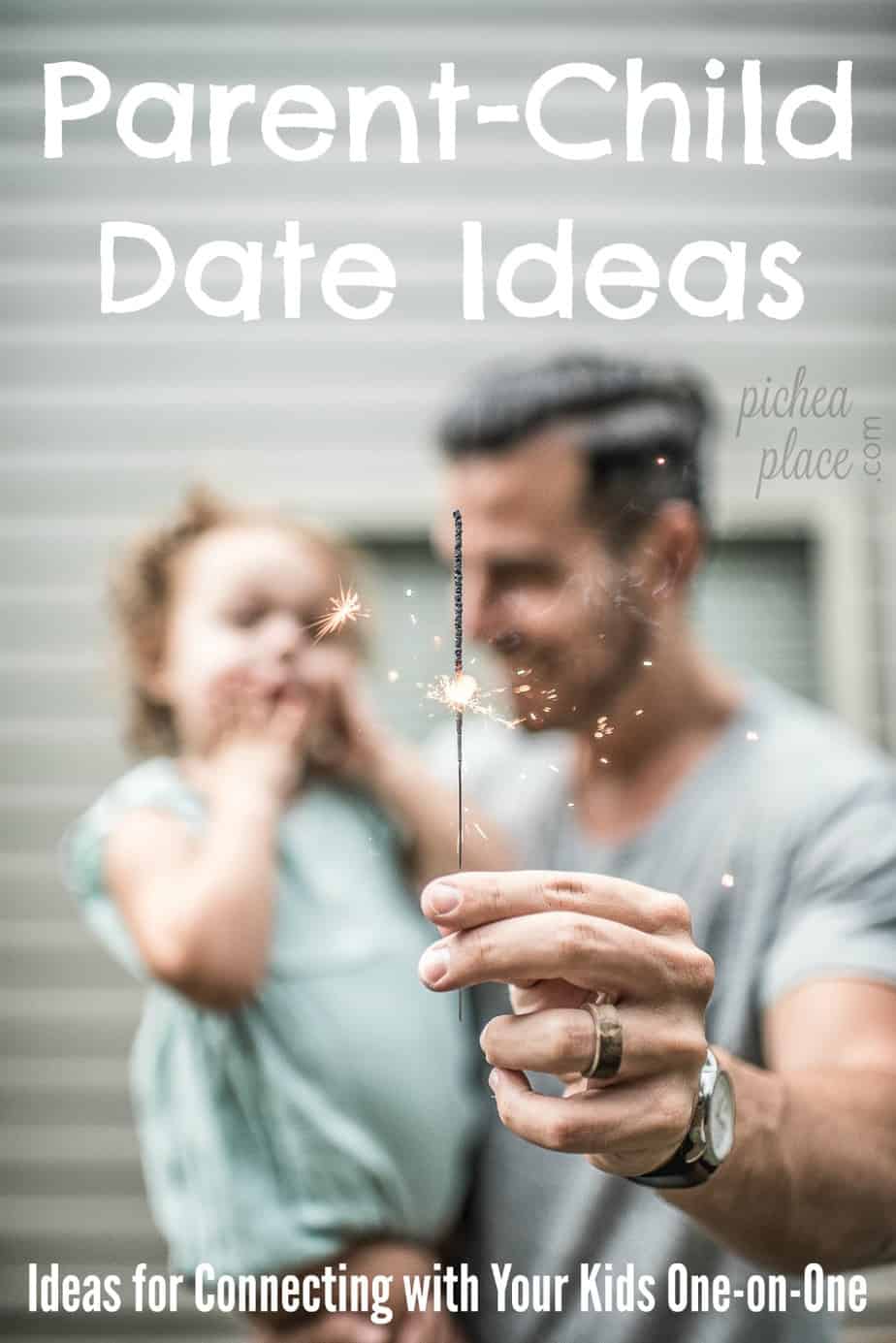 Parent-Child Date Ideas
There are any number of kid date ideas that work for any combination of parent and child: mother-daughter, father-daughter, mother-son, or father-son. Here are some of our favorite parent-child date ideas:
take a walk
go out to your child's favorite fast-food restaurant
play mini-golf
go for a run
take a drive
run an errand together
go to a movie
cuddle on the couch
attend a sporting event
go for a bike ride
play catch
do a craft project
read a book together
volunteer at a local charity
bake/cook together
Mother-Daughter Date Ideas
There is a special bond between mothers and daughters, especially as the daughters begin to enter the tween and teen years.
I've enjoyed spending special one-on-one time with my daughter in recent years as she begins to journey through the season of life that is puberty, liking boys, dealing with girl drama, and all that comes with the transition between childhood and the teen years. It's important to me that I am a safe place for her to come with questions about life and to tell her secrets. The only way I can become that safe place is to be intentional about our mother-daughter one-on-one times.
Here are a few of my favorite ways to spend one-on-one time together with my tween daughter:
Father-Daughter Date Ideas
Nothing is more precious than seeing your daughter off to her first Daddy-Daughter Dance! My tween daughter and my husband attended a daddy-daughter dance a few weeks ago, and it was so much fun to help her get ready to spend the evening with her daddy. But since the dance only happens once a year (at least around here), we've got lots of other great daddy-daughter date ideas we love:
Mother-Son Date Ideas
You don't often see mother-son date ideas, but having two boys who love to spend one-on-one time with me, I know it's important! Here are a few of my favorite ways to spend one-on-time with my boys:
Father-Son Date Ideas
Don't forget about dads and sons! Having a strong male role model is so important for young boys, and a dad who is intentional about building into his son's life is to be treasured. Here are some great ideas for father-son dates:
More Kid Date Ideas
While kids just want to spend quality one-on-one time together without interruptions, sometimes it's fun to surprise them and change things up a bit. Here are some more great kid date ideas to help you connect with your child: