Summer is a season ripe with possibility. While it may be tempting to laze about the house in the heat of summertime, missing out on summer's pleasures would be a tragedy. Setting a few goals to accomplish will help you prioritize so that there are plenty of opportunities to both experience the unique joys of summer and take time to rest and recuperate from the demands of the school year.
When compiling your personal or family summer bucket list, it will feel more manageable and more fun if you consider all of your most important areas of summertime.
A bucket list should not feel like a burden. It is simply a way to set goals for yourself so that you can make the most of the season.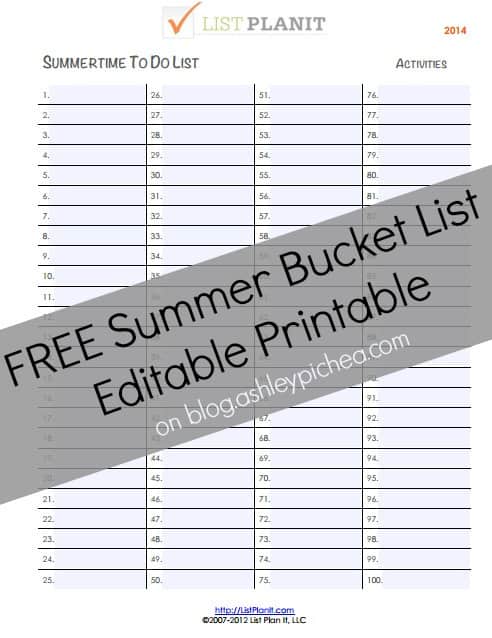 Here are some areas in which you may want to divide your summer bucket list:
Food
This area would include your favorite dishes, restaurants, and treats. Maybe you can't wait to get an ice cream cone from your favorite local creamery. Have a favorite morsel from the grill? Be sure to add it.
Friends
Love summer entertaining? Schedule a summer solstice or Independence Day party. Consider a girls night out, a trip to a museum, a shopping excursion, or another event in which you invite friends to join.
Fun
Whether you can't wait for summer to camp, hike, play a game or a sport, get tickets for a concert, or anything else, research the activities that are happening or available in your area and plot actionable items on your summer bucket list.
Personal Enrichment
Teachers are always talking about the effects of summer brain drain in kids, but what about adults? Visit the library for a few good books. Write in a journal everyday. Get out and exercise while the weather is nice. Reconnect with a favorite hobby.
Don't mire yourself in the idea that a Summer Bucket List is a drudgery.
You can do as many or as few things on the list as you'd like. However, consider it a chance to dream a little bit and take steps toward finding the most enjoyment in the summertime.
Print off a FREE Summertime To Do List from ListPlanIt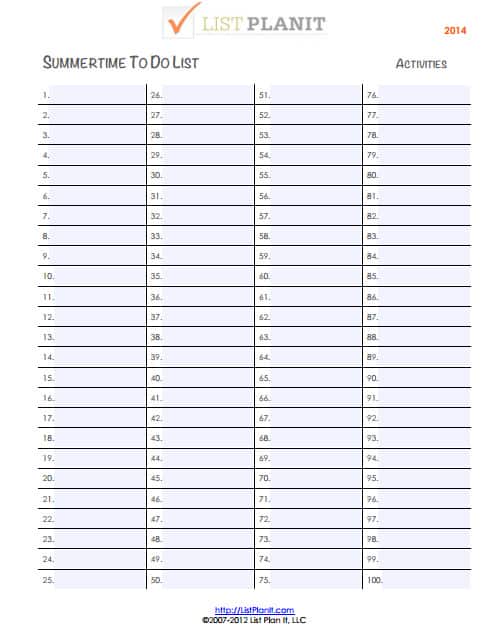 [click the image above for an editable PDF]
---
About the Author: Jennifer Tankersley is the creator or ListPlanIt.com and the author the 100 Days series of eBooks, including the 100 Days of Summertime (use "100DAYS3OFF" to save $3 off the eBook).  It includes everything you need to make the most of your summer.  Brainstorm your favorite activities on ListPlanIt's Summertime To Do List and get started on your best summer yet!