The first half of December was fairly chaotic, and I didn't have much down time. But I more than made up for it in the past couple of weeks. I spent most of Christmas break with my nose stuck in a book. From books I'd borrowed from our local library, to free Amazon Prime library books, to books I'd recently received from publishers to review, I've enjoyed getting lost in the "pages" of some great books this past month and half…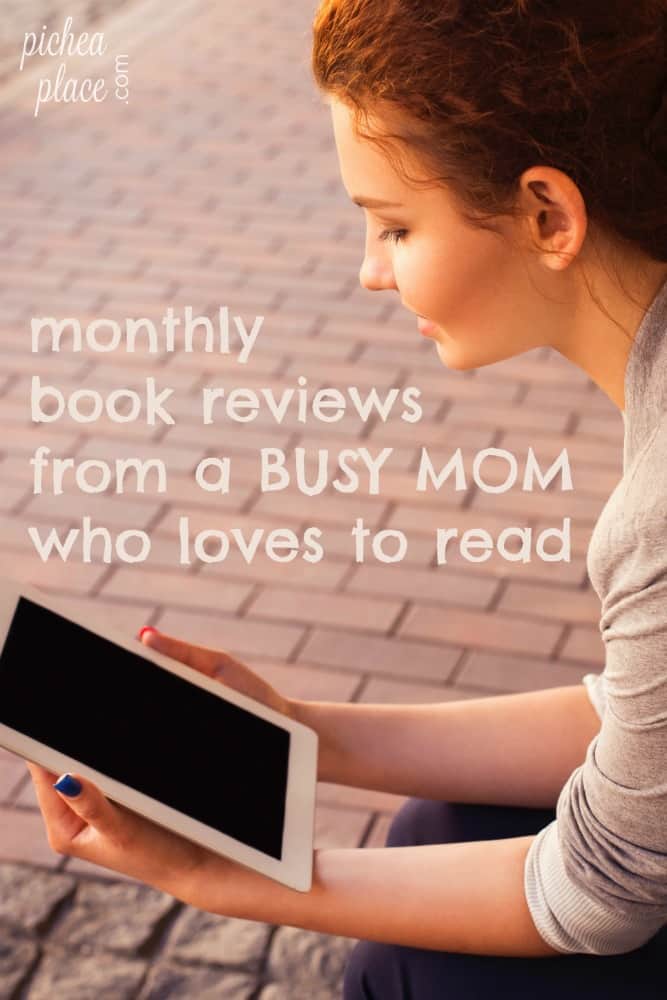 While it didn't fully captivate my attention, I definitely enjoyed this story. The transition from choosing love to finding love was especially encouraging as too often our society tells us to act on our feelings.
I appreciated the authentic and organic mentions of God and faith strewn throughout the book. It never seemed forced or preachy.
While I thought I had the mystery solved in the first half of the story, there were enough twists to make me second-guess my conclusions up until the true stalker/killer was revealed, and the motive was a complete, though relatable, surprise.
Lynette Eason is one of my favorite author, and I was excited to see her release another series of books. I eagerly dove into this one, and once I cracked the cover, I had a hard time putting it down.
As I read, it felt like some of the background details that were being shared (in pieces throughout the story) were from a previous series. As such, there were times I felt like I was missing part of the story.
I definitely enjoyed the story and found myself cheering for the main characters throughout the book. The plot was intriguing, and there were plenty of surprises. I did feel the ending was a bit rushed as I would have preferred to see the resolution play out (beyond the minimal details in the epilogue), but overall, the pace of the book was good.
I'll be eagerly awaiting book two!
I struggled to get into the story at first. I was probably close to the halfway point in the book before I got to the point where I was interested enough in "what happened next" to not want to put it down. Because of that, it took me several days over the course of a week to read it.
I enjoyed the setting, and I found the characters to be likable and realistic. They had depth and believable backstories that played all into the plot.
I just felt that the plot moved too slowly, and there seemed to be multiple plots overlapping that didn't always add to the main plot.
I'm not disappointed to have finished this book, but I didn't hate it either. I give it 3.5 stars.
The Revolutionary War is one of my favorite settings for historical fiction, and Laura Frantz did an incredible job of making me feel like I was there in colonial Williamsburg. This may have been the first time, in fact, that the setting seemed real to me – not just a story, but actual history.
The characters in The Lacemaker came alive on its pages, full of depth and relatable. I felt their emotions and was drawn into their story.
This was not a "quick read," and it took me several days to get through, but it was an enjoyable read, making it difficult to put down each time.
My only "complaint" is that the book ended – and that the last several chapters jumped forward in time so quickly. I would have loved to have continued reading Liberty and Noble's story in much detail.
Vivid details. Solid main characters. Haunting. This was a well-written book, but not what I was expecting or would have chosen had I known the content.
This was a dark story with a demonic (not occult) presence throughout. Michael is a paroled killer pursued by local vigilantes. The demon that lives within him causes death to surround him and has a self-preservation that protects him.
While I appreciate the skill and artistic ability of the author to craft such a story, it was difficult for me to engage with it, and I didn't "enjoy" it. For the right audience, this would be a five-star book. I, however, am not the right audience.
Side note: I anticipated a faith connection in this book based on the publisher from whom I received the pre-release copy for review, but there was none.
I've really enjoyed this series, and book four did not disappoint.
While it's not a stand alone title (the books really overlap and should be read in order), there was definitely a "starting point" and "ending point" contained in this book, giving the reader a sense of completion while still whetting the appetite for the next book in the series.
While the plot was well-developed and the characters deep and relatable, there were times when the conversation was a bit "preachy" and seemed more forced than natural.
If you love suspense and romance, you'll enjoy Troubled Waters!
Rated: R – for intimate content and occasional language
While the writing itself started out less than stellar, I wasn't a chapter into the book before I was sucked into the story.
The characters seemed realistic as did the obstacles they had to face. The romantic tension was strong and played well with the overall plot of the book.
I will definitely be looking forward to reading future titles by this author.
Dark, yet not depressing. A well-written suspense novel set in Chicago in the late 1920s.
It wasn't difficult to get sucked into the story, though I did struggle with the first-person narrative at first (a bit too "dear diary" sounding). Once I got past the first couple of chapters, though, I didn't think twice about it. I was too focused on figuring out what HAD happened and WOULD happen at Lakecrest.
Multi-layered secrets are revealed throughout the story and the plot has plenty of twists to keep the reader engaged and the pages turning.
I was disappointed when I realized I was nearing the ends of the book (as all the secrets began to be laid out in detail), because I didn't want the story to end.
This was a new-to-me author, and I'll definitely be looking forward to reading other titles she's written.
Rated: R – due to detailed intimate scenes and occasional language
I really enjoyed this book. From the depictions of the various scenes to the cast of characters, I found myself a part of the fabric of the small town of Shelter Bay.
The story immediately pulled me in, and I couldn't turn the page quickly enough to find out what happened next and what details would be revealed to help me put together "who done it."
Well-written with plenty of suspense, romantic tension, and mystery that moved along at a quick pace, this book was an enjoyable read.
Rated: PG-13 – for occasional mild language and intimate scenes
I don't remember who recommended this book to me, but I had added it to my library holds months ago as a result, and it just came available this past weekend. It did not disappoint.
I'm a huge fan of historical fiction, especially anything set during one of the war periods. In the past, my exposure to WWI and WWII have been mostly from an American viewpoint, so I found the Europe an setting and perspective to be especially interesting.
This book was well-written, the characters and plot were well-developed, and I found myself lost in its pages from the first chapter.
I appreciated the history lesson alongside the fictional plot, and I found myself enjoying the book as well as learning a lot about the spy networks in WWI.
I definitely recommend adding this book to your reading queue!
I enjoy reading suspense thrillers, and this first book in the Lou Mason Thrillers did not disappoint.
With characters who were well-developed and a plot that woven back on itself time and time again, watching the pieces fall into place was exhilarating. Each time I thought I had a piece of the puzzle figured out, the author threw in a new twist.
I enjoyed reading this book and hope to get my hands on future titles in this series!
---
*Disclosure: I received access to pre-release digital copy of this title in order to write my unbiased review.