In the Midwest, May is the start of garage sale season (also known as yard sales if you don't have a garage), and it's the perfect time to think about packing shoeboxes for Operation Christmas Child.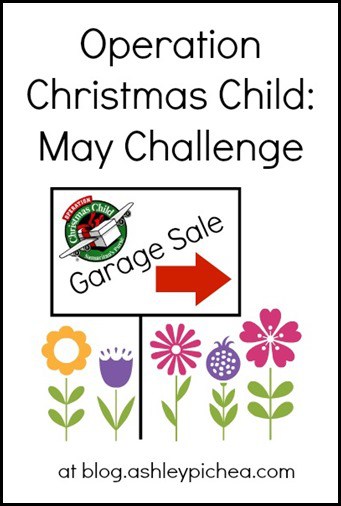 Have a Garage Sale for OCC
This past weekend was our church's annual OCC Garage Sale.
We all cleaned out our closets and collected the odds and ends from our homes that we no longer want or need, and we came together to have a garage sale.
One of the families from our church lives in a neighborhood that hosts a neighborhood-wide sale each year, and last Wednesday we took our donations to their house. When Chris and I dropped off our boxes upon boxes of stuff (aka all the stuff that we moved to Michigan last month and then realized we didn't really want to have to move again this fall), there were a dozen or so volunteers sorting and pricing all the donations.
They also have a bake sale as part of the garage sale. People from church baked a favorite treat and those treats were sold at the garage sale.
All of the proceeds from the sale (an early count from this year's sale showed they made more than $1500!!) go directly toward the cost of packing shoeboxes and shipping them to kids around the world with Operation Christmas Child and Samaritan's Purse.
Shop at Garage Sales for OCC
You can find great items at a garage sale, if you know how to look, that would be perfect for packing in a shoebox. Small toys that have been gently used, costume jewelry, gently used shoes and clothes, tote bags, etc.
SHARE THIS POST with someone who you think needs to join the May Operation Christmas Child Challenge!