Sometimes you look at your life and wonder what in the world is happening. Instead of being able to see a picture, you just see a pile of scattered jigsaw puzzle pieces that don't seem to fit together or have any real pattern at all.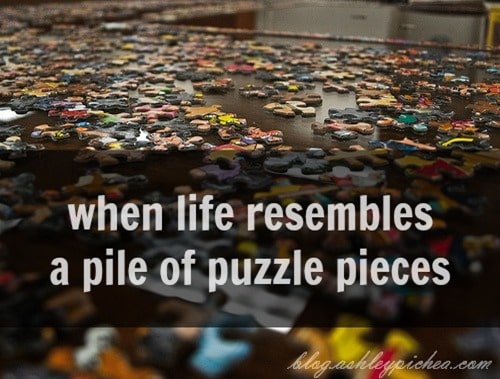 The last year or so my life has felt like that – a pile of puzzle pieces that all came out of the same box but every time I attempt to fit two of them together, there is no pattern and they don't mesh.
Can you relate?
I know God is working. I firmly believe that He has a plan for my life – for our family.
Lately, as we've been seeking what our next step of faith might be, I've begun to put some of the pieces together in my mind. If the desire of my heart is in alignment with His desires for me, for us, I have a very blurry idea of what the big picture might look like in time. I've started to catch a glimpse of what I think might be next. But the pieces are still scattered and the big picture view is out of focus.
Once again, I have to caution myself not to run ahead and force the pieces into the image that I want.
Proverbs 3:5-6 says, "Trust in the Lord with all your heart, and do not lean on your own understanding. In all your ways acknowledge Him, and He will make straight your paths." [ESV]
Though God has laid dreams on my heart, I can only wait and see how He guides and directs. If I try to run ahead and plan my own path, there's a really good chance (ask me how I know) that I'll end up off course and/or disappointed because I missed out on a blessing He had for me along the way.
Patience has never been my strong suit. And I've never been all that good at putting puzzles together.
But this is one puzzle I'm going to patiently wait to see how it turns out… I know it's going to be one amazing view at the end!
Talk to me
How have you seen God put together the seemingly random pieces of your life for His greater plan? Are you living in a state of "piles of pieces," or are you in season of "seeing the big picture?"
—
photo credit: http://www.flickr.com/people/bradmontgomery/