When we moved a year ago, we did a MAJOR purge of all our stuff that had been sitting in storage for a year or more… and since we weren't planning to have any more kids for awhile (if ever), we gave away almost all of our baby stuff. It really was a great relief to be able to no longer be storing eight years worth of baby items (clothes, toys, basic necessities, etc.), but when we found out we were unexpectedly expecting last fall, I started to make a list of all the basic essentials I would need for a new baby.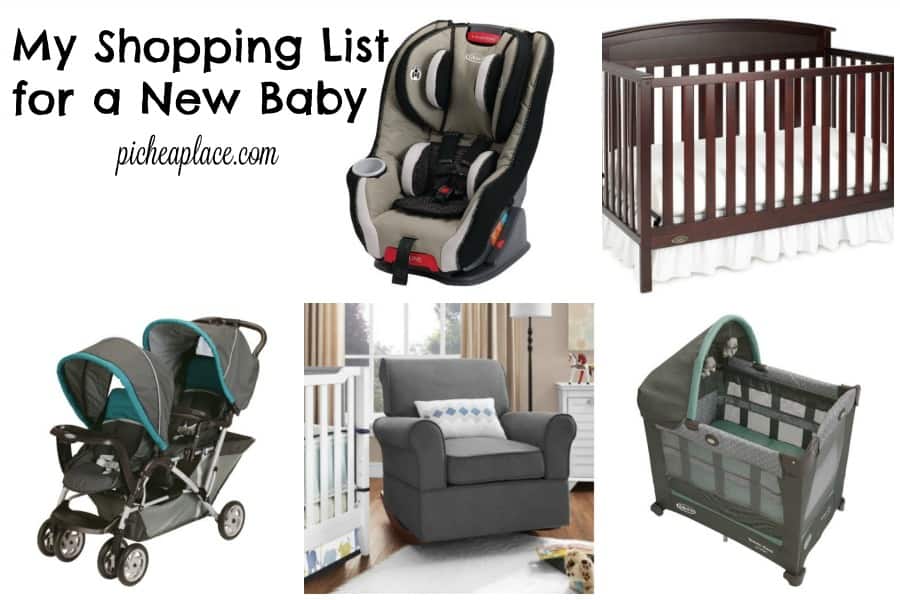 Crib
Thankfully, this is one item on my "need for baby" list that I don't have to go out and purchase. When we found out we were pregnant with Chris (who is currently 2.5 years old), we purchased a new convertible crib as the one we had used with the older two kids had been sent to the dump after David was done with it. Chris has been sleeping on it as a toddler bed, but will be ready to transition to the lower bunk of our bunk beds by the time we are ready to use the crib for the new baby.
Pack'N'Play
Nine years ago (has it really been that long?!?) we bought a travel-sized Pack'N'Play with a bassinet attachment while pregnant with Jenny. All three of our older kids have used it, and because we were still using it with Chris a year ago, it survived the purge. I just need to go out to our storage unit to find the bassinet frame. The new baby will sleep in it for the first several months after she is born.
Stroller
We had two strollers. One was a really nice all-terrain stroller we'd been given when Jenny was born that unfortunately got moldy while sitting in storage and had to be pitched. The other was a used umbrella stroller we'd picked up at a garage sale, and over the years had begun to fall apart, resulting in its demise.
After borrowing a friend's double-stroller last fall for our family vacation to Universal Orlando, we decided we want one just like it and added it to our Christmas list. Thanks to our generous family, we are now the proud owners of a Graco DuoGlider. I'm thinking we should probably pick up an inexpensive umbrella stroller, too, but I'm not going to stress about it until the baby is actually old enough to sit up in one.
Car Seat
Once upon a time, infant car seats didn't come with an expiration date on them. This was the case with the first (and only) infant car seat we owned. However, after three kids in seven years, it was time for the car seat to go out of circulation. Now I'm trying to decide whether to purchase another Graco Size4Me 65 (like Chris is currently using, and I love) right away or a smaller infant car seat for ease of carrying the baby in and out. I'm leaning more towards the all-in-one car seat as I prefer to babywear versus lugging around a car seat.
Which would you recommend?
Rocking Chair/Glider
Another causality of our most recent move was the glider I'd used with all three kids. As we moved from a five bedroom house to a three bedroom house to a two bedroom apartment, we got rid of a lot of the "excess" furniture we didn't "need," and the glider was one such piece. While having a rocking chair/glider is not a "necessity" (and I'm not quite sure where we'd find room to put it), it would be nice to have for rocking the baby to sleep and nursing her. I've been doing a little browsing on Amazon and think I might add one of these to my wishlist:
Clothes
Since all of our baby girl stuff was eight years old when we got ready to move last year, I decided it was time to part with it. Even if we did have another girl baby, the styles would have changed enough that I'd probably want to update her wardrobe significantly. However, the reality of having NO baby girl clothes (and I mean NONE) was starting to overwhelm me as we don't really have the budget to buy a lot at this point. Thankfully, my sister-in-law still had all the clothes from when my niece was a spring baby (my due date is less than a month from her birthday), and graciously gave the majority of them to us to use when our baby arrives. That was a huge blessing, saving my sanity and our bank account!
Diapers
Since Chris is officially potty trained (he's even staying dry at night!!), I'm able to designate all of our cloth diapers to the new baby. I loved using Kawaii Baby Diapers with him, and I can't wait to use them with the new baby. I just need to strip them and snap them to fit a newborn!
Other essentials
What other essentials am I going to need for the baby? What am I forgetting?
As a fourth-time mom, I know that a lot of what was on my original baby registry nine years ago was not truly necessary, but I'm sure there's probably something I'm forgetting to add to my list. What "must have baby items" are on your "new baby" list?