When it comes to getting dressed, I'm not a fashionista by any means. But I do enjoy having a bit of variety in my wardrobe (without the extra cost and clutter of more clothes), so I tend to keep my basic pieces simple and often "dress them up" with a scarf.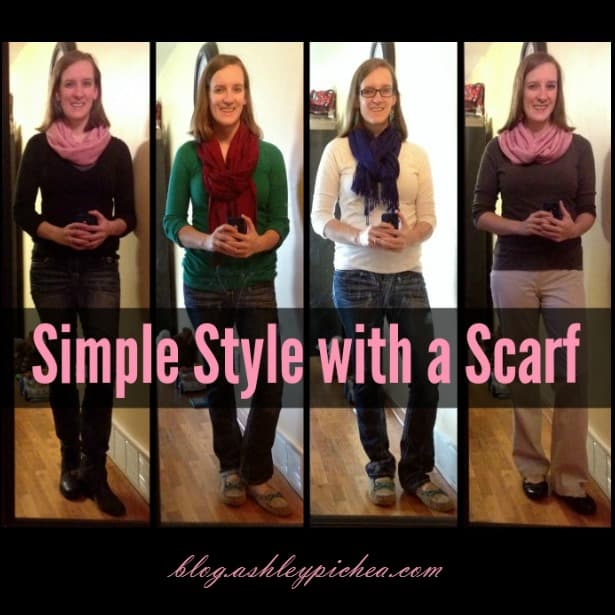 Saturday
Saturday night, I had a meeting to attend at church, so I decided to jump in the shower last minute (we'd spent most of the day packing boxes for Operation Christmas Child) and since my new scarf from Cents of Style had just arrived that afternoon, I decided it'd be the perfect accessory to wear.
Sunday
Sunday was a LONG day at church (I left the house at 8:10am and walked back in the door just after 6:00pm), so I wore an outfit I knew I could be comfortable in all day and yet was nice enough for being on the platform helping to lead worship during the morning service. Adding a scarf to my outfit helped to dress it up a bit.
Monday
Since the weather was looking iffy on Tuesday (my normal errand-running day), we decided to take advantage of the nice day and headed out as a family to eat at a Chinese buffet and go grocery shopping at Aldi. My blue scarf was the perfect addition to this otherwise simple outfit.
Tuesday
Tuesdays are piano lesson and library days (followed by a LONG afternoon of school), so casual comfort is key. Adding a scarf to my outfit is a great way to look a bit more put together on a day when my brain is generally quite scattered.
—
As a WAHM/SAHM (work-at-home mom/stay-at-home mom), it's easy to default to pajamas or sweats as my daily "uniform," but that tends to set a tone of "laziness" around here, so I've been keeping my eyes on Pinterest, searching for casual SAHM outfit ideas, and then shopping my closet, adding a few accessories here and there from the awesome deals I find on Cents of Style.
There are several "what I wore" linkups around the blogosphere each week, and I'm joining in at What I Wore Wednesday for accountability with a weekly post of what I wore, sharing some casual SAHM outfits of my own.