When your homeschool is made up of multiple ages, juggling multiple curriculum for your various ages can be daunting, so finding one curriculum that can be shared among multiple ages is ideal.
We love Apologia's elementary science curriculum because it is appropriate for both David (preK) and Jenny (grade 3) to do together with a few modifications.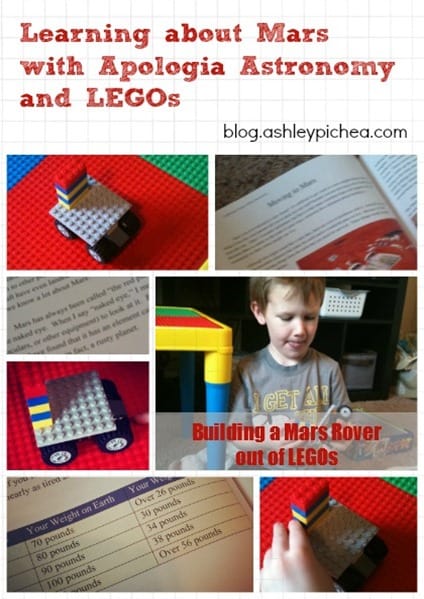 Teaching Science to Multiple Ages with One Curriculum
One of the things I love most about Apologia's elementary science curriculum is that it is written to kids. The text is not dry and boring, but it engages my kids as we read together.
As we read about Mars in our Apologia Astronomy book today, the text invited us to imagine what life might be like if we moved to Mars. We talked about what we might see (red dirt, butterscotch sky, potato moons), how we would feel (instant weight loss!), and the fact that we would have to take all of our resources with us from Earth.
As Jenny began to record the fascinating facts she learned in her Notebooking Journal, David wanted a way to share what he had learned while we read, so I suggested that he grab his LEGOs and build a Mars Rover. He loved that idea, and he quickly got to work.
He made sure to build it on the "red" portion of his brick building table since Mars is red from all the rusty iron on it!
It's little things like this – finding ways for David to have a way to express what he is learning apart from the "advanced" methods Jenny is using that allow us to learn together, teaching multiple ages from the same science curriculum!
Share with us…
How do you teach multiple ages in your homeschool? Do you have separate curriculum for each child? Do you "group teach?"