On Saturday, we loaded up the van and headed up to Grand Rapids to visit with family and go to an apple orchard. It was a fun-filled fall afternoon!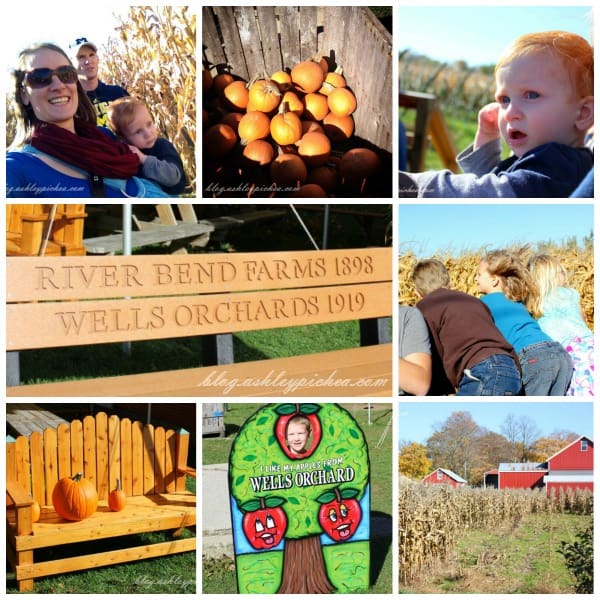 Unfortunately, the apple orchard that we went to did not allow u-pick, but that didn't keep us from having lots of fall fun. The day was BEAUTIFUL: mid-60s with sunshine and a light breeze – perfect fall weather!
A Wagon Ride at the Apple Orchard
My in-laws bought tickets for all of us to be able to take a wagon ride (and there wasn't any hay to trigger seasonal allergies!!) through the orchard. The wagon ride was more of a "tour" of Wells Orchards as we rode through the rows of apple trees, heard a history about the family (they've been in the commercial fruit business since 1919!), and learned about the other fruit they grow as well (sweet cherries and peaches).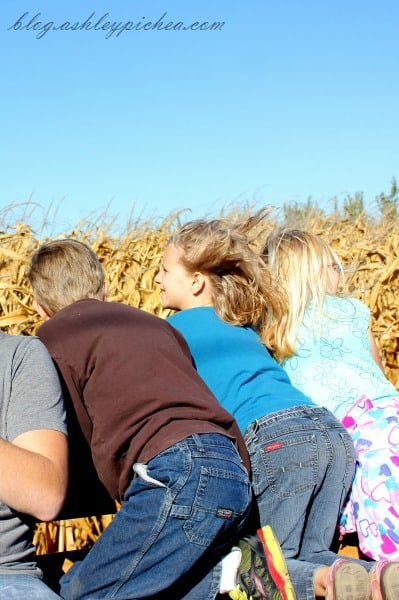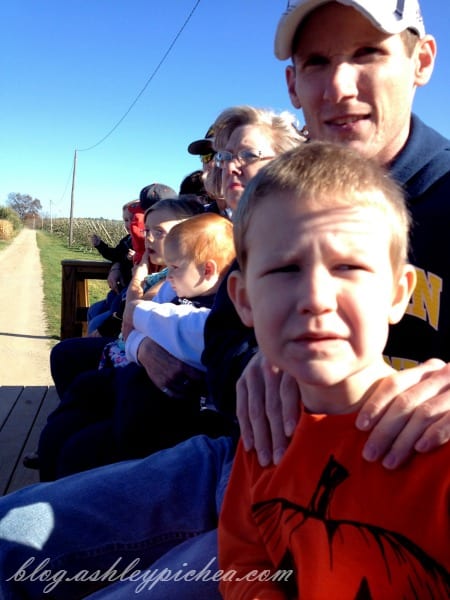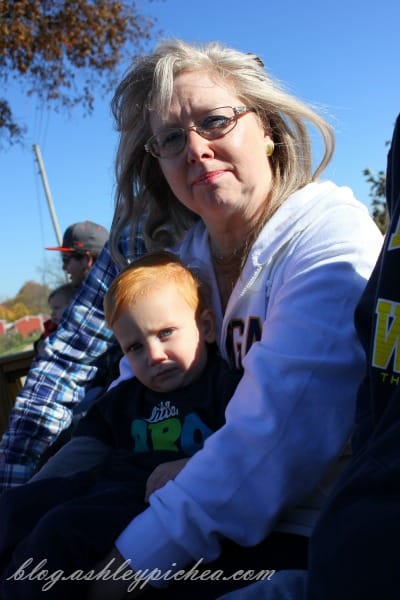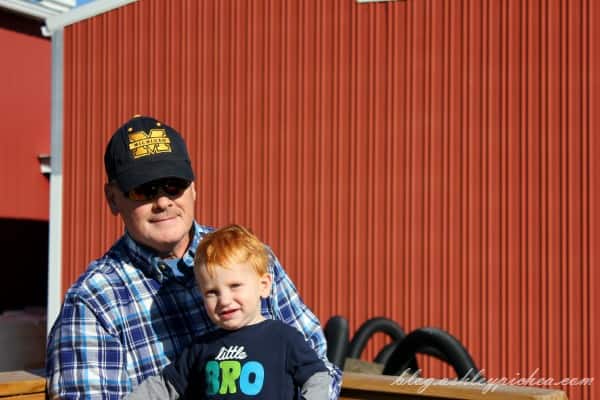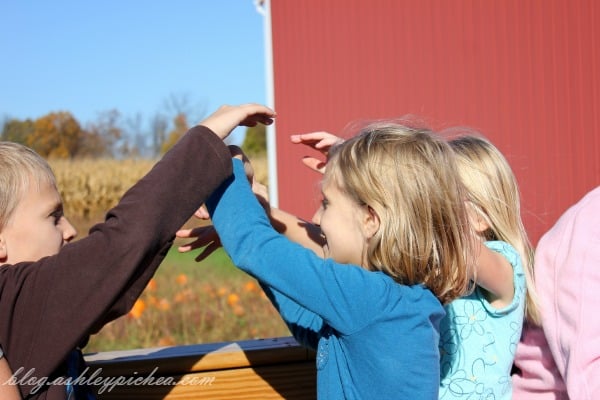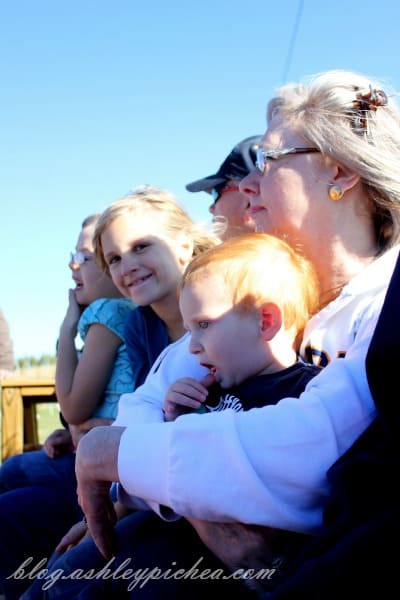 While on the wagon ride, I let David have my Canon EOS Rebel T2i for a bit – he has a really good eye for photo composition, considering he just turned 6!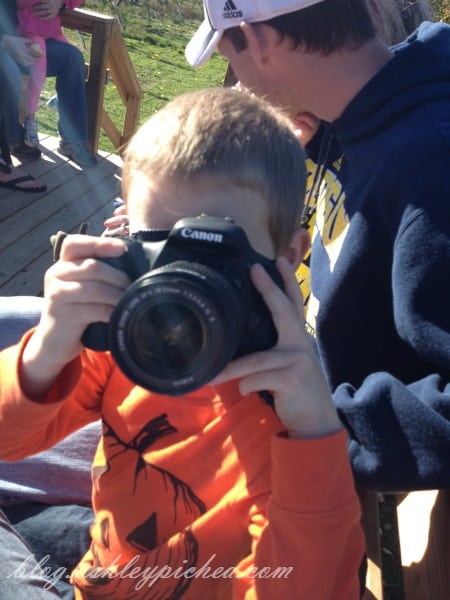 Check out this photo of Chris he took…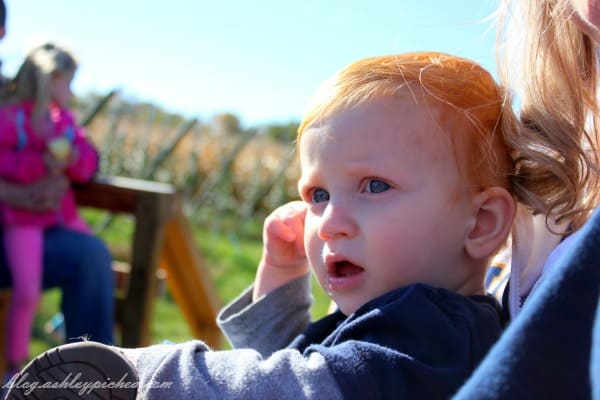 After the wagon ride, we decided to head to the corn maze.
A Corn Maze at the Apple Orchard
Thankfully this wasn't a complicated corn maze as six of the seven kids ran ahead into the corn maze (I had Chris in my sling) and before my brother-in-law could catch up to them, they'd wandered down various paths.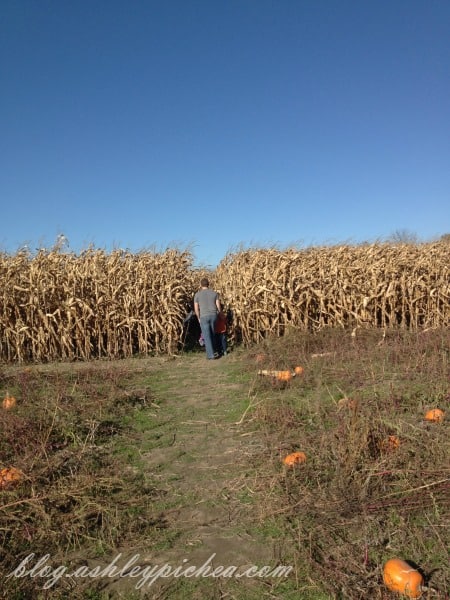 After a few minutes, I hit a dead-end, but rather than turn around, I decided to cut through the rows of corn to find another path to try. Eventually I cut my way out to the back corner of the field and began to walk back to the front of the maze along the outer edge.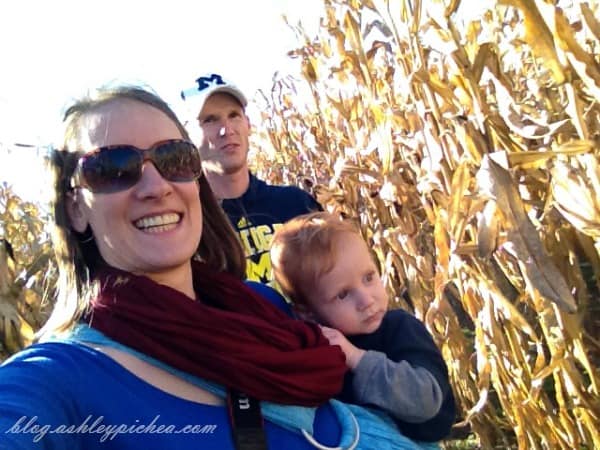 Halfway back, I began to hear cries for "Mommy!" I cut back into the maze calling out to the voice, and I discovered one of my nieces had gotten separated from the rest of the kids and was lost. Moments later, Jenny and my nephew came barreling through the maze looking for my lost niece. We started to head back together and my brother-in-law met us halfway back to lead us the remainder of the way.
When we regrouped at the front of the maze, I realized that David wasn't in the group. I asked around and nobody knew where he was – they all thought he was with the rest of the kids. My father-in-law went to check the playground, but when that was a bust, I handed Chris off to my mother-in-law and got ready to head back into the maze. As I reached the entrance, David came out with a few "strangers" that he'd run into and asked for help. He had gone back into the maze with Jenny and my nephew to try and rescue my niece, but they'd run too fast and lost him (and nobody knew he'd followed them).
Pumpkins, Donuts, Caramel Apples, and More at the Apple Orchard Farm Store
After we gathered every one back together, we headed into the apple orchard farm store where my mother-in-law offered to purchase a treat for each of us. Choices ranged from raw local honey (me) to caramel apples (most of the kids) to donuts to apple cider to pumpkins.
We are so thankful for my in-laws' generosity in treating us to a fun day at the apple orchard this weekend, and we look forward to hopefully making visiting an apple orchard a yearly tradition!
[click here to follow my board]
Follow Ashley Pichea [Pichea Place]'s board Family Friendly Fall Fun on Pinterest.