Last month, I shared my monthly restock grocery shopping trip in detail, and it was a popular post. Many people commented that they appreciated seeing the breakdown and learning more about how to feed a family on a budget. I thought I'd do another post this month – an update of our additional grocery expenses last month as well as this month's shopping trip.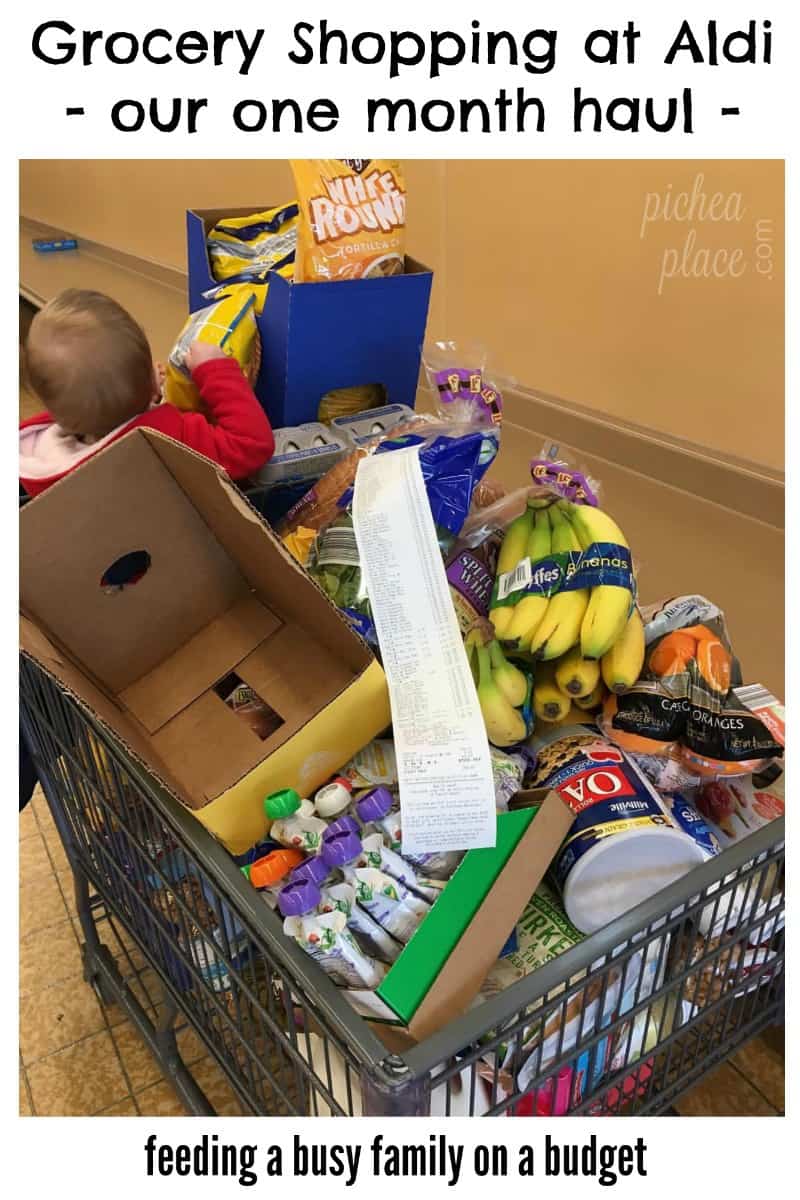 March Grocery Recap
During March, in addition to the $212.14 I spent at Aldi during my monthly restock shopping trip, I spent $216.95 (although part of that wasn't groceries, but I can't remember what all I bought at Sam's Club last month) throughout the month. So our March grocery total was 429.09.
April Grocery Shopping Trip
We had quite a bit of "leftovers" from last month in terms of meat and pasta (we got takeout and/or ate out more than we'd planned for dinners), so I didn't have to spend as much on those items this month. But I did stop at Sams Club to pick up another case of burgers for the freezer and a few condiments and pantry staples I buy in bulk.
I've noticed that we are running out of food faster at dinner (i.e. the kids' portion sizes are growing), so I'm going to start increasing the size of some of our meals. We may have more leftovers (easy lunches), but it'll (hopefully) cut down on the amount of snacking they do between and after meals. (We went through a LOT of fruit and crackers last month.) That means we'll probably be spending a bit more on dinners than we have in recent months, but perhaps we'll spend less on produce.
We're also hosting my extended family for Easter Dinner/Audrey's birthday party, so I bought food specifically for that meal that I wouldn't have otherwise purchased.
So far this month, I've made two trips to Aldi (both accounted for above because I forgot some things my first trip) and one trip to Sams Club ($61.05 in groceries, including birthday cupcakes/Easter Dinner dessert). Seeing as how we're almost halfway through the month, I don't anticipate we'll need more than one trip next week to restock on milk, bread, and possibly fruit. Our April total grocery spending to date is $257.11.
My New Kitchen Appliance
And in other meal planning news, while I was at Sam's Club, I purchased an electric pressure cooker (i.e. Instant Pot), so I'm gearing up to take this EPC 101 class to learn how to use it.
Do you have an EPC? What are your family's favorite IP Recipes? Share them here –> Favorite IP Recipes.