Can you say "Fall Family Fun" five times fast? Fall is my favorite season, and it's the perfect season to spend time together as a family without spending a ton of money!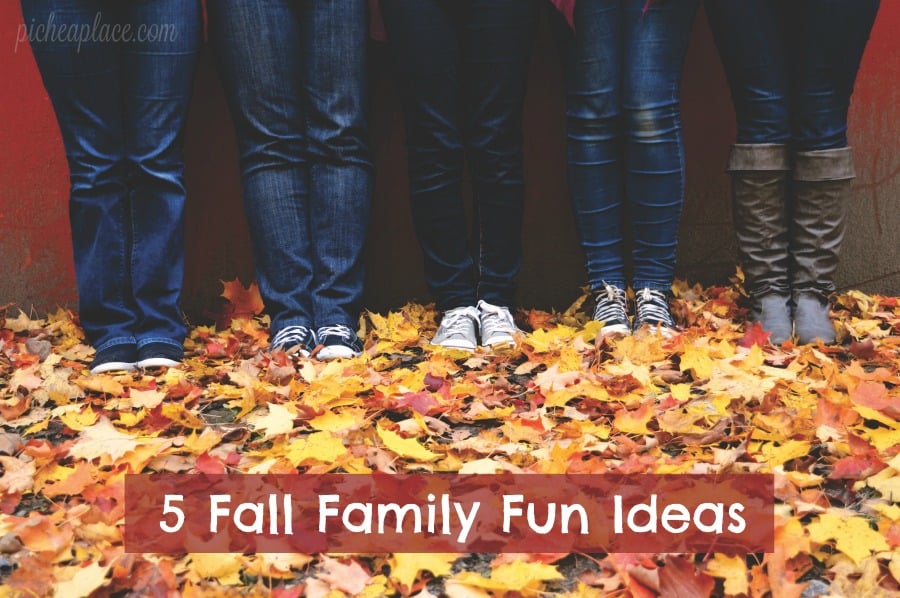 Fall Family Fun Idea: Go to a Football Game
One of my all-time favorite fall activities is going to a football game. I grew up going to our local high school's football games every Friday night. Many schools have family passes you can purchase if you'll be attending multiple events, but a one-time ticket is usually only $4 or $5 for adults (less for students).
If going to a game isn't in the budget, you can experience the fun of football at little-to-no cost, right in your own backyard! Grab the kids, the neighbors, your friends down the street – whomever you can get – and put together a game of 2-hand-touch football. The rules are simple: each team gets up to four tries (known as downs) to get the ball to the "end zone" (mark with Frisbees, jackets, cones, whatever you have on hand). If the person with the ball is touched by a player from the other team with both hands, he or she is "down" and the play stops. Make your field as long or short as you like (I'd suggest 10-20 yards), and play as many sets of downs as you want (or play to "x" number of points). Make sure each team has an equal number of turns trying to get the ball to the end zone.
Fall Family Fun Idea: Take a Hike
There's nothing I love more about fall than looking at all the beautiful colors in the trees. Taking a hike at your local nature preserve or county park is a perfect way to enjoy all of God's beautiful creation this fall!
Grab a camera, bag (for "treasures"), notebook and pencil, and a book about trees/leaves. If you have young kids, have them look for the biggest leaf, the smallest leaf, an acorn, a stick, pine cones, and any other fall treasures. Then, have your kids put their treasures in a bag to take home.
Older kids can use a notebook and pencil to sketch what they see while walking, or they can use a camera to capture pictures of the colors. A book about trees/leaves can help older kids learn to identify various types of trees/leaves and could even be part of a science unit.
Use your camera to take fall pictures of your family among the beautiful background of colors.
Fall Family Fun Idea: Fall Inspired Crafts
Creating a fall-scape with your nature walk/hike treasures is a fun way to bring fall inside! Grab a piece of cardstock or plain paper and use your treasures to create a beautiful picture.
Draw an outline of a tree with a marker/crayon and glue leaves and acorns to it. Place a sheet of paper over a leaf and use a crayon to color over it, bringing out the leaf's vein on the paper. Have older kids create a leaf collection by identifying various leaves (and the trees they came from) and creating a leaf book. Laminate the leaves with clear contact paper or use an iron to melt wax paper around each leaf.
Fall Family Fun Idea: Decorate with Nature
Decorating with nature is another great fall family fun activity. Use the fall-scapes to decorate your home, as greeting cards, or to frame individual leaves and create a beautiful display. Grab a hot-glue gun and a piece of cardboard. Glue leaves and acorns to the cardboard to make a wreath or frame to hang on the wall. Create a garland by stringing acorns and leaves with a needle and thread.
You can also use what you've collected outside to create a beautiful pinecone candle holder or decorate your mantle.
Fall Family Fun Idea: Visit a Local Farm or Orchard
Fall is known for being a season of harvest. Grab the family and head to a nearby apple orchard or pumpkin patch. Often, these venues will have opportunities for hayrides, apple/pumpkin picking, and fun family photos. I love the taste of a freshly picked apple and fresh apple cider. I love carving jack-o-lanterns from pumpkins too!
Want more great ideas for fall family fun?