Our family LOVES eating at Chipotle, but the closest one to our house is over an hour away, so when I was craving a Chipotle burrito bowl a few weeks ago, I came up with this quick and easy burrito bowl recipe.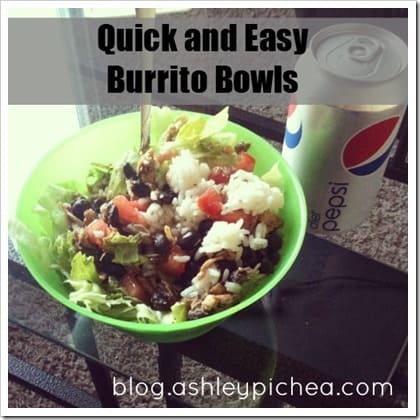 Our family LOVES this quick and easy burrito bowl recipe. It's been a regular addition to our menu plan this summer – and I have a feeling it will be a favorite meal for a long time to come!
Ingredients for Burrito Bowls:
Foundation:
Filling:
one can of cooked chicken
one can of black beans (drained)
1/2 packet of taco seasoning (more or less to taste)
Toppings:
one diced tomato
2-3 cups of shredded lettuce
optional: sour cream, shredded cheese, guacamole
*serves 4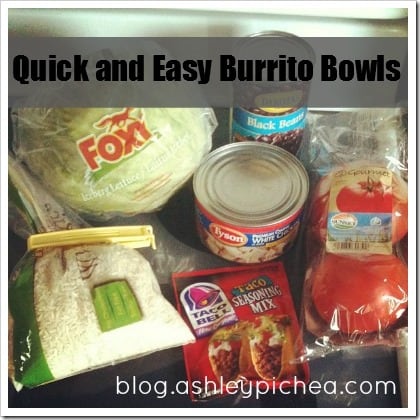 How to Make Burrito Bowls:
Cook your rice according to package instructions.
While the rice is cooking, use a fork to shred the can of chicken in a microwave-safe bowl. Add the black beans and taco seasoning – mix well. Cover and microwave for 2-3 minutes, until it's hot.
When the rice is done cooking, assemble your burrito bowls. Start with a heaping helping of rice, add some chicken/bean mixture, and top with lettuce, tomato, and any other desired toppings.
Enjoy!
Share the Burrito Bowl Recipe:
Use the sharing buttons below to share this recipe with your friends and save it to your Pinterest board!!