I made a trip to Aldi yesterday, and when I shared a quick photo and caption on Instagram and Facebook, I got some questions:
How long will that last you?
What meals will you make?
How often do you buy those items?
What are some ways to save money and time while feeding a family of six?
Since I was asked these questions by more than one person, I thought I'd put together a quick run-down of our shopping trip and how we'll use the groceries we purchased at Aldi.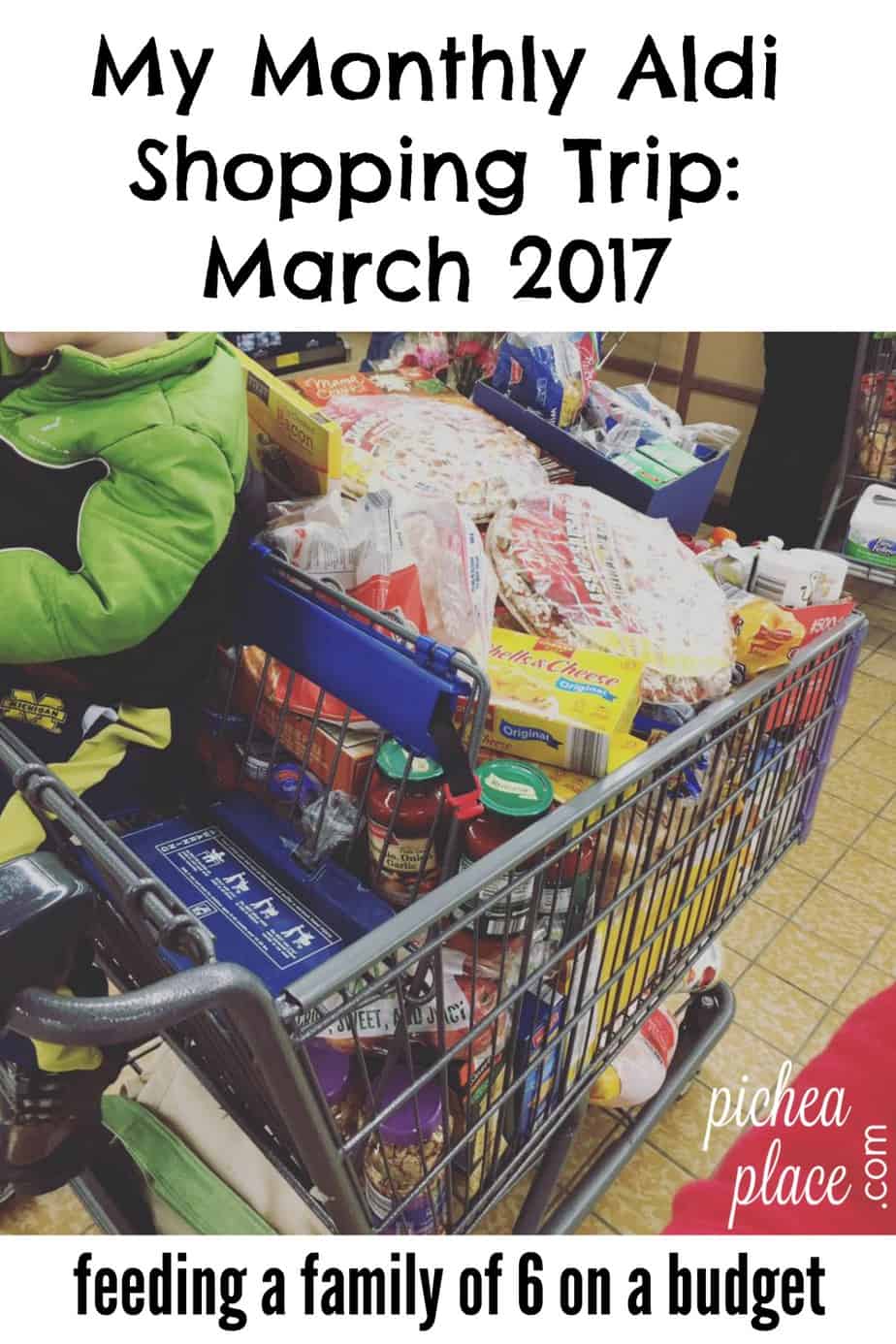 Since Aldi is all the way across town from me, and I don't often frequent that area of town, I have to make a specific trip. I have a running grocery list on the counter for each of my "main grocery stores," and Aldi is always the longest as it generally has the best prices on the majority of our favorite foods.
It had been a few weeks longer than normal since I'd been to Aldi (I really don't like to shop, and I'd been putting it off, making more frequent trips to Meijer to restock our basic essentials instead), so my list of staples we needed was fairly long.
I don't like to take all the kids with me, especially when I'm doing a major shop, but since we were going after piano lessons and my husband had an appointment during that time block, I didn't have a choice. Thankfully, the store was fairly empty and the kids were all well-behaved (which almost never happens). I even let them have a treat that the older gentleman in line behind us offered – that's how shocked I was at how well they behaved!
My Once-a-Month Restock Shopping Trip at Aldi
By the time we made it to the register, we were out of room IN and UNDER the cart. I realized halfway through the store that I should probably have gotten two carts, but I was determined to make it all fit (I'm stubborn), and somehow I managed to do so.
What did we get? How much did it cost? What will we use it for?
Here's a spreadsheet with a run-down of the items I bought, how much I bought, what the cost was (per item and total), and how we'll use it over the next few weeks.
The majority of this trip will last us about a month. I didn't buy many pantry staples (flour, honey, coconut oil, spices, etc) as we're stocked up on those at the moment, and most of those I purchase from SAMS Club in bulk. I'll probably stop at Meijer 2-3 times before my next big Aldi trip to restock on daily basics like milk, bread, eggs, and fruit.
Our Menu Plan
As you can see, most of the items we purchased were staple items that don't have a specific meal attached to them. That's because I don't like to plan out my menu in detail. Instead, I make a list of meals that I have the ingredients to make, and then choose from that list each day depending on our schedule and what we're in the mood to eat.
I use my dry-erase calendar to list a "meal suggestion" for our main meal each day, but when it comes time to make the meal, I often swap it out and move the suggested meal to another day. If there is a specific meal we want to eat on a specific day, I'll be sure to have the ingredients on hand to make it.
What We Eat for Breakfast
Most weekdays & Sundays, we opt for quick and easy breakfasts:
cold cereal + milk
oatmeal
eggs
fruit
yogurt
granola/bars
toast
bagels
On Saturdays, I'll often fix a hot breakfast (if we're home) – eggs, hashbrowns, cinnamon rolls, pancakes, french toast, egg casserole, etc. – or we'll go out to eat.
What We Eat for Lunch
The two oldest kids get hot lunch at school most days. I pack a sack lunch for my husband (turkey or PBJ sandwich, piece of fruit, and some nuts). The youngest two kids and I eat at home.
Here are some common "at home" lunches:
finger food platter: fresh fruit, fresh veggies and hummus, crackers, pretzels, etc
sandwiches: PBJ, fried eggs, egg salad, tuna salad, turkey
leftovers
pizza rolls
hot dogs
box mac&cheese
What We Eat for Snacks
While sugary snacks do appear in our home from time to time, I try to make them the exception rather than the rule. As such, I try to keep healthier snack options on hand:
fresh fruit
fresh veggies + hummus
chips/pretzels
crackers
yogurt
cheese
applesauce squeeze pouches
These also double as "side dishes" for meals, so I try to buy enough to get us through a few weeks at a time.
What We Eat for Supper
The following is a list of frequent-flier meals that I generally keep the main ingredients for on hand:
chicken & rice
chicken, apple, & sweet potato skillet
calzones
stromboli
frozen pizza
chicken and potatoes
hamburger stroganoff
nachos
tacos
burgers
chicken noodle soup
tomato soup + grilled cheese
cheddar broccoli soup
potato soup
sloppy joes
spaghetti with meat sauce
shells and cheese + smoked sausage
hot dogs
chili dogs
quesadillas
lasagna
breakfast burritos
homemade mac & cheese
RECOMMENDED READING: EASY RECIPES FOR BUSY FAMILIES
Why Aldi?
Some of you may be asking, "Why Aldi?"
I used to be a crazy coupon person – back when I only had two little kids and wasn't homeschooling or working from home. And although I saved quite a bit of money doing so, I was spending hours a week clipping coupons, pouring over circulars, shopping at multiple stores, and creating menus based on what was on sale that week. It was basically a part-time job trying to feed my family for as little as possible.
And then a friend introduced me to Aldi.
At Aldi, I can generally find every day prices on "off brand" items (that are just as good as the name brands) that compare to the prices I would get them at the other stores after coupons were applied. Because they only carry their own brand of products, the store is smaller, cleaner, and I don't have to do much "comparison shopping," which saves me time in the store.
Now, I can spend 20 minutes checking my pantry/freezer/fridge for any items that are running low and haven't already made my list, throw together a quick "suggested meal" plan for the next few weeks based off our frequent-flier list, and head to the store knowing that I'll be able to get a great price on everything I need without having to clip coupons or make multiple stops.
Not only does shopping at Aldi save me money, but it saves me a lot of time and energy!