Spiritual mentorship is a piece of the spiritual growth journey that is often missing in the busy mom's life. In the midst of parenting, marriage, and often times, helping to provide financially for their families, busy moms find themselves without a spiritual mentor.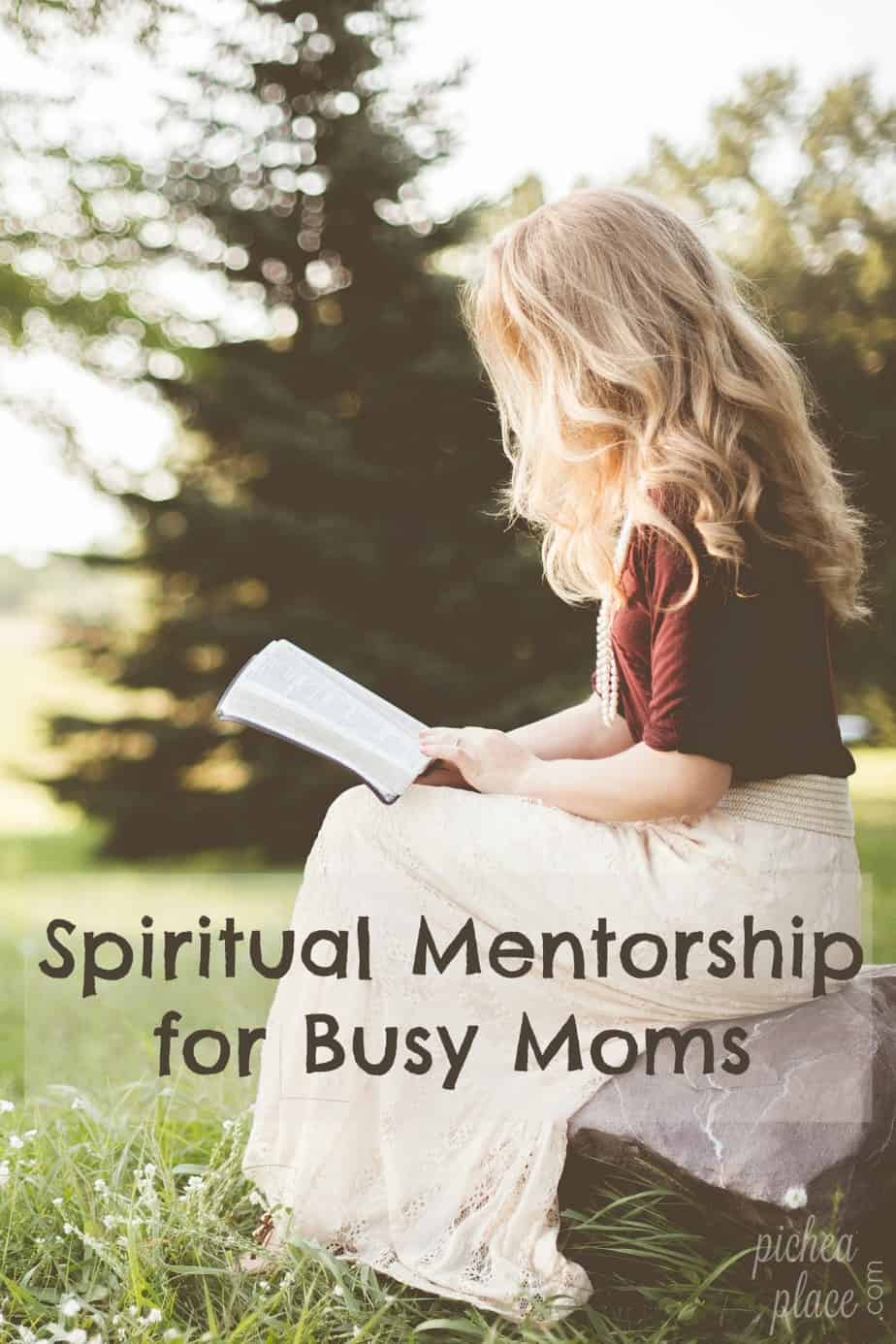 Spiritual Mentorship for Busy Moms: Lacking Personal Discipleship
Having found myself in this position of lacking personal discipleship time and time again, I've learned to be intentional about finding spiritual mentorship through reading books written by those who have walked this path of motherhood and marriage before me, gleaning wisdom from their experiences as they pour the Word of God into my life.
Elizabeth George
I was first introduced to Elizabeth George by a family friend as she shared words of wisdom from her own life of marriage and motherhood at my bridal shower. She gifted me with a copy of Life Management for Busy Women – a book I've read, highlighted, and returned to time and time again throughout the last twelve years of being a wife and mother.
Related: 10 Disciplines for Developing a Passion for the Word of God
Recently, I came across Loving God with All Your Mind and ordered a copy. Within the first few pages, I knew it was no accident that God had brought this book across my path as it specifically addressed an area of spiritual growth (overcoming depression/anxiety by dwelling on truth) where I was currently struggling.
Emily P Freeman
Several years ago, the blogging circles in which I traveled included Emily P Freeman, and when she released her first book, Grace for the Good Girl, I purchased a copy and joined some friends in reading through and discussing it together. This book was huge in my spiritual growth and development as it opened my eyes to what grace really is and how much I need it on a daily basis.
A.W. Tozer
While not specific to marriage or motherhood, I have found myself challenged to grow in my spiritual journey when taking the time to sit and read Tozer's works. Recently I read Delighting in God and found myself growing in my perception of who God is and how I am to worship Him with my life. I was stretched and challenged in my faith, being invited by Tozer to think about God in a higher and greater way – to know Him experientially, not just cognitively.
Gary Thomas
Gary Thomas' books on marriage and parenting are frequent-flyers on my bookshelf. Sacred Influence played a big part the first several years of my marriage – understanding that I can't change my husband, but that I'm called to be an example of godly living that the Holy Spirit can use to influence his life.
Stormie Omartian
Stormie Omartian's books on praying for my husband and children have helped to shape my prayer life, teaching me to center my prayers on Scripture rather than circumstance. It was reading The Power of a Praying Wife that taught me the power of praying the Scriptures for my husband and encouraged me to develop the 31 Days to Pray for Your Spouse Challenge.
Spiritual Mentorship for Busy Moms: Books Fill a Gap
While finding spiritual mentorship through reading books by those who have walked the paths of motherhood and marriage ahead of me cannot replace the invaluable gift of one-on-one discipleship, it can fill a gap when the chaos of life does not afford me the privilege of being discipled in person.
Related: 12 Non-Fiction Books for Busy Christian Moms
I find that reading a chapter each day during my devotional time helps me to stay on track and focused. As I read, I highlight key ideas and journal quotes from the text that grab my attention. Reading and discussing together with friends is another great way to grow in my spiritual journey.
Pick up a book by one of these spiritual mentors and start reading today!