Yesterday was the second day in a row that we'd gotten a message from the school letting us know that one of our children was struggling to make good choices. To be honest, it wasn't really a surprise since we'd been seeing behavior issues at home with this child, but it meant we needed to be more proactive in addressing the issues. As I prayed about how to address the issues, I realized that we'd been focused on the behaviors and not the heart behind them. So I grabbed our Child  Training Bible and got to the heart of the issues.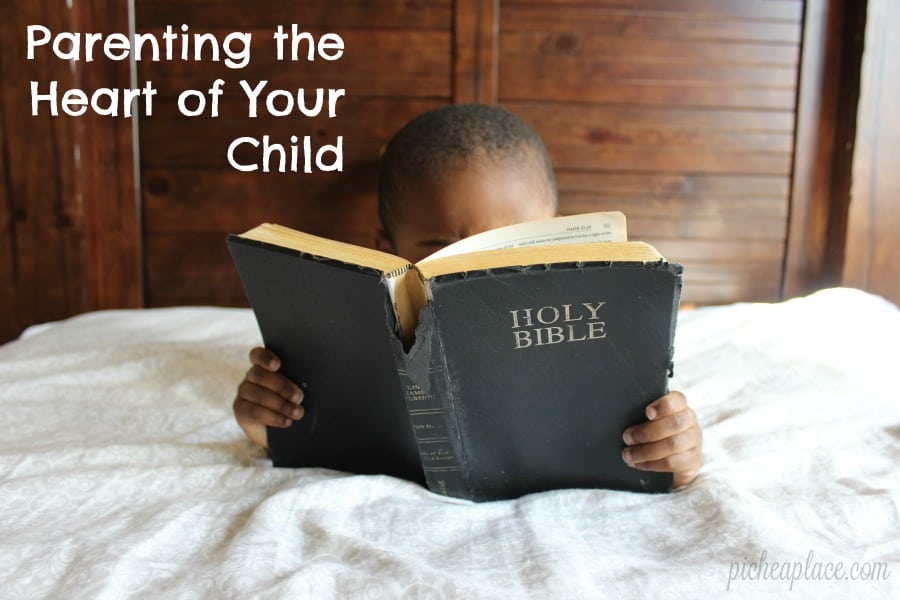 I knew a few of the issues that needed to be addressed, but I wanted said child to acknowledge the issues (because admitting you have a problem is the first step to solving it), so I asked him to identify the topics we needed to take a look at – to see what the Bible had to say about them. Looking at the list of topics that the Child Training Bible highlights, he identified lying, not listening, and anger as the issues he was struggling with, so we sat down and began to look together at what the Bible said about each.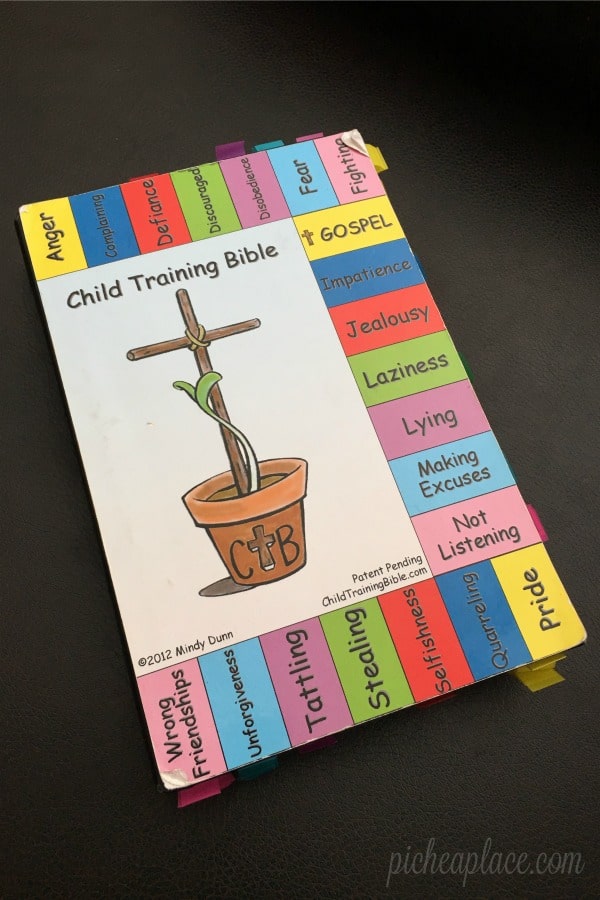 Lying
The Bible talks a lot about lying, but the verse we looked at was Ephesians 4:25…
Therefore, having put away falsehood, let each one of you speak the truth with his neighbor, for we are members of another.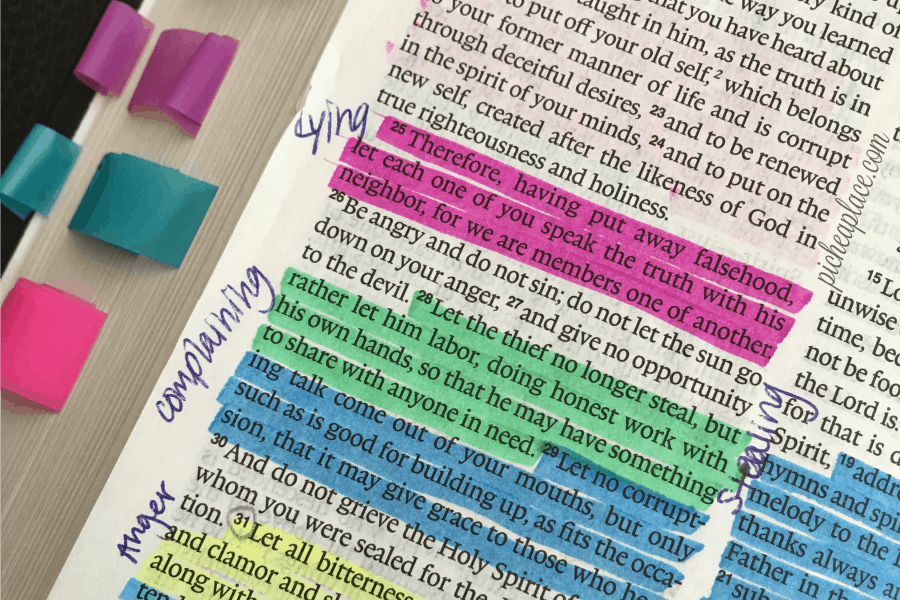 We talked about how the verse tells us to "put away falsehood" – stop lying – and "speak the truth." The reason for his lying has been to avoid getting in trouble or having to do something he didn't want to do, and we talked about how lying isn't just about us, but it's about the other person – you're being unkind when you lie. Because I know his heart isn't seeking to be unkind, I knew that this explanation would help him to understand why it was a problem that he was lying.
Anger
While we were still in Ephesians 4, his eyes caught the next verse…
Be angry and do not sin; do not let the sun go down on your anger.
"Mom, it's a verse about anger." We talked about how the verse didn't say that anger was bad – that being angry isn't the problem, but it's how he acts and responds when he's angry that can be a problem. Lashing out, hitting, yelling, stomping off, etc., are the problem.
Not Listening
Recently, we (as parents) have gotten a bit lax in our discipline when it comes to giving an instruction and then not following through to make sure the instruction is obeyed immediately – and it's reaping negative consequences. All three of the big kids have been struggling with immediate obedience. They've decided that when Mom or Dad give an instruction, it's more of a choice than a command. So that's on us.
But it's important for them to learn that when an instruction is given, it requires an immediate response. I think we need to revisit our Obedience Song for a refresher of what it means to "listen and obey!"
The verse we chose to read (and memorize) was Psalm 25:4…
Make me to know your ways, O Lord; teach me Your paths.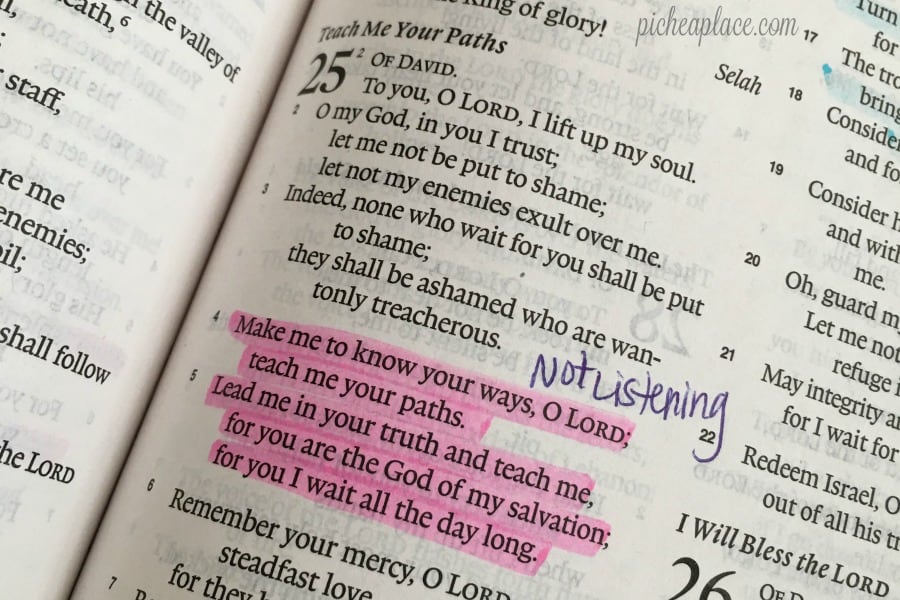 We talked about how we need to listen to and obey God – to seek His will for our lives and follow Him. One way that we do that is by listening to those people that He has placed in authority over us (parents, teachers, coaches, etc.) and obeying when they give us an instruction.
It's All About the Heart
Once we'd identified the areas that he was struggling with, we talked about the fact that the reason he was behaving this way was because his heart was having problems. I asked if he knew how to "fix" his heart. He answered, "Be good." I reminded him that he can try and be good all he wants, but that it still wasn't going to fix his heart.
We looked up 1 John 1:9 to learn how to fix our hearts…
If we confess our sins, He is faithful and just to forgive us our sins and to cleanse us from all unrighteousness.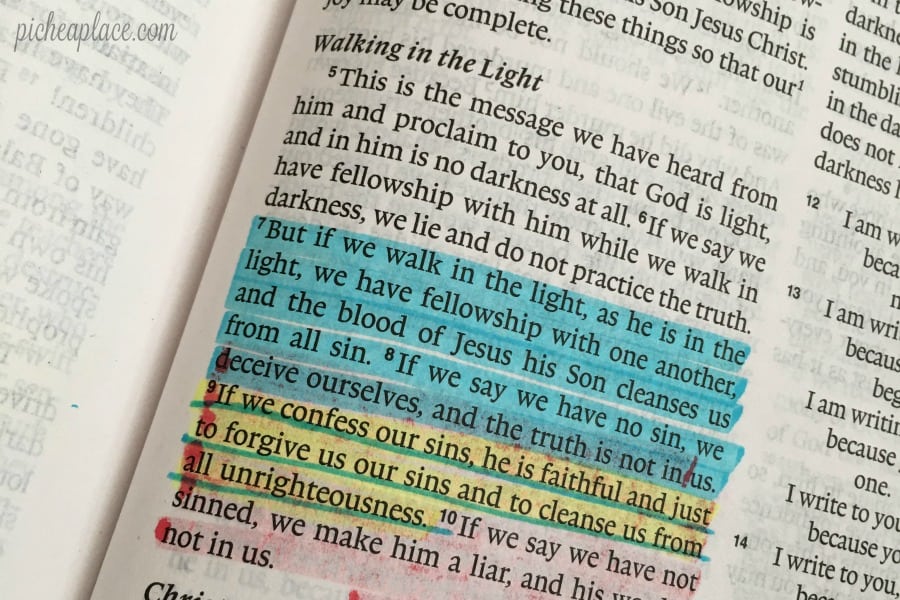 This verse teaches us that all we can do to fix our hearts is to confess our sins – acknowledge that we've messed up and ask for forgiveness. The rest is up to God – He will forgive us and "fix our hearts."
After talking through these verses, we prayed together.
Was it an instant, quick fix? No. But it caused him to stop and think about the "why" behind his behaviors. And the more we have these conversations – the more we take him to the Word of God to find the answers to life – the more fodder the Holy Spirit has to work on his heart and bring to mind the Scriptures we've discussed.