It dawned on me recently that since my kids are now in a classroom with 20+ other kids (as opposed to being homeschooled and only seeing their friends a few times a week), exchanging Valentines is a required reality this year (versus a nice concept but optional in years past). So I started searching Pinterest and Swagbucks for some ideas of creative classroom Valentines that would go well with my kids' personalities without costing a lot of money or taking a lot of time to assemble. Here are a few favorites I found…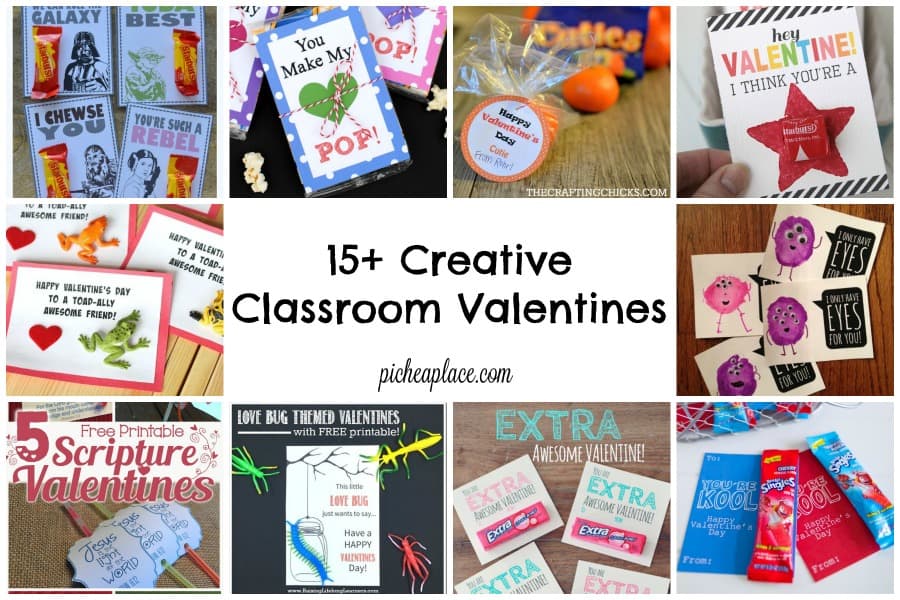 Creative Classroom Valentines
These are perfect for my first-grade son to share with his class: he loves learning about bugs, and the easy assembly of this free printable and inexpensive plastic bug toys make this a Valentine he can put together by himself!
Grab a bag of Smarties and print these free Valentines for a gender-generic Valentine that is perfect for any classroom.
Looking to share your faith this Valentine's Day? These free printable Scripture Valentines are a great way to do so! [Here are five more free printable Scripture Valentine designs.]
Star Wars Inspired Valentines
I found several cute ideas for creating easy Star Wars Valentines:
Pick up a pack of glow sticks at the dollar store to create these fun non-candy treats for your kids' classroom Valentines!
I love this cute way to give a piece or pack of gum with a Valentine. You could also make the card say, "I CHEWS you, Valentine!"
This is another fun non-candy treat Valentine that would be easy to put together and inexpensive with a trip to your local dollar store to pick up a few packs of silly straws.
Add this cute printable to a pack of popcorn for easy, sugar-free Valentines for your child's classmates.
I didn't know they made single-size serving packets of Kool-Aid (we don't drink it here), but this is such a cute Valentine!
Stop by the dollar spot at Target or hit up your local dollar store for a multi-pack of Valentine's pencils to make this cute (and practical) Valentine for your child's classroom.
Want to share a healthy snack with your child's classroom this Valentine's Day? Print this cute tag and attach it to a Cutie in a bag! [Or even easier, print the saying on a sticker and stick it directly onto the Cutie!]
If you have a toad-loving child, these toad themed Valentines are super cute and would be easy and inexpensive to put together!
Go the "traditional" route of attaching a piece of candy to a printable with these colorful and cute Starburst Valentines.
What a fun way to give your child's classmates fresh breath this Valentines, with a printable cover for Tic Tac packs!
A little bit of glue and paint will have these super cute Valentine's monsters ready to share with your child's classroom in no time at all!
I think these toy soldier Valentines are so fun – perfect for boys and girls alike!
I found SO many fun designs for creative classroom Valentines on Pinterest (see ALL of them here: Family Friendly Valentines)… now the hard part is choosing which ones to make for my kids' classmates!
Which one is your favorite?