Traveling with kids can be a challenge, especially on long trips in a car, airplane, or train – it can difficult for them to sit in a confined space for a long period of time. The trick to making traveling fun and exciting for children is to keep them entertained. We've spent a lot of time traveling with kids over the past ten years, and we've come up with some great travel activities for kids to help keep children entertained when traveling as a family.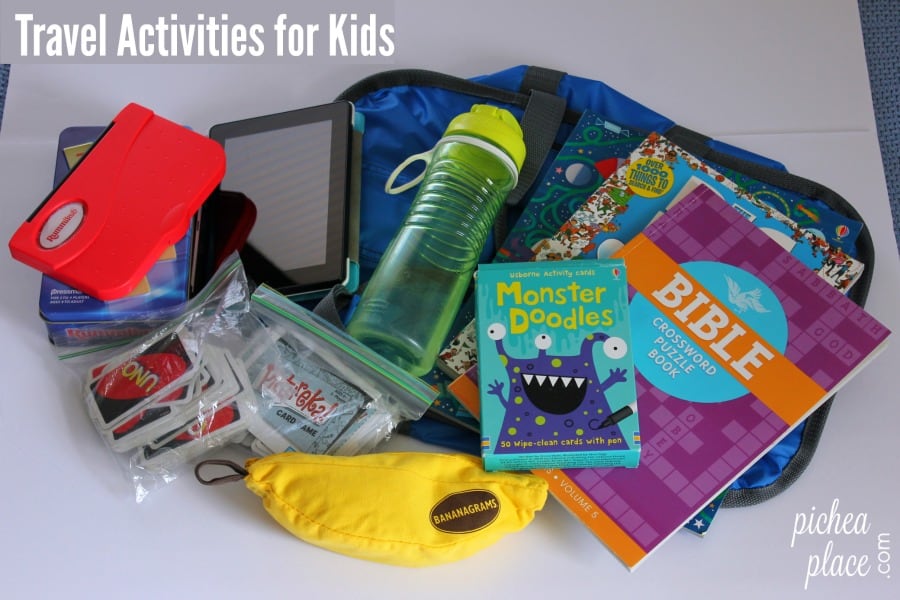 Travel Activities for Kids: Ways To Keep Children Entertained When Traveling as a Family
Pack Individual Travel Totes with Travel Activities for Kids
Pack a travel tote for each of your children. (We love our collapsible totes.) Having a separate tote for each child's travel activities can seem overwhelming if you have multiple children, but we've learned that it helps to keep the peace on a long road trip or plane ride. Plus, it gives your child a sense of ownership over his personal travel activities.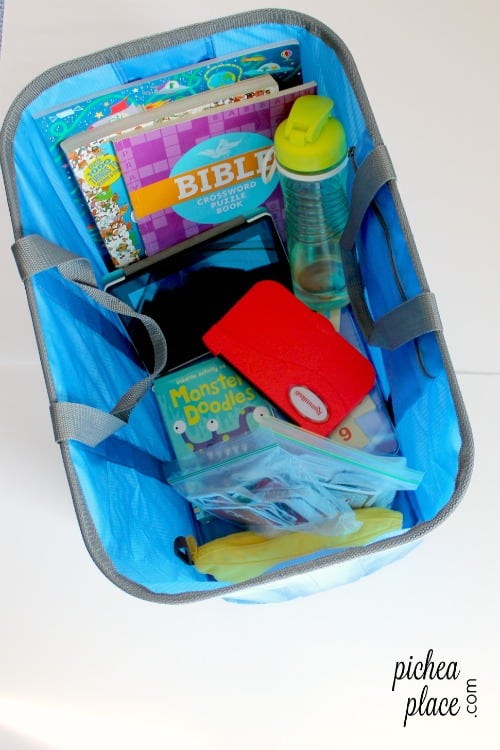 Some travel activities for kids to include in your travel totes:
favorite blanket/stuffed animal
spill-proof water bottle (we recommend this one)
favorite snacks (here are some great car-friendly snack ideas)
age-appropriate books (here are some great books for kids listed by age)
small toys or travel games (see below for examples and suggestions)
Related: I'm Bored Box [activities for kids in the car]
Bring Along Activity Books
Before going on a family vacation, I like to stock up on brand new activity books for kids. While we have any number of activity books floating around the house, there is something special about having a new activity book just for the road trip or plane ride. My kids look forward to discovering what new activity books I've packed in their travel totes!
Bring Along Travel Toys and Games for Kids
I love that there are travel-sized toys and games for kids. We have purchased several travel-sized games for our kids to play on long road trips. (They're also great to toss in a bag for a day at the beach!) There are lots of games and activities for kids that are designed specifically for traveling. These items will usually have pens attached by a string to an activity book and have magnetic pieces for games or puzzles.
Here are a few of our favorite travel toys and games for kids:
Your children may have so much fun playing games together in the car that they will not even realize how long you've been traveling. Having a variety of different engaging toys and games is a great way to pass the time on a long road trip.
Purchase a Kid-Friendly Digital Camera
My kids LOVE to take pictures, and having a kid-friendly digital camera (I recommend this one) is a must for us while traveling as a family. I can hand any one of them the camera, and they can take as many photos as they want without worrying about wasting film or breaking my DSLR.
If you're traveling in a vehicle, you can create a road trip photo scavenger hunt for kids – print off a list of scenes/objects for them to find along the way and take a photo. It's a great way to pass the time on a family road trip!
Seeing your family vacation through the eyes of your kids is so much fun. Be sure to print the best photos (ask them to choose their favorites) when you get home to create a scrapbook of your family vacation together.
Recommended Reading: How to Scrapbook Your Family Vacation
Bring Along Electronic Items
While we try to limit the amount of screen time our kids get, even when we're on a long road trip, we do often bring along personal electronic devices. Each of our older kids have a tablet (we love the Kindle Fire with FreeTime for our kids) to play games, read books, and watch movies.
Related: Check out the free SmartFeed app for parents to discover which movies and apps are appropriate for your kids!
We also have a portable DVD player that all the kids can watch together (and we can plug our Fire TV Stick into it, using a hotspot). It's a great way to enjoy a movie together as a family even though we're driving down the road.
Pro Tip: If you decide to pack along electronics, always remember to pack extra car chargers or batteries. (We love our Jackery portable chargers for long road trips!)
Related: 3 Easy Ways to Save Money on Your Family Vacation
Download or Pick Up Some Audiobooks
Listening to audiobooks are another favorite way to pass the time on long road trips. We often check out a set of CDs from the library before we hit the road or download an audiobook via Audible. Some of the recent books we've enjoyed listen to include:
Related: How to Memorize Scripture in the Car
Keeping children entertained when traveling as a family is easy when you plan ahead and pack lots of great travel activities for kids.
More Tips for Traveling with Kids
40+ Tips for Road Trips with Toddlers & Preschoolers
Road Trip Activities for Ages 2-8
75+ Travel Tips & Activities for Kids
Portable Activity Kit for Little Travelers
How to Create a Diaper Changing Station for the Car
How to Have a Clean Car with Kids
40 Free Printable Road Trip Activities for Kids
Road Trip Printables for Traveling with Kids