Last Christmas, I'd had it.
I was tired of the "me" mentality that seeped into the Christmas season. It was time to find a way to get my kids focused on the reason we celebrate the holiday – a season of blessing.
Each day of Advent, as we counted down to Christmas Day, we opened a mission of the day – a Random Act of Christmas Kindness. It radically changed the purpose of Christmas for us.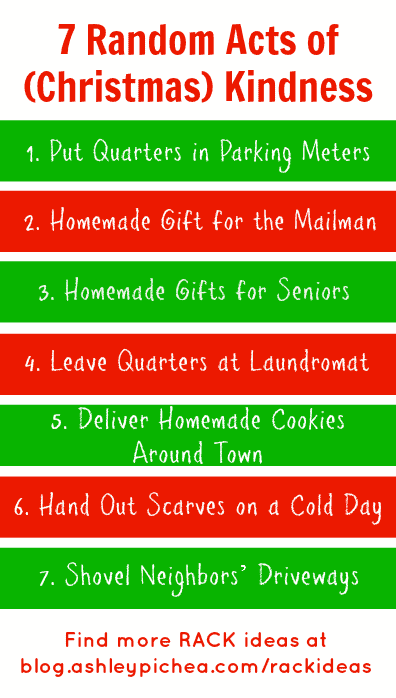 Random Acts of Christmas Kindness
Here's some of the things we did (or planned to – since the weather wasn't as cold or snowy as we'd expected!) :
Put quarters in parking meters to up the time of parked cars and save them from tickets.
Made a card and put a gift of chocolates in the mailbox for our mailman.
Made homemade cards and wrapped up some CDs of hymns – dropping them off at the local senior's home, asking the staff to please give them to any residents without family or in need of love.
Left a baggie of quarters and a sample laundry soap package at the local laundry mat.
Made cookies and delivered them to various people: the staff at our YMCA, the lady in the office of our community, the church staff, the librarians….
Handed out no sew fleece hug scarves on a cold day.
Gave our bottles of water to hardworking construction crew members and youth who were playing basketball at the Y.
Taped quarters on a pop machine.
Shoveled our neighbors' driveways.
Took pet related ornaments and a gift card to the local pet shelter.
Collected a TON of bags and boxes of food from friends & family and asked our community coordinator to give it to a family in need.
Left diapers and wipes at a changing table in a store for someone to use.
Delivered a poinsettia to one of the older couples in our neighborhood.
Dropped off a large collection of unused housewares to the local women's shelter.
Put together little baggies of things like deodorant, toothpaste, gloves, fuzzy socks, gum, etc. and dropped them off at a home for troubled teens.
When buying groceries, I used the points on my grocery card to buy a gift card and then gave the cashier the gift card for the person behind me in line.
Gave a coffee/hot chocolate to someone working outside in the cold.
Left random $1's hidden on the toy shelves of the dollar store.
Put quarters in a whole bunch of the local grocery store shopping carts.
Held the doors open for customers at a local store.
Wrote a letter to someone special and mailed it.
Delivered muffins, cookies, and other treats to our local fire station.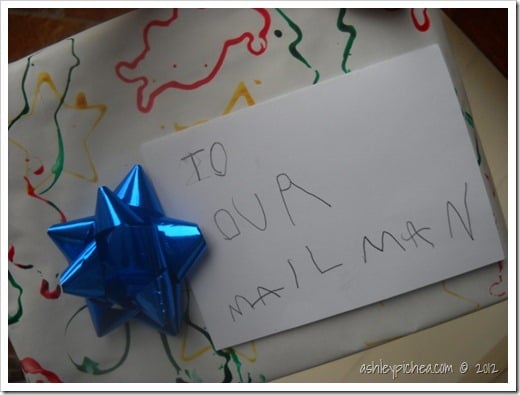 Random Acts of Christmas Kindness allowed us to bless more people than maybe we even know.
In fact, I know it blessed our own family to watch the faces of the people we helped. God provided us with everything we needed – finances, donations, time, energy, and excitement.
We are really looking forward to Christmas this year and how we can get back to our secret random acts of Christmas kindness of the day. This might be the first time I've been looking forward to the holidays.
—
Lisa Marie is a Canadian, homeschooling mom of 5. When not chasing kids or teaching them something, she's usually somewhere near her computer – working on her site, The Canadian Homeschooler – aiming to help her fellow homeschoolers across the country.
—
Thanks to UltimateHomeschoolExpo.com for sponsoring the Keeping Christ in Christmas series on Life by Ashley Pichea during December 2012. Be sure to check out the latest expo, Homeschooling & the Holidays, for joyful holidays and stress buster solutions!