Bible memory isn't difficult, but too often we fail to keep the Word of God in front of our faces, and thus we fail to memorize it. I've discovered that one of the easiest ways to memorize Scripture is to keep the verses you are working on learning easily accessible (rather than having to open your Bible and look them up each and every time you want to work on them). I recently did a Bible memory craft with some friends that has helped me to keep my Scripture memory verses with me!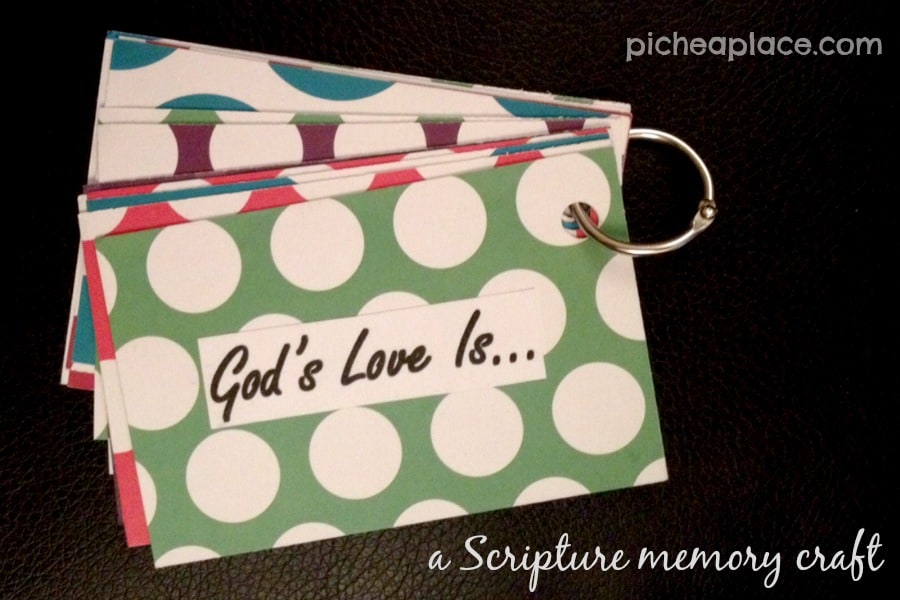 Supplies Needed:
Verses and "God's Love is" categories printed on white cardstock
Instructions:
Start by printing the verses you're working on memorizing on a white piece of cardstock. We used 1 Corinthians 13 as our theme, and had a corresponding verse from another part of Scripture to go with each characteristic of love.
Cut the colored cardstock into "cards" using a paper cutter. We made our cards about 3×5 inches.
Use craft scissors to cut out the verses and the "God's Love is…" categories.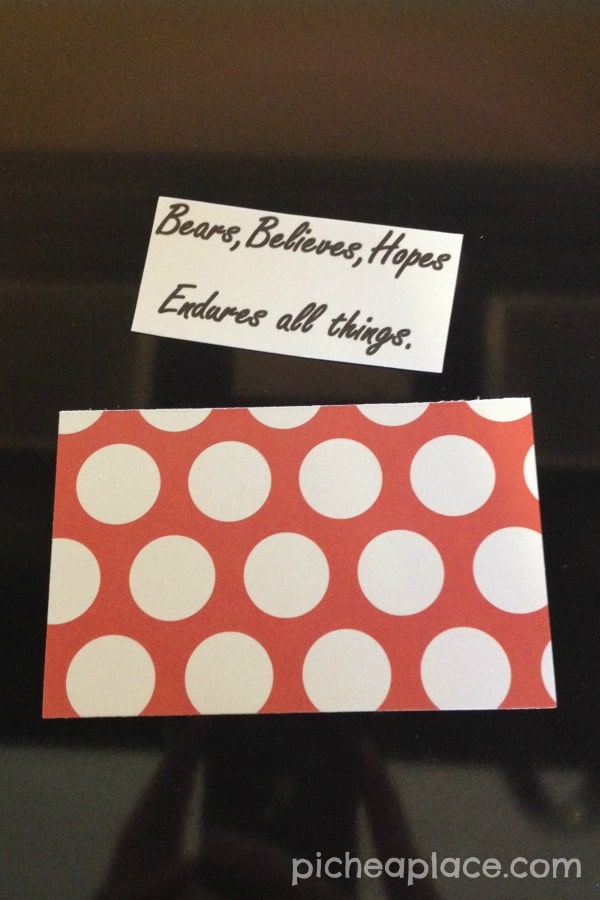 (I'm a no-frills person, so I used straight scissors to trim the categories.)
Glue the "character quality" to one side of a card (the colored side if one side is white), and glue the corresponding verse on the other side.
Punch a hole in the top corner of each card using the hole punch – you may want to punch several cards at once to line up the holes.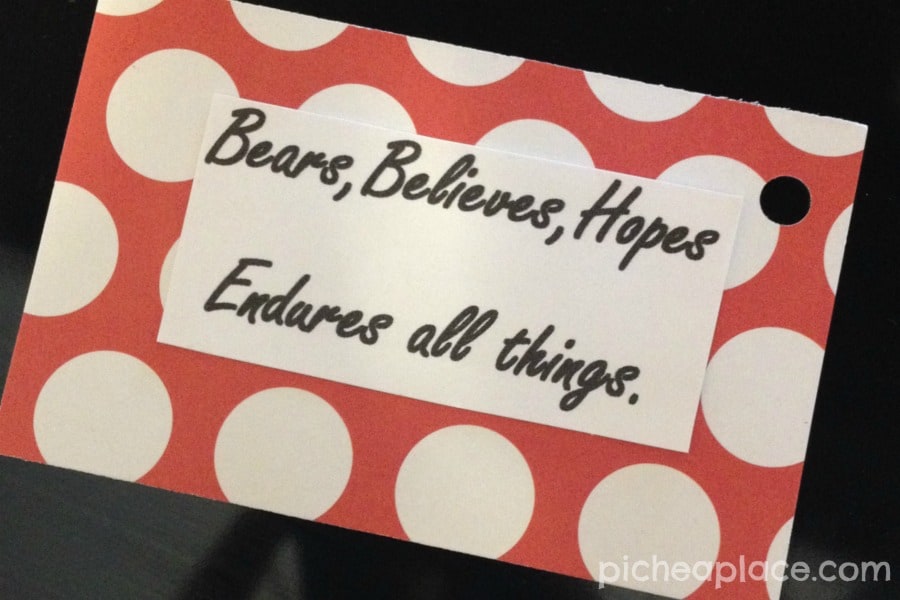 I actually choose to write out the verses on the backside of my cards in lieu of gluing the printed verses on. I have found that writing out Scripture helps me to better focus on the words and apply its truth to my heart.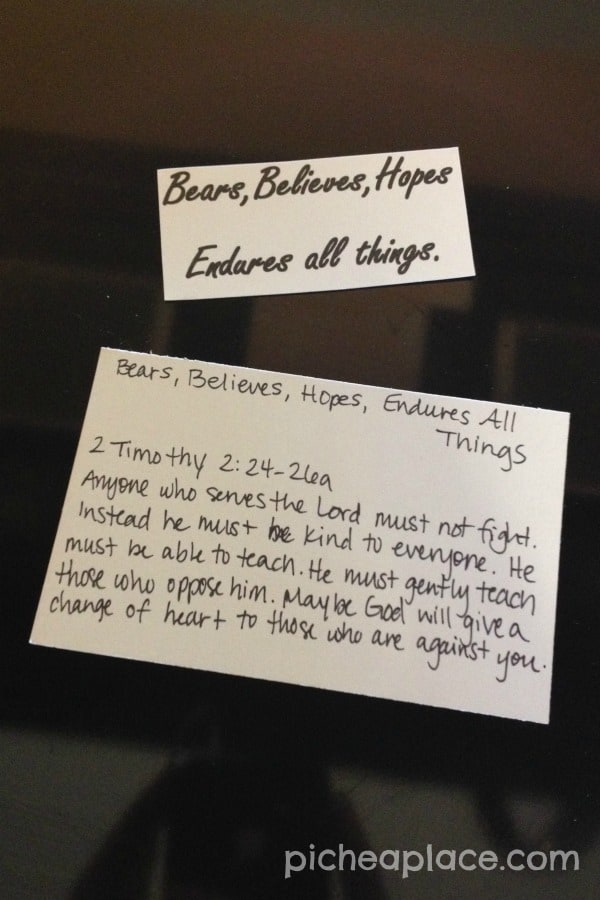 Once you have all the cards assembled, use the loose leaf binder clip to put them together and keep it where you'll access it often.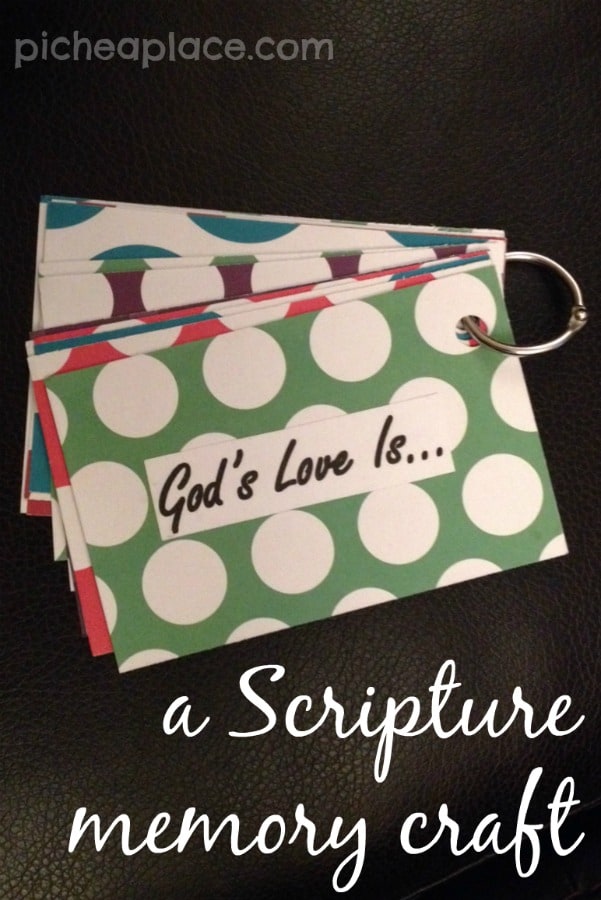 I threw my set of verses in my purse/bag that goes with me everywhere so I can pull them out and flip through them whenever I have a few minutes to kill.