In all of the chaos and commercialism surrounding the holiday season, it's easy to forget that Christmas is actually supposed to be a celebration of Jesus' birth. We host Christmas parties, decorate our homes, buy gifts for friends and family, and generally get caught up in the chaos of the season. Unless we're intentional, we often put the real Reason for the season on the back burner of our holiday plans, only bringing Christ into Christmas when it's convenient and fits into our over-stuffed holiday schedules (on Sundays at church or just before we dive into the piles of presents under the tree on Christmas morning).
In our home, we've chosen to be intentional about making Christ the focus of the Christmas season – bringing Christ into the forefront of our celebrations, rather than allowing Him to fall to the wayside. One of the ways we've done this over the years is to throw a birthday party for Jesus. This is a tradition that my parents started with me and my siblings, and we've enjoyed carrying it over into our family's Christmas traditions.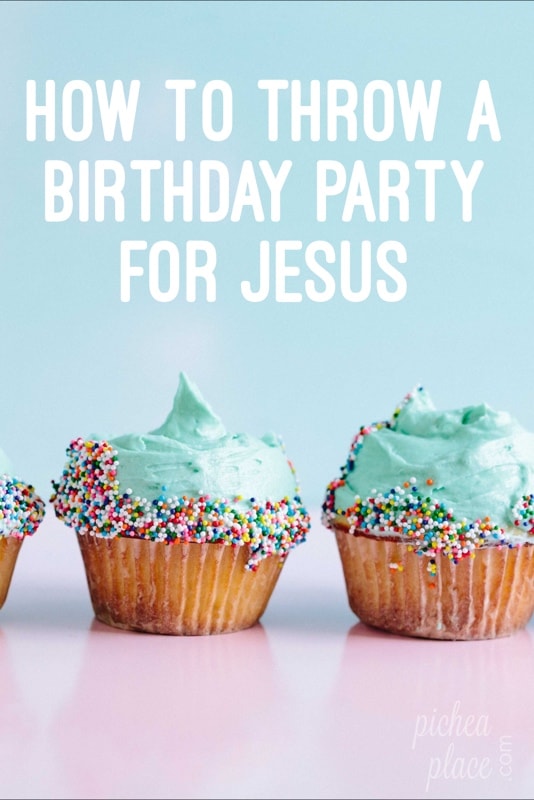 How to Throw a Birthday Party for Jesus
Throwing a birthday party for Jesus can be as simple or complex as you want to make it, depending on the ages of your kids and the amount of time and money you are able to invest. Each year looks a little bit different for our family, but here are some elements we include:
The Cake
It's not a birthday celebration without cake or cupcakes in our family, and Jesus' birthday party is no exception. Some years we make a quick box cake, others we spend a afternoon decorating cupcakes, and sometimes we even go for a box of store-bought dessert.
Just as is the case with our own birthdays, it isn't about the dessert itself but that it's included because that's what makes it a birthday party!
The Presents
Our birthday presents for Jesus are different every year:
One year we gave money to some missionary friends so they could have a better Christmas.
Another year, we collected coins for the homeless shelter in town.
We've purchased farm animals to donate to a family in a third-world country.
"Experience" gifts, such as singing carols at a nursing home, have been some of my favorites.
Whatever the gift we decide to give Jesus for His birthday, we give it in such a way as to share the love of Jesus with those who need it most.
The Guest of Honor
It's not a birthday party without taking time to recognize and remember the guest of honor. One of my favorite parts about celebrating Jesus' birthday together is having my kids take turns reading the Christmas story from Luke 2.
Whether we read it from the Jesus Storybook Bible or the actual Scripture text, it's important that we remember WHO we are celebrating!
Save the Date for Jesus' Birthday Party
Because it's what we did when I was a kid, we have our birthday party for Jesus on the Wednesday before Christmas.
The date doesn't matter so much as the intentionality behind the celebration. I know other families who celebrate Jesus' birthday on Christmas Eve or Christmas Day, making it a part of their family traditions on those days.
Whenever you decide to celebrate Jesus' birthday, be intentional and let your kids be a part of the party planning process. It's a tradition that my kids look forward to each and every year, and I pray that they'll include it in their own family traditions when they move out and get married!
---
This post is part of the 10 Days of Christ-Centered Christmas Activities & Crafts blog hop encouraging busy families to keep Christ in Christmas.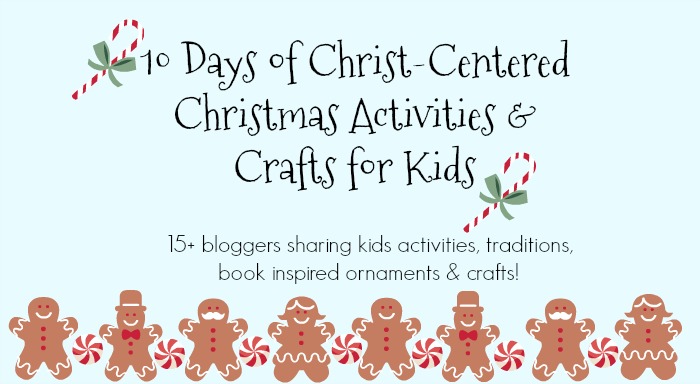 More Christ-Centered Christmas Activities & Crafts for Kids:
and coming soon to…  Proverbial Homemaker, Suburban Soiree, The Awe Filled Homemaker, Future Flying Saucers, Adventures in Mommydom, Spark and Spook, Talking Mom 2 Mom, Clarissa R. West, Pichea Place & Homeschool preschool.