Remember how I've said over and over that no two seasons of life look alike at our house? We've entered a new season of life once again, and our daily schedule has taken a hit. I thought I'd share a quick peek into our "new normal."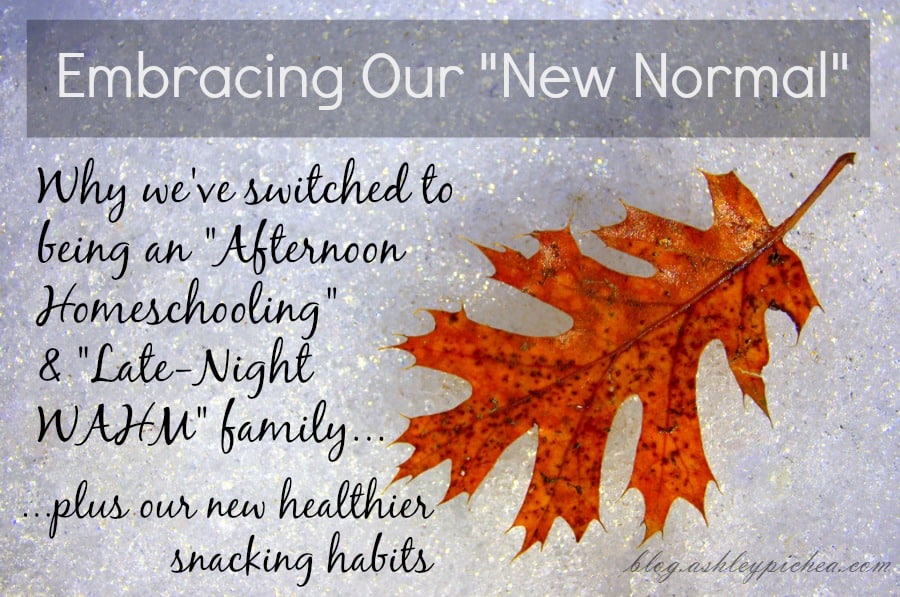 Why a "New Normal"
Last week Chris decided he didn't want to stay in his crib anymore, so he showed us that he'd figured out how to escape from his crib. Once I realized that he just wasn't going to stay in it anymore, I decided it'd be better to be safe than sane, so I removed the front panel of his 3-in-1 convertible crib, initiating the transition to a toddler bed.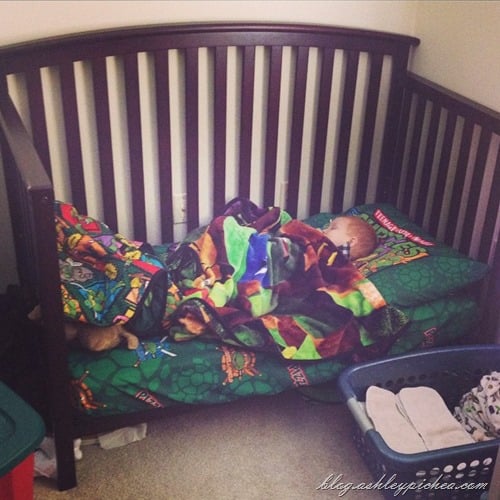 This transition was instrumental in bringing about our new season of life…
Hello, Mornings?!?
Mommy can no longer "sleep in," as a certain toddler has decided that 6am is a perfect time to wake up and come running into Mommy and Daddy's room. So far this week, I've been able to convince him to cuddle with me for about an hour (until it's time for Daddy to get up for work) and then have successfully distracted him with PBS Kids on my tablet for another thirty minutes or so – his favorites are Curious George and Daniel Tiger.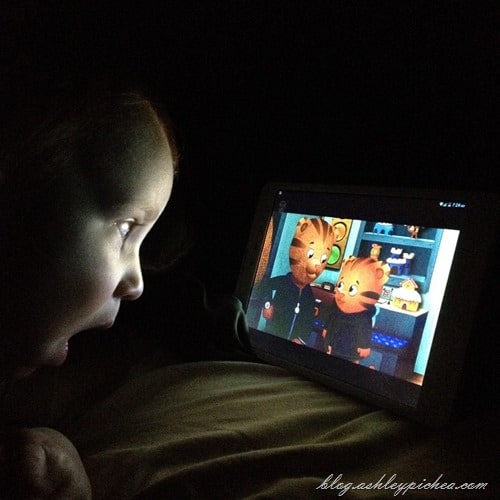 Once he's lost interest in PBS Kids, we get up and start breakfast. Sometimes I even get to drink my coffee before it gets cold… but not often.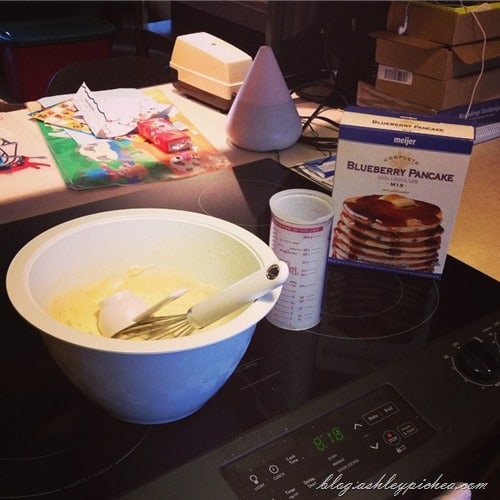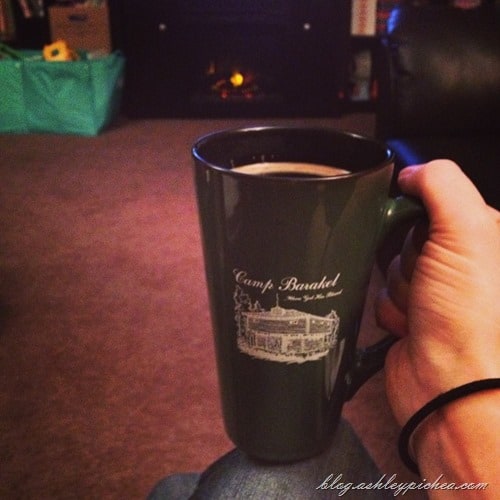 Sometime around 8:15am, the big kids start to roll out of bed – usually David first, followed by Jenny (who is like me and likes her sleep). Since Chris is a "full force toddler tornado" at this point, I spend most of the morning cleaning up in his wake and attempting to contain him while the big kids create with Legos or play on their Kindle Fires.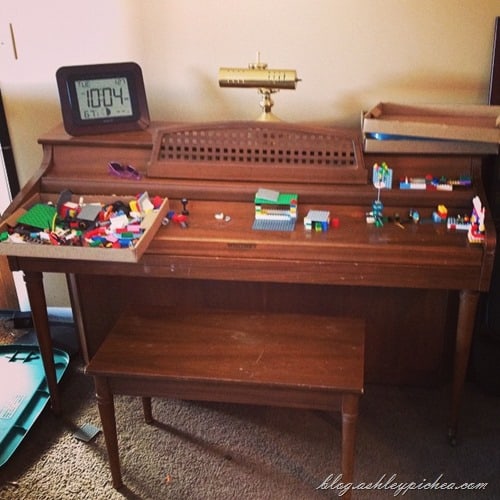 Morning Snack Time – a New Addition
We've never been big snack-ers around here, but I've discovered that a healthy snack twice a day helps to keep all of us a bit less crabby and more focused. A snack of bananas, apple slices, or clementines is usually consumed by all three kids mid-morning. They are all big fans of fruit which makes me happy – it's so nice to be able to serve them healthy snacks that I know they'll eat!
A Toddler Tornado on the Loose
If I'm not chasing Chris around, I might sit and check my email for a few minutes or complete a short task from my to-do list on the computer, but I know that sitting down and getting any significant work accomplished is a fool's errand. Anything that takes longer than 5 minutes to complete is not an option unless I'm willing to spend the next 20 minutes cleaning up whatever mess he's managed to make in the 10 minutes I took my focus off him.
I generally start lunch prep around 12:00pm as tummies are getting hungry again. Most days we do sandwiches – peanut butter and jelly, turkey and cheese, or grilled cheese – on whole grain bread for lunch, accompanied by a side of carrots and ranch or another piece of fruit.
It's Time for Naps and "Together" School
After lunch Chris goes down for a nap. He's currently transitioning from two naps to one (in addition to transitioning from a crib to a toddler bed), so he's pretty tired at this point, and it only takes me sitting next to his bed (to keep him in it) for about 10 minutes before he falls asleep.
Once Chris is asleep and lunch is cleaned up, I start school with Jenny and David. Since switching to this afternoon-schooling schedule, we've been starting with our "together" subjects: Grapevine Bible Study and Apologia's Zoology 1.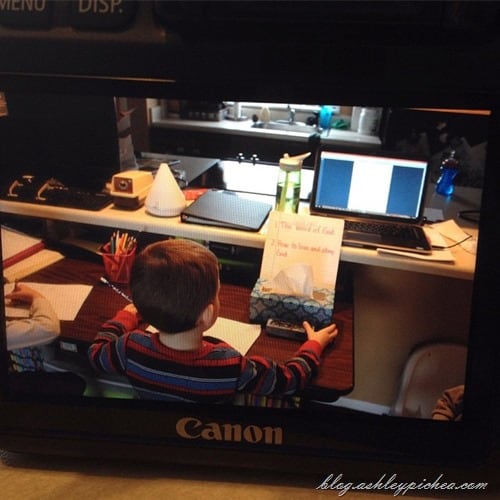 If we're diligent and focused, we can complete all of our "together" work before Chris wakes up.
Afternoon Play and Snacking is a Must
Once Chris wakes up from his nap, we take a "P.E." break. We put on our winter gear and head outside for a walk to the mailbox and playground. We all look forward this daily walk – it's a much needed "health boost" (mental and physical) that gives us the energy to push through to the end of the day.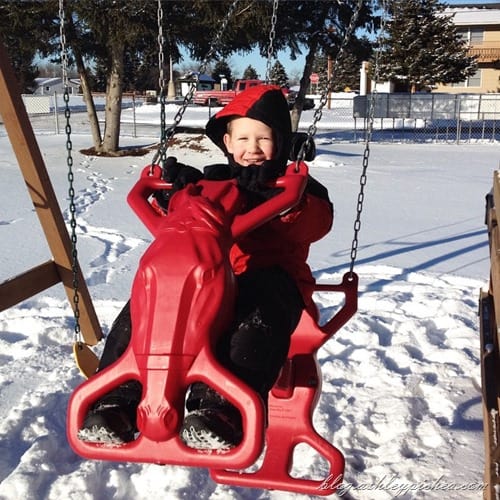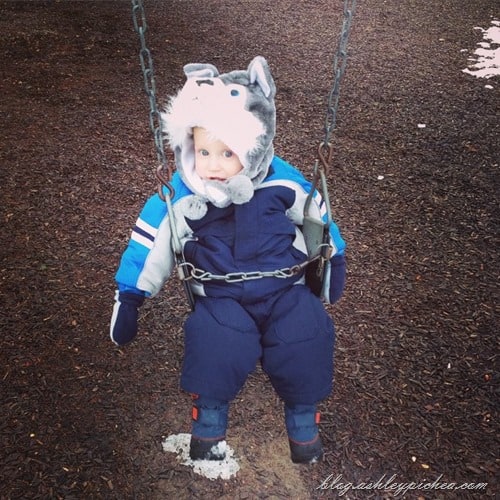 After our walk and playground visit, we head back up to the apartment for a snack to tide us over to dinner. Since we've generally met our fruit quota for the day at this point and are wanting something sweet to eat, I've been pulling out the Honey Maid Go Bites that I was sent to sample.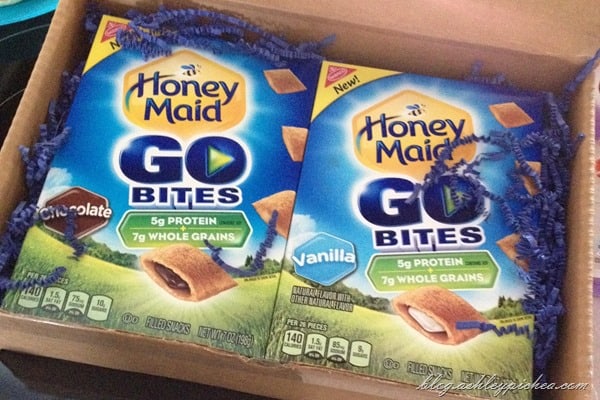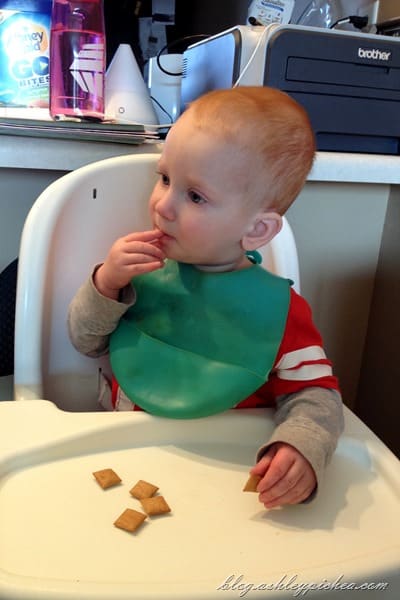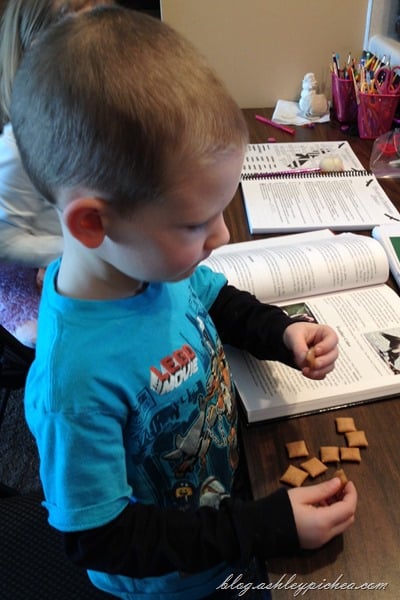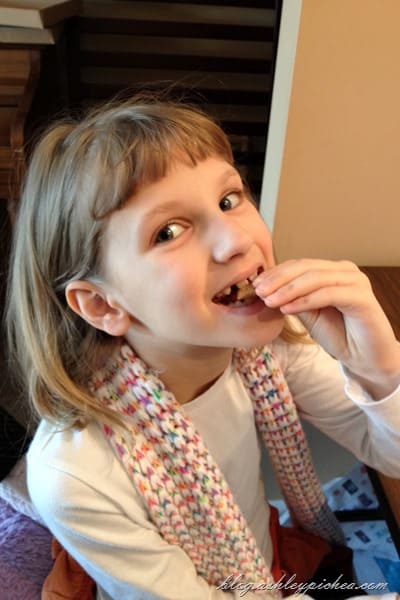 All three kids love the "cookies," and I love that the Honey Maid Go Bites provide my kids with about 15% of the recommended daily value of whole grains and protein. Plus, there is no high fructose corn syrup or artificial flavors or colors in them – a huge factor in my choosing snacks for my kids. (I've discovered that mixing HFCS and/or artificial flavors/colors with my kids causes behavioral issues.) I'm definitely adding them to my grocery list for a future healthy snack option.
Full-Speed Ahead Until Bed
Once our snack is done, we're back to work on school. I get Jenny started with her Saxon 65 math (she can complete it mostly on her own) and then settle in to do Saxon 1 with David. I leave Chris strapped into his high chair with some toys or a coloring book as long as he'll be content.
After math is done, I might have 10 minutes to sit and breathe before it's time to start dinner. Jenny and David play with Chris once they're done with school, allowing me to make dinner semi-uninterrupted (most nights).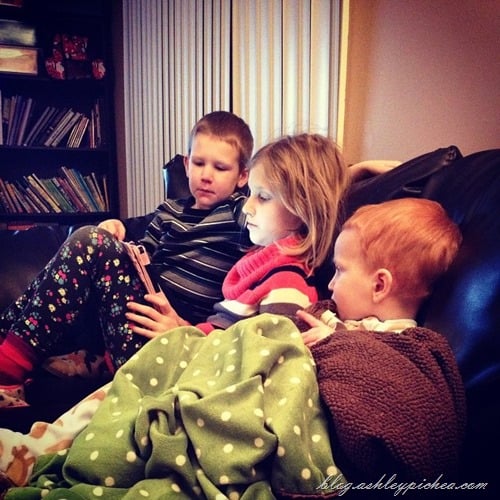 Once the "dinner rush" begins, I'm lucky to find another break before the kids are in bed and on their way to dreamland: making dinner, serving dinner, eating dinner, cleaning up dinner, starting the "go to bed and stay in bed" routine with Chris, putting the big kids to bed.
To Work or Not to Work
If I manage to get all three kids in bed at a decent hour and I'm not completely exhausted, I'll plop down on the couch next to my husband to watch some TV while working on my laptop. Thankfully, we're in a season of life that we're getting extended periods of time alone most weekends so we can "get away" with limited verbal engagement on a weeknight.
Since the evenings are the only time during the week that I'm finding time to work, I've been staying up late (til 12 or 1am) on the nights that I'm not falling into bed minutes after I finally get Chris to fall asleep.
—
And that, my friends, is our "new normal." It's not stereotypical for homeschoolers or most work-at-home moms, but it works for us and our current season of life. A new season will bring a new normal, and our schedule will adjust as needed.
What challenges does your current season of life hold?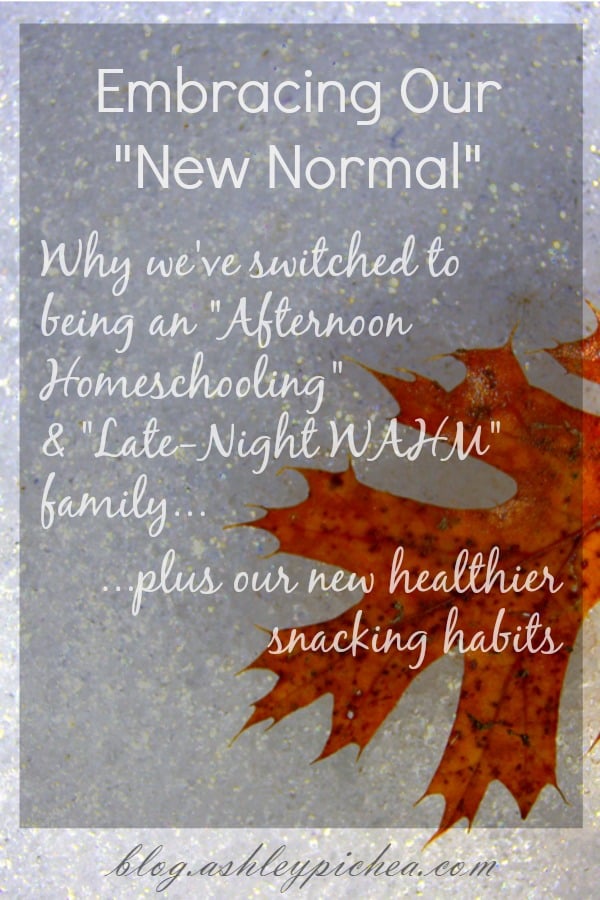 original photo credit: https://www.flickr.com/photos/naturesdawn/4363744961
I was selected for this opportunity as a member of Clever Girls and the content and opinions expressed here are all my own.