Did you know that 75% of Americans are chronically dehydrated? Drinking water and being hydrated is important for your overall health – your body is over 60% water. That's why it's important to me that my family drinks the best water in order to be at their best! This post has been sponsored by Primo®.
Best Refillable Water Station
Convenience is important when you have a busy family of seven who are constantly on the go. That's why we recently added a Primo in-home water dispenser to our home, taking advantage of the easy, self-serve Primo refill station at our local Meijer store.
It's easy to use the self-serve refill station when I make a quick stop at Meijer to pick up groceries – on my way home from work, while I'm out running the kids to sports practice or church, or even when I just need a quick escape from the chaos at home.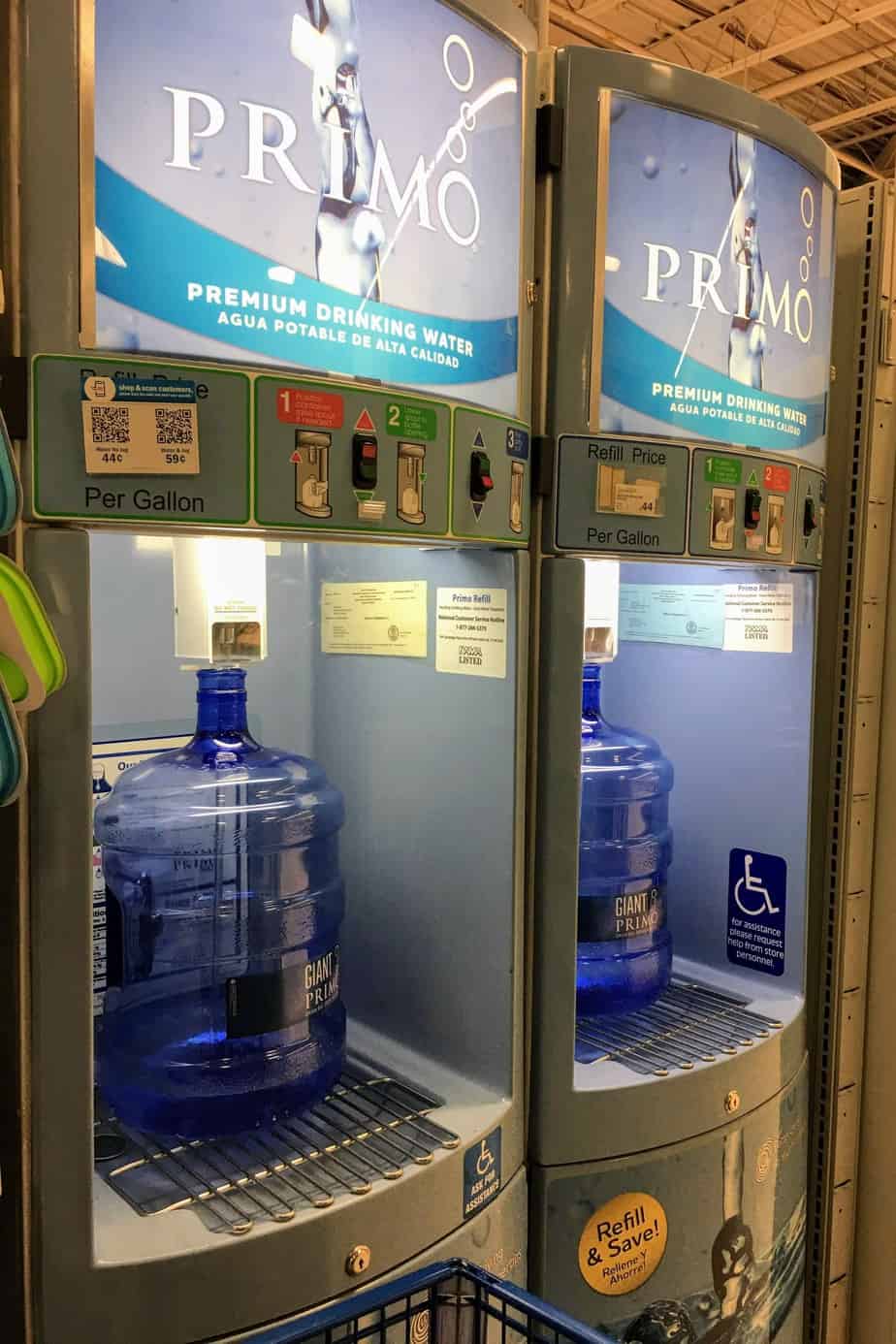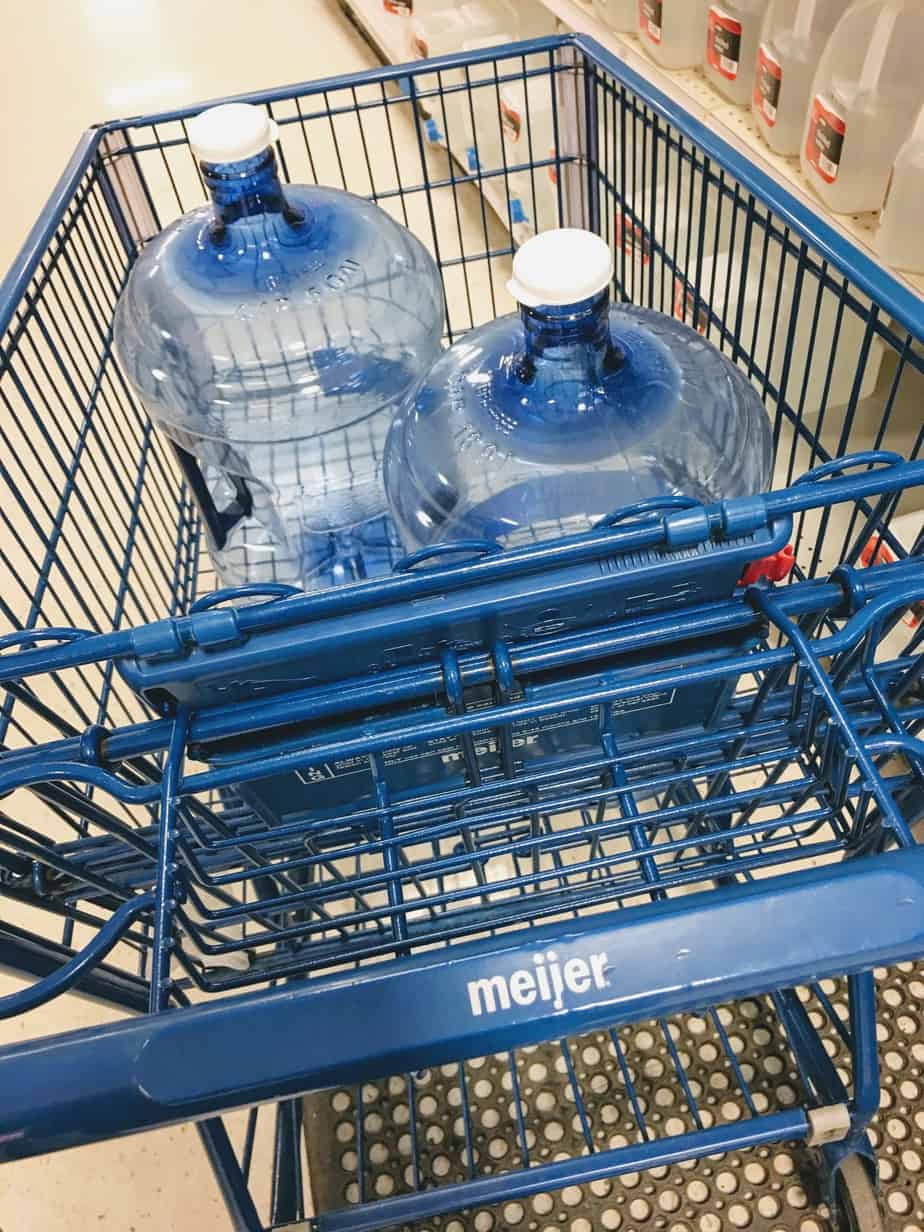 I love that our local Meijer store has two refill stations side by side, allowing me to fill up two water bottles at once. It can fill my 3-gal, or 5-gal water bottles with a quick flip of a switch!
Note: While we love the convenience of filling up our empty 5-gal water bottles at our local Meijer store, there are many Primo water refill stations near our home in mid-Michigan. I used the "Find Water" feature on the Primo website and located 11 refill and/or exchange stations within 10 miles of our home. You can even purchase a non-spill cap (this makes transporting it easier).
Best Water Dispenser
We decided to put our Primo Deluxe Bottom-Loading Water Dispenser with Self-Sanitization next to the dining room table on our main level. This convenient location is:
close to the kitchen for cooking,
close to the front door for filling up water bottles on-the-go,
and close to the dining room for filling glasses at meals.
It was easy to set up, and even the kids can help change out the empty water bottle for a refill!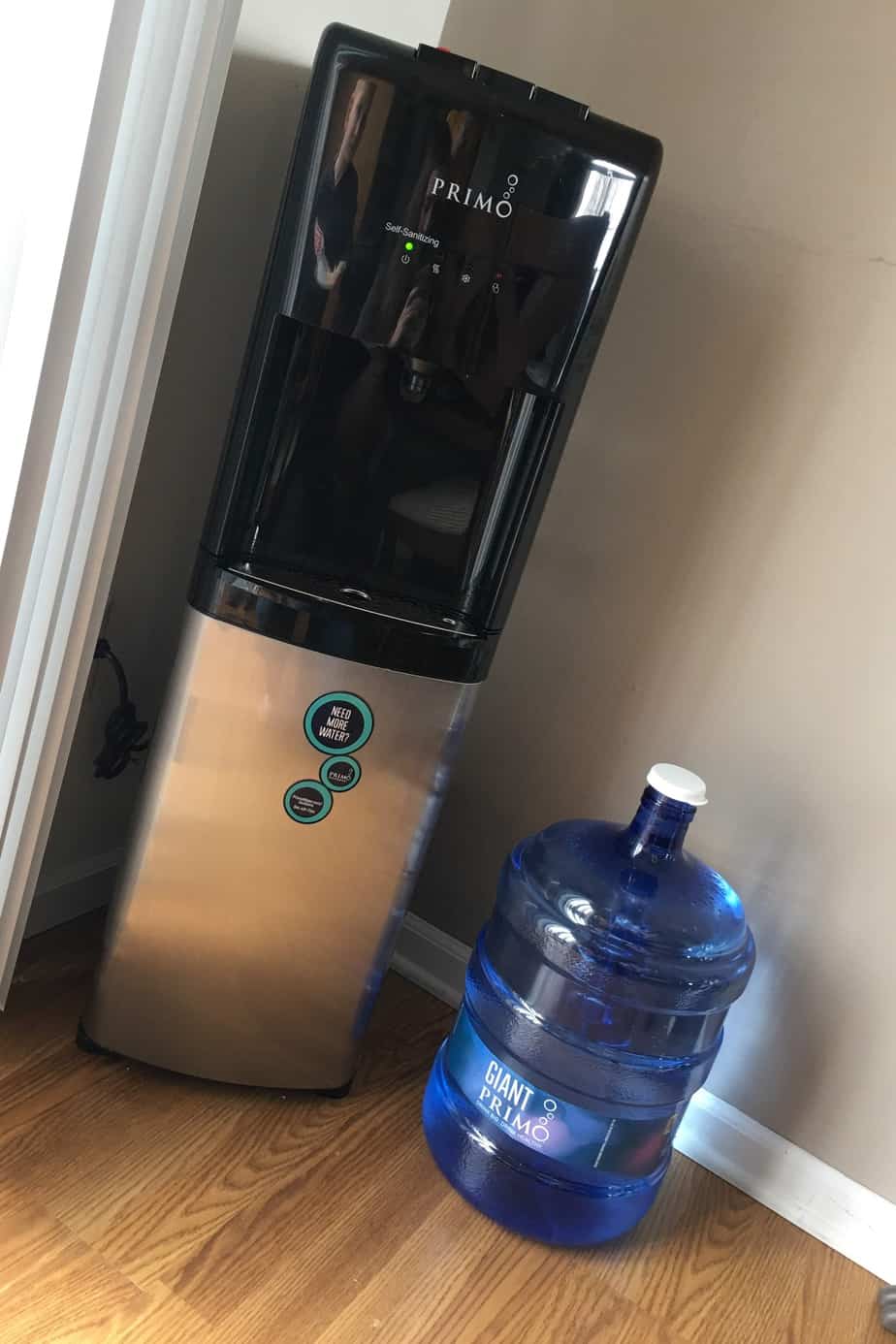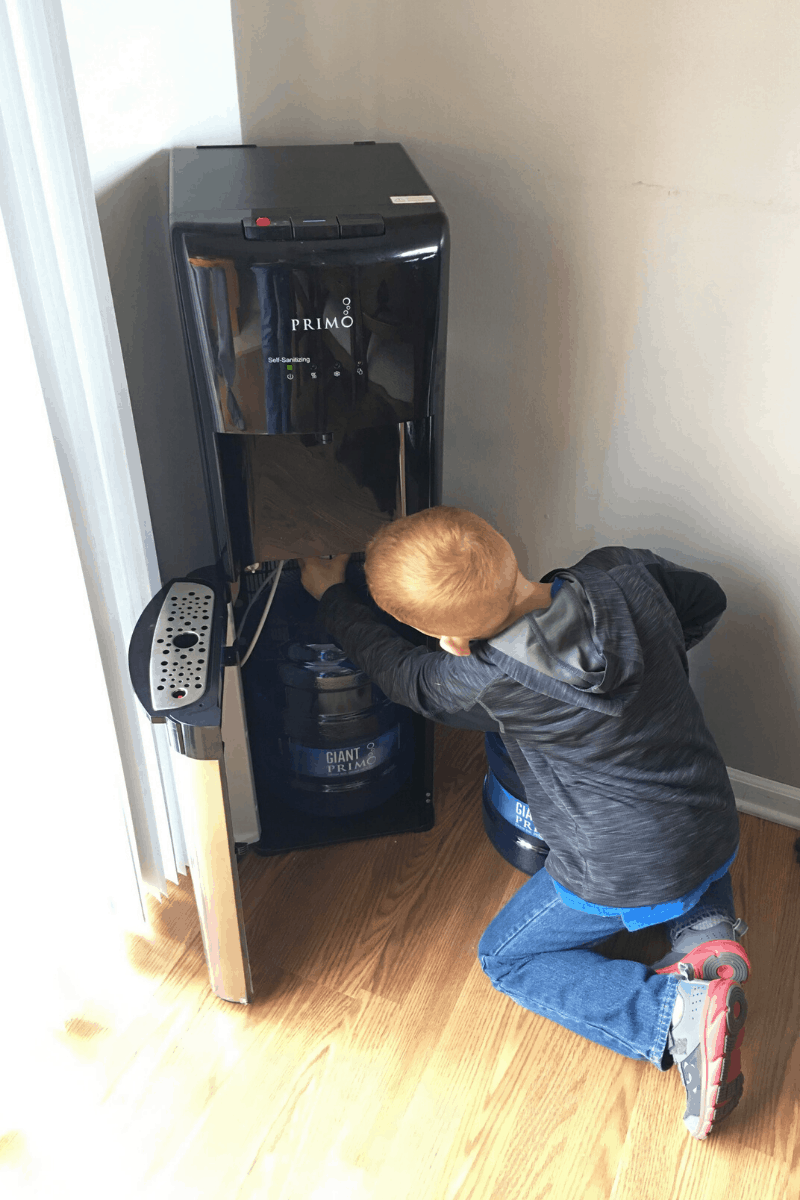 When picking out a Primo in-home dispenser, the Deluxe Bottom-Loading Water Dispenser with Self-Sanitization was an easy winner for our busy family of seven. This bottom-loading water dispenser provides access to cool, ice-cold or piping hot water in an instant with push-button controls.
ICE COLD: perfect for filling up reusable water bottles on a hot summer day
COOL: great for refilling the coffee maker
HOT: ideal for brewing a cup of tea or making a bowl of instant oatmeal for breakfast
With grubby little hands constantly filling their cups and reusable water bottles, the self-sanitizing feature was an instant draw. Add the bottom-loading feature, making it easy for my kids to help refill the water bottles without making a mess, and I was sold!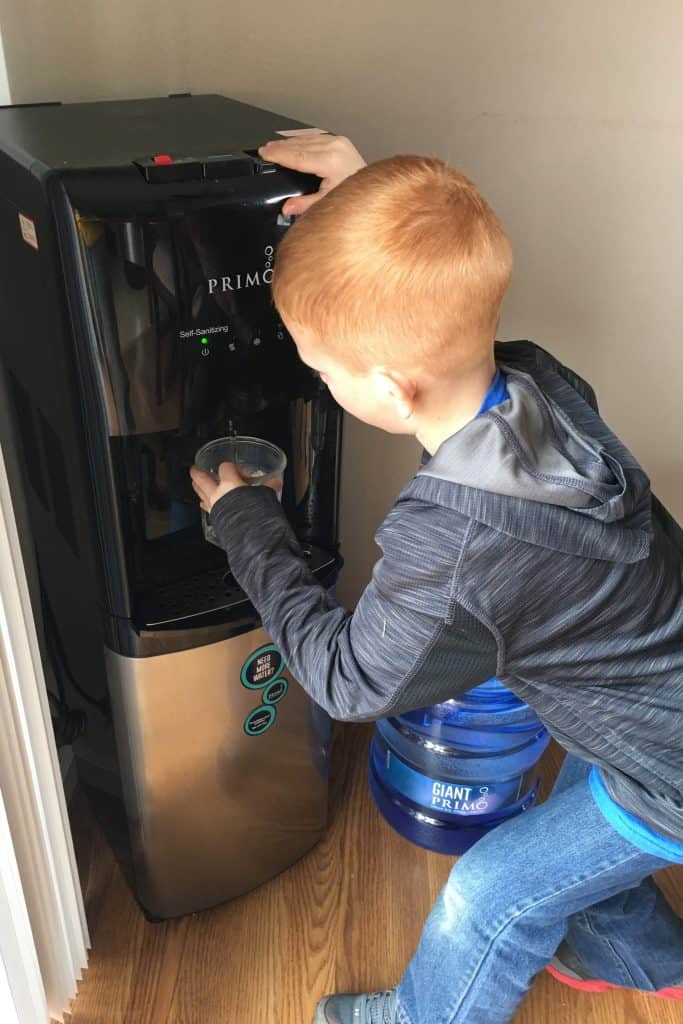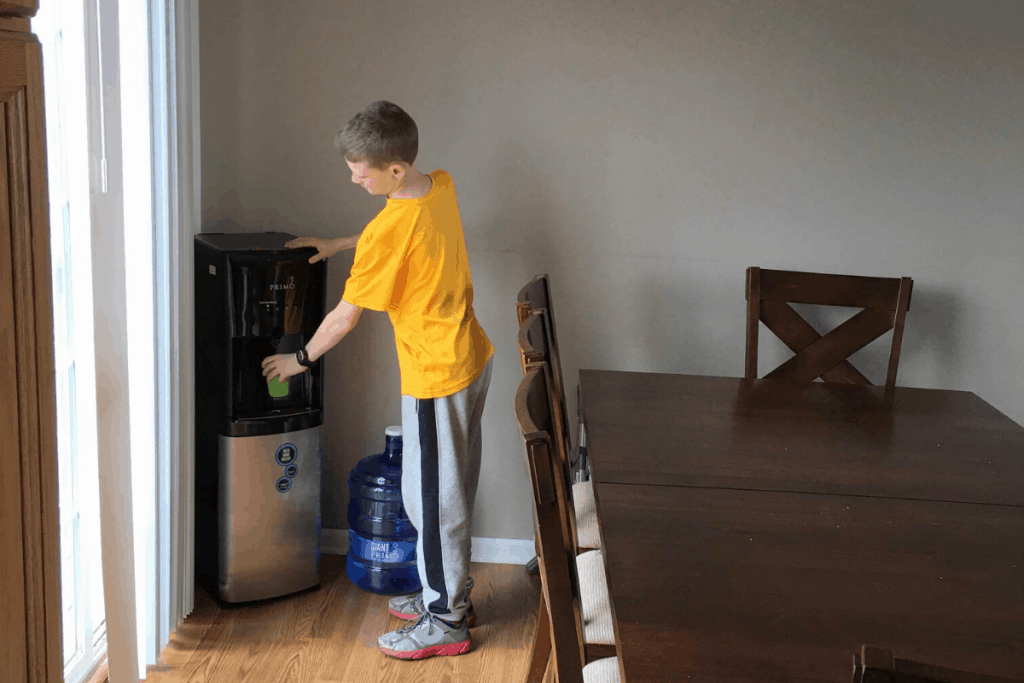 Which is the best water dispenser for your family? Visit store.primowater.com and sign up for text messaging to get a 20% off coupon code + free shipping sent to your phone!
Best Time to Drink More Water
Spring is a great time to resolve to use refill water with Primo! Good hydration is important all year long, but as the weather warms up, we're outside more and playing harder, making it even more important to stay hydrated with high-quality, great-tasting Primo water.
As we'll be on-the-go a LOT this spring, I'm excited to be able to take our Primo water with us, thanks to the Manual Water Dispenser I found on Primo's website! This will help us have access to high-quality, great-tasting water at softball and baseball games without contributing to the wastefulness of individual, one-time use, plastic water bottles.
Did you know? One 5-gallon water bottle saves up to 1,100 single-use bottles from the landfill! Not only are we saving money by REusing and REfilling, but we're helping to keep plastic out of landfills. Every time we refill our empty bottles, we're saving the planet!
Best Water
Why is Primo water the best water for our busy family?
High Quality Water – with no traceable levels of lead, cyanide, mercury, arsenic, ethylbenzene, or fluoride, Primo uses a 5-step process to purify water.
Less Waste – over the course of its 40-use life, one 5-gal refillable water bottle can eliminate the use of up to 1,100 single-serve plastic water bottles.
Great Taste – the great taste of Primo water makes it easier for our family to get the recommended eight glasses of water a day.
With low waste and great taste, Primo Water is the best water for a busy family.
This is a sponsored post on behalf of Primo.