If you follow me on Instagram, you'd have seen me share an odd looking photo on Friday night – it was "Evergreen Pizza Dough." It was just the first step in creating a fun and festive family dinner – Christmas Wreath Personal Pizzas.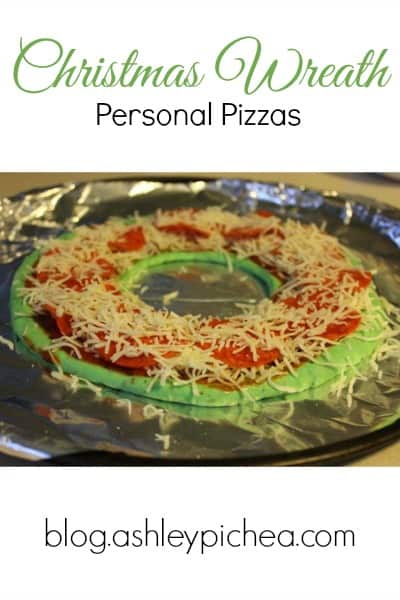 Christmas Wreath Personal Pizzas
When I set out to create a fun new recipe for my family, I wanted to create something that would allow the kids to get "in the kitchen" with me, and personal pizzas are a great way for kids to have a part in making dinner. I concocted a picture in my head of what I wanted the finished product to look like, consulted with my mom (who suggested the green food coloring), and began to implement my plan with lots of prayers that it would "turn out."
I have to say that I was pretty tickled when my vision became reality, and I was even more excited when all of my family members agreed that the finished product was yummy!

Step One: Evergreen Pizza Dough
I started with this recipe for Freezer Friendly Pizza Dough from Money Saving Mom.
I added 5 tsp of oregano (one for each cup of flour) and about 1/4 tsp of green food coloring before adding the flour.
The food coloring turned the dough green (obviously), and the oregano added a nice "evergreen" texture to the dough (and, in my opinion, enhanced the flavor).
Step Two: Christmas Wreaths
The recipe above created enough dough for approximately eight personal pizzas. I divided the dough into eight balls and rolled each ball out onto a piece of foil (for ease of "decorating" and baking).
After rolling out the personal pizzas, I used a biscuit cutter (round cookie cutter or glass would work well) to cut a hole out of the middle of the rolled dough to create the Christmas wreath shape. I used my fingers to roll up the edges a bit (inside and outside) to create a boundary for the toppings.
Step Three: Decorate the Wreaths
Using pizza sauce, Kraft® Shredded Cheese, and pepperoni slices, I let the kids "decorate" their own Christmas Wreath Personal Pizzas. They had a blast being able to help make dinner and add their own toppings!
Step Four: Bake and Enjoy
Once the Christmas Wreath Personal Pizzas were "decorated," I popped them into the oven to cook. We cooked our pizzas for 15-20 minutes at about 350 degrees.
When they came out of the oven (looking exactly how I'd pictured them in my head!!), we cut them into slices and enjoyed eating our festive food.
Did you enjoy this post?
Consider using the buttons below to share it!
—
From shopping for gifts to planning family dinners, it's hard to keep up with all your holiday to-do's. This year, Kraft is helping out with great weeknight meals and entertaining ideas to make the season a little bit easier. Plus, Kraft is offering up to $20 in coupons, redeemable exclusively at Target, to make food shopping easier and to help you have a happy holiday season.
This is a sponsored conversation written by me on behalf of Kraft. The opinions and text are all mine.