Last week we ended up "snowed in" at my parents' in Michigan, but it was too cold to go out and play in the snow (thanks to the polar vortex), and we were all a little bit bummed. Thankfully, the weather has warmed up a bit and the snow hasn't all melted!
Snow Fun with Snow Markers
Last year, the kids each got a set of snow markers in their Christmas stocking, and we had so much fun drawing and writing in the snow.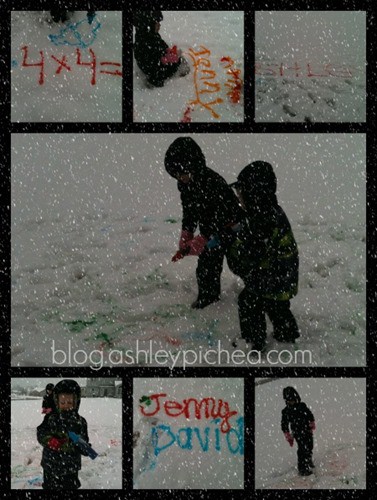 The snow markers were basically just a squeeze bottle that you added "colored" water to – and they came with a packet of powder that you used to color the water. After we emptied the colored water into the snow, I decided that I'd save the bottles for another day. Adding a little food coloring to some water is all we needed to be able to "color" in the snow again!
How to Make Snow Markers
Supplies:
Instructions:
Add a few drops (the darker/more vibrant the color you want, the more food coloring you'll need to add) of food coloring to a squeeze bottle filled with warm water. Shake the bottle until the food coloring is mixed with the water (be sure to cover the opening if it's not sealed).
Take the bottle outside and squeeze the colored water onto the snow.
Be sure not to point the bottle at anyone or get the colored water on any porous surface as it may possibly stain.
When your bottles are empty, rinse them well and save them for your next snowy adventure!