My older kids are now at the age where they are able to help with dinner prep (even making some meals without assistance) and have been recently given the responsibility of cleaning up after dinner. However, when we first handed over this responsibility to them, we forgot a detail – namely, teaching them how to clean up after dinner – and night after night we found ourselves frustrated that it wasn't getting done the way we wanted.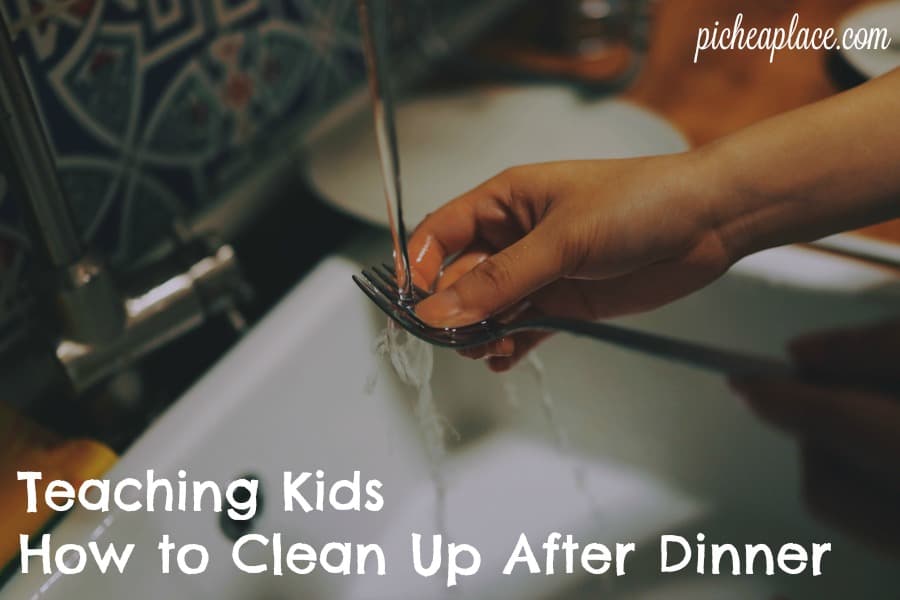 The problem wasn't with the kids. They were putting forth the effort each night – and without complaints even. But the kitchen and dining room were still a mess, and we were having to go in behind them to clean. It was frustrating… until we made a simple discovery.
They didn't know how to clean up after dinner – they had never been taught.
Sure, they'd seen us do it over and over, but they'd never been taught the steps or been shown how to do it properly. So it should have come as no surprise that although they made an effort each night, they never came close to completing the task to our standard.
Teaching Kids How to Clean Up Dinner
Create a List
Once I realized the problem, I decided it was time to start with the basics. I created a list of tasks that we expected to be done as a part of the nightly dinner clean up efforts:
clear the table
rinse the dishes
load the dishwasher
put away any leftovers
wipe down the counters and table
sweep/vacuum the floor (as needed)
Teach the Tasks
Once we had a list of tasks we wanted them to accomplish, it was a simple matter of walking through each task with them to show them exactly how it ought to be done. None of the tasks were difficult, but we had expectations of how each ought to be accomplished, and we needed to communicate those expectations to them via a demonstration.
It was amazing the difference that a simple list made – now the kids know what is expected of them, and since we've shown them exactly how we'd like them to do each task, they know whether or not their efforts are meeting that standard!
What household responsibilities have you handed over to your children?
Have you taken the time to teach them how to do those tasks or are you finding yourself frustrated because they've not been properly taught? Take a few minutes today to walk through some of those tasks with your children and watch them flourish under your guidance as they become a valuable part of helping to keep your household running smoothly!