It's become pretty widely accepted that nagging, whether with spouses or kids, does not work. It can also be exhausting for the one doing the nagging.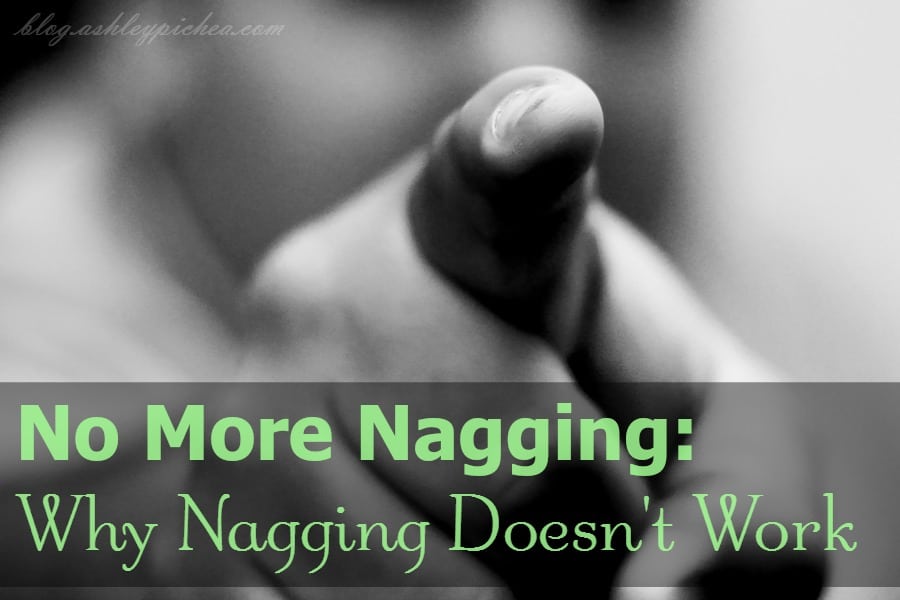 So why doesn't it work? Why is nagging considered to be ineffective?
Here are some ideas as to why this time-honored method of motivation is anything but motivating:
1. It creates resentment.
Nagging may produce an angry response in your spouse or kids, and make them resent you. The task you are nagging about becomes the last thing they want to do.
2. Nagging is unpleasant, so you will get tuned out.
No one wants to hear the same old nag over and over, and your spouse and kids will simply stop listening. The more you nag, the less they hear.
3. It's negative reinforcement, which some psychologists say is ineffective.
Nagging says, in effect, "I will stop punishing you with this annoying nagging when you do what I want you to." And the person being nagged feels that as soon as he or she does one task to make you stop nagging, you will just nag about another one.
4. Nagging can make you feel controlled, and no one likes to feel that way.
Being nagged feels like you're being manipulated, and tends to make the "nag-ee" feel like digging in his or her heels instead of doing what he or she is being nagged to do.
5. Talk is cheap, and nagging comes down to simply words.
Spouses and kids find it pretty easy to "duck" annoying words. They have learned that you are just talk, and you'll eventually end up doing the task yourself; all they have to do is weather the word storm.
6. When it comes to kids, nagging models behavior that you probably don't want to deal with.
After all, nagging is something we can often dish out but not take! If you constantly nag, you may find that your kids begin to communicate with you the same way.
7. Nagging focuses on what a person is not doing.
Once again, it has a negative focus. Nagging points out all the things that are wrong with the person, and implies that he or she is not worthy because he or she has not done certain tasks. Nagging is a way of finding fault, and it tends to wear people down instead of build them up.
8. If you nag your spouse, you are acting like his or her parent.
When one spouse acts like a parent to the other one, experts say that can really damage a marriage.
—
No More Nagging
Instead of nagging your spouse or children, make yourself plainly heard and then leave the responsibility in their hands, allowing them to reap the consequences if they fail to follow through.
No more nagging my children
For me, I know that I tend to be a control-freak. It's difficult for me to watch my child face the consequences of his/her actions (or more often, inactions), but learning to give clear instruction and allowing my children to accept responsibility and live with the consequences (good or bad) is a step in the right direction for us all!
No more nagging my spouse
Marriage requires communication – clear communication. When I clearly communicate to my husband (and have received confirmation that my clear communication was received), I need to allow him to process the request in his own way. Men and women don't often process things the same way, and different personalities process things differently as well.
—
Resources to Help You Stop Nagging
For women wanting to stop nagging their husbands: Getting Through to the Man You Love: The No-Nonsense, No-Nagging Guide for Women
For busy parents who want to stop nagging their spouses and/or children: How to Stop Nagging: Why Do Women Nag? and How to Quit Nagging For Good
For parents wanting to stop nagging their children: If I Have to Tell You One More Time…: The Revolutionary Program That Gets Your Kids To Listen Without Nagging, Reminding, or Yelling OR Kid Cooperation: How to Stop Yelling, Nagging, and Pleading and Get Kids to Cooperate
Note: Pichea Place has not reviewed the resources recommended above and cannot speak to the quality of the content or advice contained within.
—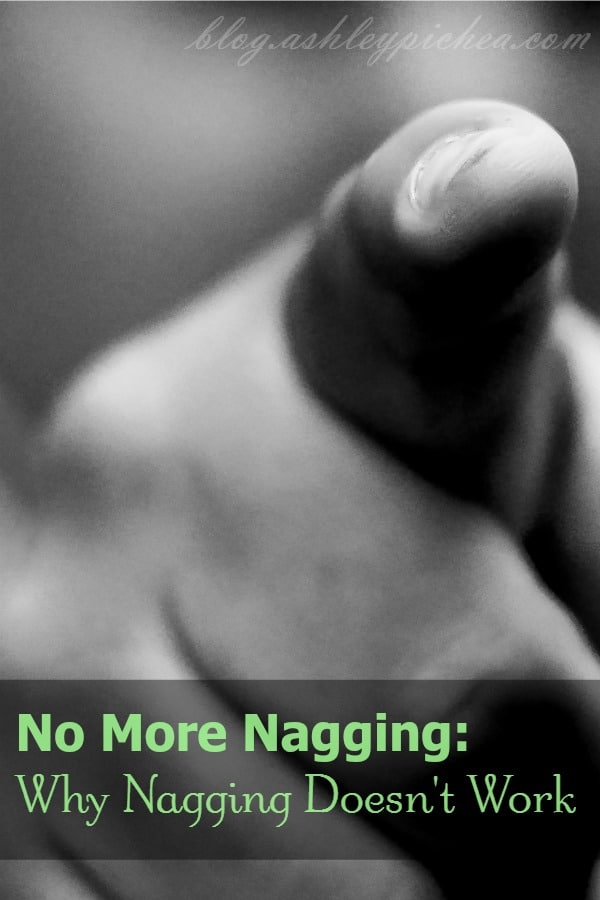 —
See where I'm linked up.
original photo credit: https://www.flickr.com/photos/gabaus/5770042200