I don't like to have an over-packed summer (hello, white space!!), but I know my kids need activity and some semblance of structure during the long summer months, so I've attempted to come up with a list of summer bucket list ideas that we can do together as family – one for each week of the summer.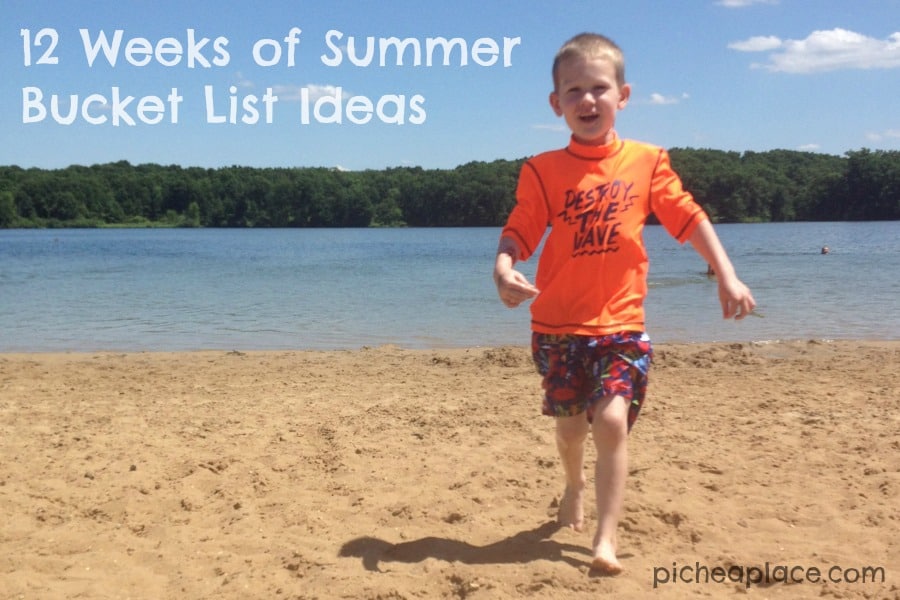 12 Weeks of Summer Bucket List Ideas
I definitely want to go camping this summer… even if it's just at the local state park!
A trip to the Toledo Zoo is on my summer bucket list, including a visit to their new aquarium.
My kids would love to make some homemade playdough… maybe we can even add some essential oils, beads, or other textures for a sensory experience!
I've stocked up on a couple of Summer Break Brain Bags, and I can't wait to pull them out to read the books together with the kids and do related crafts/activities!
Our local movie theater has $1 kids' movies all summer long, and I'd love to surprise the kids by taking them one week.
Jenny & David are forever asking to take a picnic, and the hills out behind our apartment complex would be perfect for a backyard blanket picnic.
I've been trying to think of ways to have people over, and an ice cream social would be the perfect summer party!
There's a bowling alley down the road that we've been talking about taking the kids to – perfect for a weekend outing!
A road trip is a summer bucket list must… whether it's to the lake, to grandma's, or to the northwoods of Michigan, we love taking road trips together!
Heading to the beach is a must for our family – the kids can't wait to swim and play in the sand.
During the heat of the summer, it'd be fun to have our friends over for some water olympics… a great way to beat the heat!
And because we love to read, we'll be sure to visit the library and sign up for the summer reading program.
What's on YOUR summer bucket list?