The snow has finally arrived in Michigan, and I'm excited to dig out some books about snow to read together with my kids. Here's a list of a few of the books we'll be looking to enjoy reading together!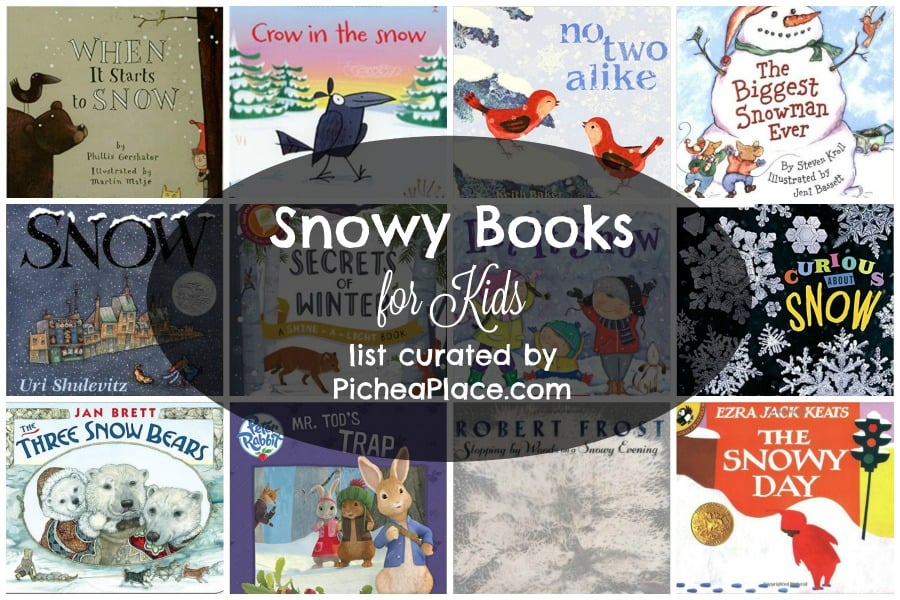 Related: Best Books for Kids
Snowy Books for Kids
From bestselling author-illustrator Keith Baker, explore the wondrous world of winter in this charming story now available as a Classic Board Book!
No two snowflakes are alike, almost, almost… but not quite.
Follow a pair of birds on a snowflake-filled journey though a gorgeous winter landscape to explore how everything everywhere is wonderfully unique—from branches and leaves to forests and trees to friends and loved ones.
From building snowmen to drinking hot chocolate by the fire's warm glow, LET IT SNOW celebrates wonders of winter!
Jan Brett's board book audience will love this brief version of a favorite tale in which Aloo-ki, an Inuit girl, meets a polar bear family.
When Aloo-ki's sled dogs float away on an ice floe, she goes looking for them. She comes upon an igloo with no one home and goes inside. In the meantime, Mama, Papa and Baby Bear swim out and rescue Aloo-ki's dogs. They all go home for breakfast to find a surprise visitor curled up in Baby Bear's bed for a nap.
No book has captured the magic and sense of possibility of the first snowfall better than The Snowy Day. Universal in its appeal, the story has become a favorite of millions, as it reveals a child's wonder at a new world, and the hope of capturing and keeping that wonder forever.
The adventures of a little boy in the city on a very snowy day.
What if it starts to snow. What do you do? Where do you go?" So begins this winter story, as each animal–from a mouse to a bear–tells us what it will do and where it will go when the snow starts to fall. Each takes cover in its own special home, except for one. Can you guess who?
Phillis Gershator's chant-along verse encourages listener participation, and is best enjoyed when read aloud. The inquisitive text and dashing illustrations by Martin Matje make this a delightful picture book for reading under the covers when the weather gets chilly. Poetic and imaginative, When It Starts to Snow celebrates winter in all its cozy glory.
When the mayor of Mouseville announces the town snowman contest, Clayton and Desmond claim that they will each make the biggest snowman ever. But building a huge snowman alone is hard! They work and work, but their snowmen just aren't big enough.
Soon they have an idea. As the day of the contest approaches, Clayton and Desmond join forces to build the biggest snowman ever.
Stopping by Woods on a Snowy Evening (Robert Frost)
Ever since it was published in 1978, the picture-book presentation of Robert Frost's poem "Stopping by Woods on a Snowy Evening" has been an enduring favorite. For this special edition with a new design, trim size, and three new spreads, Susan Jeffers has added more detail and subtle color to her sweeping backgrounds of frosty New England scenes. There are more animals to find among the trees, and the kindly figure with his "promises to keep" exudes warmth as he stops to appreciate the quiet delights of winter. The handsome new vellum jacket will attract new and old fans as it evokes a frost-covered windowpane. This celebration of a season makes an ideal holiday gift for a child, a teacher, or a host.
"It's snowing, said boy with dog. "It's only a snowflake," said grandfather with beard.
No one thinks one or two snowflakes will amount to anything. Not the man with the hat or the lady with the umbrella. Not even the television or the radio forecasters. But one boy and his dog have faith that the snow will amount to something spectacular, and when flakes start to swirl down on the city, they are also the only ones who know how to truly enjoy it. This playful depiction of a snowy day and the transformation of a city is perfectly captured in simple, poetic text and lively watercolor and pen-and-ink illustrations.
A lively story with irresistible illustrations, this book is a delight to share with very young children. It can also be enjoyed by children who are beginning to read for themselves. The simple rhyming text is a great way to develop essential language and early reading skills, and there are guidance notes for parents at the back of the book.
Who is out and about during wintertime? Shine a light behind the pages and discover a natural winter world full of surprises!
When does it snow? Why is snow white? How do we know no two snowflakes are alike? (Hint: the proof is in the photographs, first made in the 1890s!) With full-color photographs and the Smithsonian's famous Wilson Bentley snowflake photos, this new Curious About title looks at the science behind snow, and the history of record-setting blizzards and snowstorms—plus how people have fun in the snow!
It's wintertime in the Lake District, and Peter, Benjamin, and Lily are tempted by an unlikely snack of delicious radishes piled in the middle of the snowy woods. Despite her fears that it must be too good to be true, Lily can't resist the treat and gets caught in Mr. Tod's trap! It's up to Peter and Benjamin to come up with a plan and help Lily escape.
What books about snow are you reading together with your kids this winter?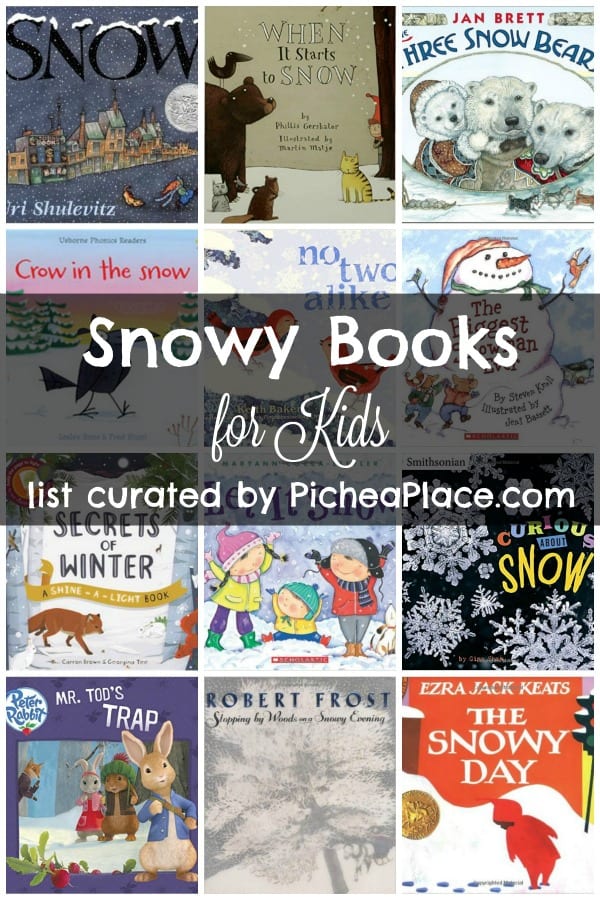 Book descriptions found on Amazon.com and PicheaPlace.com/usborne