My kids are HUGE fans of all things Dr. Seuss, so when we found a tutorial for making The Cat in the Hat with a paper plate, they were all over it!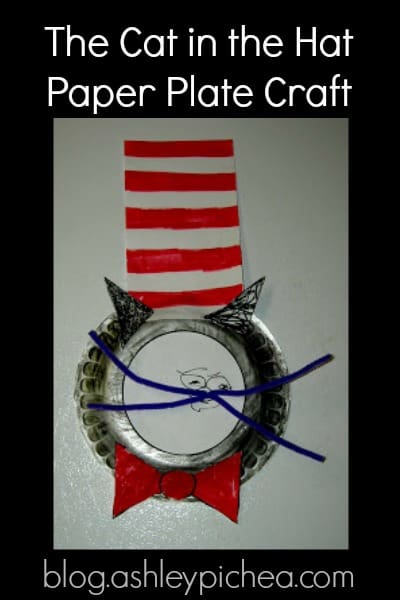 Related: Dr Seuss activities for kids
The Cat in the Hat Paper Plate Craft
Searching online, I found this Cat in the Hat paper plate craft.  We modified it slightly to work for us.
Supplies needed:
A paper plate
Construction paper (we colored printer paper)
Markers, crayons, etc.
Pipe cleaners (black is suggested, but we only had bright colored ones)
Glue
Scissors
Instructions:
Color the paper plate black.
Color red stripes onto a piece of white construction paper.
Print the cat face and the bow.
Cut them out. Glue to the paper plate.
Draw facial features onto the face.
Give each child two pipe cleaners and glue them on.
Glue the hat to the plate.
Cut two black triangles for ears and glue on.
I'd love to see your kids' finished products – upload a picture to my Facebook page!
—
Be sure to check out We LOVE Dr. Seuss!! for great ideas for celebrating Dr. Seuss' birthday on March 2!!