When my kids heard that we were going to homeschool again this year, they immediately started putting in requests for all the topics/subjects they wanted to learn. Spanish for kids was at the top of their list. I thought it would be fun to learn Spanish together as a family, so I started researching "how to teach your child Spanish at home."
I put out a request on Facebook for recommendations for the best way to teach Spanish for kids at home. My friends did not disappoint with their suggestions, and one even went so far as to connect me with a kids' Spanish curriculum.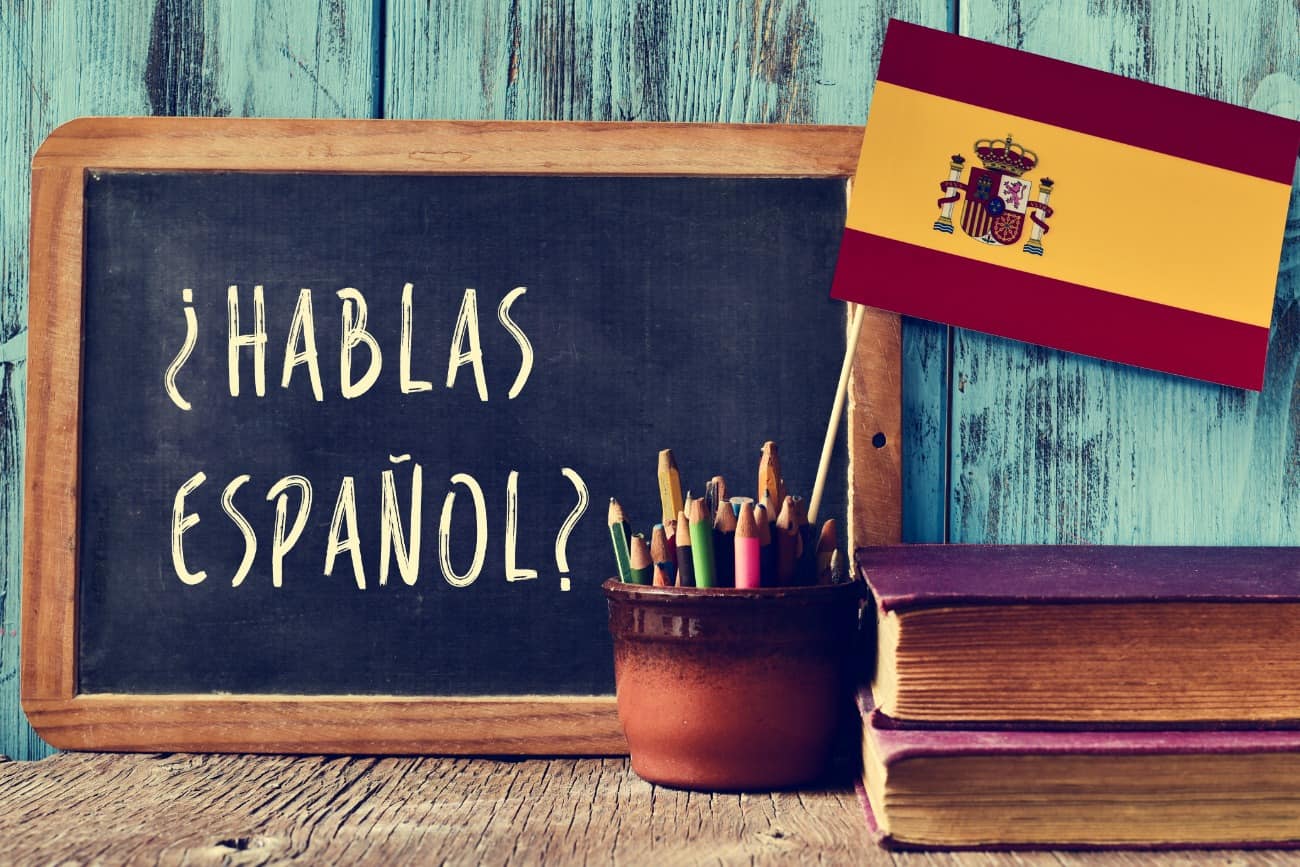 Disclosure: This post is sponsored by Foreign Languages for Kids by Kids. I was sent a Beginner Spanish Set to use with my kids in order to be able to provide an honest review of this kids' Spanish curriculum. 
How to Teach Your Child Spanish at Home
Spanish for Kids by Kids is an 8-part video series that gives children a foundation in day-to-day Spanish conversation that they will be able to use in their lives, whether for personal enrichment, professional advancement, or both. It is also intended to spark an interest in children and to provide a positive first exposure to foreign language learning.
Using a "day in the life" approach to Spanish language immersion, the video series begins by inviting viewers to join a Spanish-speaking family at breakfast and ends with the family heading off to bed for the night. While the events of the day are fairly typical, there are plenty of surprises and colorful characters along the way, keeping the kids entertained and engaged.
Teaching Spanish to Multiple Ages at Home
Since our family spans multiple age/grades, I wanted to find a Spanish curriculum for kids that would work for our whole family. Foreign Languages for Kids by Kids answered this need.
The Spanish for Kids by Kids program consists of videos, workbooks, and quizzes. The lessons teach students practical and useful Spanish by presenting relevant vocabulary in a variety of real-life situations with a humorous twist.
Videos: See and hear Spanish in action
Workbooks: Practice with fun games and activities
Quizzes: Test out what's been learned with interactive pages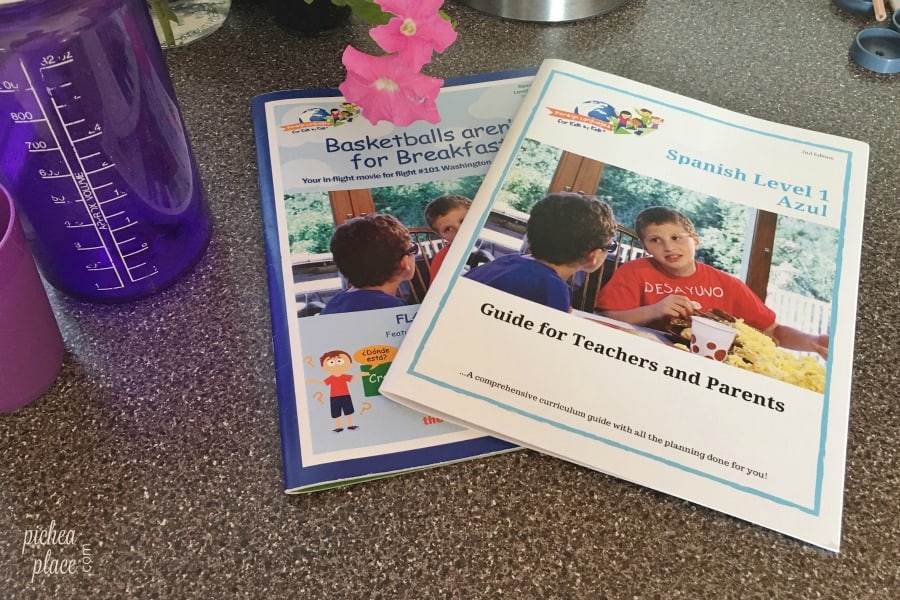 All of the lessons are full immersion, with graphics, creative pictures, and entertaining mini-skits to help children understand, remember, and enjoy as they learn. The lessons build on each other, gradually adding vocabulary. The lessons are designed with the goal that kids quickly learn Spanish relevant to daily life.
Teaching Spanish to Preschoolers
My 4-year-old preschooler was excited to watch the DVD with his older siblings each morning. As he watched each day, he grew more confident with his understanding of what was happening and the words being used. It wasn't long before he was trying to use some of the Spanish words in his own everyday interactions.
Teaching Spanish to Elementary Kids
This Spanish for kids curriculum fit my 8-year-old third grader the best. The ages of the kids in the story were roughly the same as his own, and the topics covered were very relatable. The supplementary activities, games, and app were geared toward his learning level and preferences as well.
I had to laugh the first week when he tried to use some of the words he was learning, but got a little mixed up: "¿Banana, mega more?" [He intended to say, "¿Banana, por favor?"]
Teaching Spanish to Middle Schoolers
My 10-year-old sixth grader was probably the most excited about learning Spanish at home this year, but when I put the first DVD for lesson, she was less than impressed. "This is for little kids!" But since she didn't have a choice, she watched it. And by day three or four, she was hooked.
For her, the DVDs were more of a quick overview of how to say the various Spanish words and phrases as well as the context in which they fit. She really enjoyed the activities (especially the flashcards) and figuring out how to use Spanish in her every day life. She grasped hold of the language quickly and is enjoying expanding her Spanish vocabulary through real life interactions.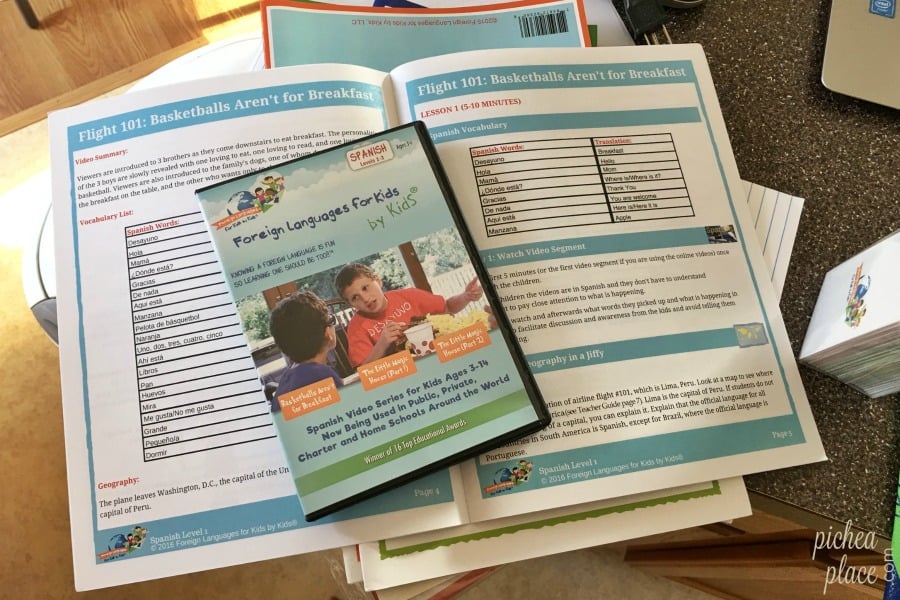 Foreign Languages for Kids by Kids
We've only scratched the surface with this Spanish for kids language learning program, and we're eager to continue to expand our knowledge and understanding of the Spanish language throughout this school year (and hopefully beyond)!
Here are some FAQ about the Foreign Languages for Kids by Kids Spanish curriculum:
(The following answers were found on their website and/or in the curriculum guide.)
What age(s) is this Spanish language learning curriculum for?
One of the best parts about Foreign Languages for kids is that even though it is designed for kids, the whole family can learn together. The videos are geared towards preschool through sixth grade, but if you watch them with your children you and your teens will learn too. With an immersion approach, it is nearly impossible to NOT pick up on the Spanish language. This means the whole family can use our program together! Not one by one on the computer or with mom going from child to child using a workbook. One program. One lesson. Together. That is how Foreign Languages for Kids works!
One of the wonderful benefits of this program is that your children can all do their lessons together, no matter what their ages. You may need to choose different supplements for your children depending on their ages, but the core video program will work for everyone. We have heard from some parents that their high school students resist doing the program at first, complaining it is too juvenile for them, but soon they realize how fast they are learning and that this is a fun way of learning.
How is this program different from other Spanish for kids curriculum?
Our goal was to create a program that would teach children language in a way that developed their confidence and inspired them to enjoy learning foreign language. Many companies use still pictures or animation to sell their products in multiple languages. While more profitable, we believe that nothing is more authentic and effective than seeing real people using the language.
This video series is designed to simulate the way that children's first language is developed: using their minds to figure out meanings through context and clues related to common experiences. We believe that this approach has the added benefits of facilitating language retention as well as developing the language center of the brain since viewers are learning through immersion.
In addition, using language in fun stories kids can relate to works very well with students. Finally, seeing and learning from other kids has an incredible appeal to children, engaging and motivating them in an uniquely effective way.
Why immersion?
We believe that immersion with visual cues and clear context is the best and most natural way to learn a new language successfully.
The video dialogue is 100% Spanish (except for the introduction) with an eight-episode sitcom-type series written and filmed specifically to teach practical conversational Spanish to beginners. It uses a gradual and progressive building block immersion which is reinforced by the context of the stories and ubiquitous visual cues. Featuring only kids, the series starts at breakfast at 8:00 a.m., proceeding through the day with events children relate to, such as birthday parties, soccer games, play dates, getting ready for bed, etc. and ends at bedtime at 8:00 p.m.
By watching familiar situations in various scenarios, children pick up the meaning of the Spanish words and phrases through context not translation.
Do I need to know Spanish to teach my children Spanish at home?
This program was specifically created for parents who do not speak Spanish. We understand it can be uncomfortable to try to teach a language you do not know. Our program is designed so that it can be used without knowing even a single word of Spanish. What's more, many tell us that they learned Spanish right along with the students and enjoyed it every step of the way.
Our program is truly open and go. Our teacher's guide provides parents with the tool they need to teach their children in just minutes a day. It includes ideas for games, lessons on geography, cultural experiences, and much more. The program is flexible so it is up to YOU the parent whether or not you want to teach every day, or a couple of days a week.  The key is to open the guide, and have FUN with your kids!
How do I get access to the Spanish lessons for kids?
Foreign Languages for Kids by Kids knows that different families prefer different methods of learning, that's why they offer different options for access:
Physical Curriculum – if you visit the Foreign Languages for Kids by Kids shop, you'll find all the videos, workbooks, games, activities, parent/teacher guides, and more available for purchase. [We opted to start with the Beginner Spanish Set.]
Online Membership – with monthly or yearly membership options, an online membership gives you access to all the Spanish video lessons; online games, puzzles, and quizzes; online access to Spanish teachers to answer your questions; and a discount on all physical products.
Foreign Languages for Kids by Kids offers a free 48 hour trial of the online membership to give your family a feel for the curriculum – to determine if it's going to be a good fit for your needs.
Click here to sign up for your free Spanish for kids trial today –> YES! I want to learn more and try it out!