We're limited on vacation time this year with my husband's change in jobs (he went from three weeks of vacation time to four days), so we're having to be a bit creative when it comes to having a family vacation this summer.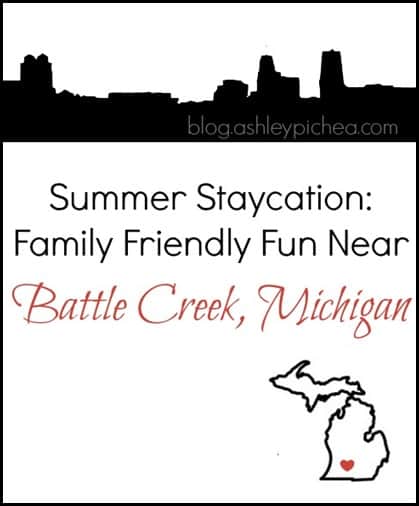 We've been making a list of all the family friendly attractions in and around Battle Creek, MI, planning for a few family staycations (mostly "day trips") over the next three months.
11 Family Friendly Staycation Ideas Near Battle Creek, MI
B.C. Field of Flight Air Show and Balloon Festival | July 3-7, 2014 : [we'll definitely be taking the kids out to the airport this summer to enjoy all that the annual air show and balloon festival have to offer]
Binder Park Zoo : [we have a family membership this year and plan to make lots of visits]
Calhoun County Fair | August 10-16, 2014 : [only twenty minutes away, the county fair is a must in August… from the 4-H barns to the midway, the fair is a perfect summer staycation activity]
Cereal Festival | June 13-14, 2014 : [the kids are still talking about when we attended the Cereal Festival two years ago… the Grand Cereal Parade on Friday night followed by the World's Longest Breakfast Table on Saturday – it's a childhood favorite of mine that I'm excited to share with them again]
Cheap Flicks : [a trip to the cheap movie theater in town is the perfect way to spend a too-hot-to-be-outside summer day]
Children's Garden at Leila Arboretum : [a one-acre outdoor learning environment where children of all ages discover the wonderful world of plants and their role in daily life]
Cornwell's Turkeyville USA : [my parents gave us a gift card to Cornwell's for Christmas, so we'll definitely be making a trip to the turkey farm for food and to enjoy some of the festivities]
Critchlow's Alligator Sanctuary : [I think David would really enjoy a visit to the alligator sanctuary – maybe we'll have to schedule a day trip this summer!]
Fort Custer State Park : [we have a State Park pass so we can take day trips to the beach or the hiking trails whenever we want… plus, it's less than five minutes away from J's workplace, so we can do a picnic lunch with him before he has to head to work, and then the kids and I can stay and play!]
Flash Flood at Full Blast : [over 80,000 square feet of fun for the entire family including indoor and outdoor water parks, inflatables, bungee run, bouncy room trampoline, food court and more… the perfect hot weather family friendly staycation activity]
Kids 'N' Stuff : [if we find ourselves needing an indoor staycation activity, making the short drive to Albion will be worth it to visit this hands-on, interactive children's museum]
Share this post with a friend using the sharing buttons below!!
—
This post is part of a Summer Staycation Linkup with the bloggers of iHomeschool Network.