My toddler loves to grab a picture book and hop up into my lap to read together. Having discovered the wonderful picture books from Usborne Books & More, we've been slowly adding more picture books to our home library, and we thought we'd share some of the titles on our wish list with you!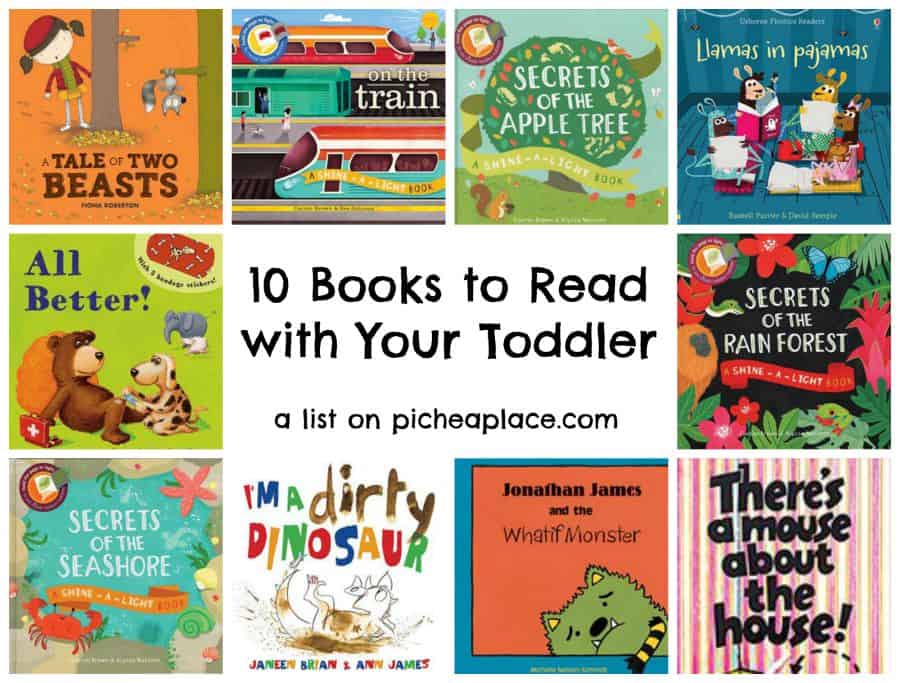 Related: Best Books for Kids
Spot the tiny shrimps hiding in the sand, see a shy crab underneath a rock and watch a jewel-like anemone open its tentacles in this beautiful book of nature's hidden habitats. Just hold the page up to a light to discover it all.
Discover the animals and plants that live in and around a kapok tree, from the colorful parrots in the canopy to the sleek jaguar on the forest floor. This engaging non-fiction title will stimulate a love of the natural world as the vivacity of the rain forest is revealed through the bold and colorful artwork, and clever "see-through" pages.
Explore a tree up close and you will find a small world filled with great surprises! From worms wriggling among the roots, to birds nesting high in the branches, the hidden wonders of this amazing habitat are revealed when the page is held up to a light.
Whenever Jonathan James finds himself in a new situation, he hears his Whatif Monster asking all kind of questions to stop him trying something new: What if it's scary? What if they laugh? What if it's hard? Finally, Jonathan James has some questions of his own: What if they don't? What if it isn't? What then?
Young engineers will delight in exploring all the hidden secrets On the Train. They simply hold the pages to the light to "see-through" the box cars of a freight train, the cabin of the passenger train, and much more. It's an interactive, educational experience that will have them clamoring for more!
When a little girl rescues a strange beast from the woods, she takes him home. But for some reason, the little beast is not happy! There are two sides to every story, and this funny and charming tale is no exception. Author/illustrator Fiona Roberton offers both points of view in this discussion-starting tale of the importance of seeing the world in different ways.
A lively story with humorous illustrations, ideal for children who are beginning to read for themselves, or for reading aloud together. With simple rhyming text and phonic repetition specially designed to develop essential language and early reading skills. Guidance notes for parents are included at the back of the book.
This interactive book is so much fun: first, take the little cardboard mouse out of the pocket on the front cover. Then, as you read the story about the mouse's adventure, follow the dotted line and move the mouse through the slot on each page. And – this book is not just fun, it's educational, too!
Stomp, splash, slide, dive … This little dinosaur just loves mud! What does a cheeky little dinosaur with a dirty snout do? Why stomp about getting dirtier and dirtier, of course!
Children will delight in this dirty dinosaur's playful antics and just may want to join in with the sniffing, snuffing, shaking, tapping, stamping, splashing and sliding, not to mention the mud!
Dog hurt his foot, Sheep scratched her tummy and Bear sat on a splinter! What will make everything all better? Clean it, kiss it and put a bandage on it! Young readers will delight in the five animal friends' misadventures and be eager to help make things "all better" with the five reusable and repositionable stickers.