You know how much we love a good themed book list around here, and we are excited to create a list of books for kids about Valentine's Day! I think Chris and I will be headed to the library early next week to try and find a bunch of these books to read together.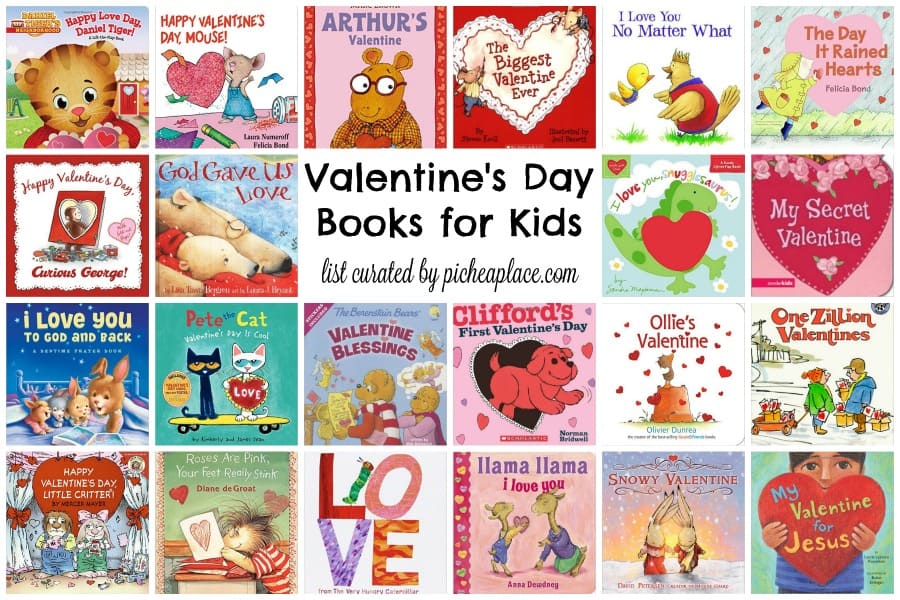 Related: Best Books for Kids
Valentine's Day Books for Kids
"You are the cherry on my cake; you make the sun shine brighter; you make my heart flutter." Using a range of images from the World of Eric Carle, and featuring the Very Hungry Caterpillar, this special gift book gives all the reasons why someone special makes the world a better and brighter place. Perfect for that someone special on Valentine's Day—or any day.
In Llama Llama I Love You, little llama shows his friends and family how much he loves them with heart-shaped cards and lots of hugs. What could be sweeter than Llama Llama on Valentine's Day?
Pete the Cat thinks Valentine's Day isn't cool . . . until he realizes how many special cats there are in his life! Pete works hard to make valentines for everyone, and it turns out to be the grooviest Valentine's Day ever. But what happens when he realizes he's forgotten to make a card for a very important cat? Join Pete the Cat as he discovers just how special Valentine's Day can be!
Join Mouse from If You Give a Mouse a Cookie as he celebrates Valentine's Day with all the friends he loves.
We are BIG fans of the "If You Give" books by Laura Numeroff at our house, and I know this one will be a big hit!
When Mrs. Mousely asks her class to make valentines, Clayton and Desmond decide to make one together and give it to their teacher as a surprise. But things don't go as planned. First Clayton puts too much glitter on the card. Then Desmond puts on too many hearts. Soon the friends are arguing and they rip the card in half. "I'm going to make my own valentine!" they both say and go home in a huff. But then Desmond and Clayton realize that by working together they can make the biggest, best valentine ever!
When Gilbert writes two not-so-nice valentines to his classmates, his prank quickly turns into pandemonium. But there's always time for a change of heart on Valentine's Day.
George and his friends celebrate Valentine's Day with decorating, baking, card making and some unexpected hilarity along the way! Just how much mischief can a curious little monkey get into when balloons, frosting, and glitter are involved? Fold-out flaps on each scene reveal lively surprises in this humorous celebration of friendship.
One day it rains hearts, and Cornelia Augusta catches them. Each heart is special in its own way, and Cornelia Augusta knows exactly who to send them to.
It's Love Day in the Neighborhood of Make-Believe. Daniel and his family find all kinds of ways to say "I love you" and show that they care. Daniel makes paper hearts for everyone he loves and Mom Tiger makes a heart-shaped pizza for everyone to share. Lift the flaps to see how Daniel and his family and friends show their love!
It's Valentine's Day, and Little Critter's class is celebrating! They're decorating the classroom with hearts, eating cupcakes, and making Valentine's Day mailboxes. Little Critter is making an extra special card for an extra special valentine. Who will it be? Pull back the flaps and discover all the fun Valentine's Day surprises.
Ollie is looking. Looking for a valentine. Gossie, Gertie, Peedie, and BooBoo all have valentines, but Ollie wonders who will be his. His search leads him to a special valentine of his very own—a surprise for Ollie and readers!
The country Cousins hockey team has been practicing every day for the big game against their rivals, the Beartown Bullies. But when Brother receives a Valentine in the mail from a secret "Sweetie Bear" he doesn't know what to do. Will the Valentine keep him from playing his best at the hockey game or will he learn an important lesson about love?
Clifford has always gotten into a little innocent trouble, even as a puppy. This time, he's helping Emily Elizabeth make a special Valentine for her grandma. When it comes time to mail it, Clifford gets an unexpected behind-the-scenes tour of the Post Office!
This snuggly dinosaur romp encourages little ones to stop their feet, clap their hands, and, of course, cuddle up real tight! Sandra Magsamen's sweet, hand-stitched illustrations and loving message make this the perfect book to read and ROAR together.
Someone is leaving Arthur notes, and he doesn't know who. They are all signed by a secret admirer. Is Buster playing a joke? Or is Francine teasing him? It's up to Arthur to track down his valentine—and maybe even leave a surprise of his own.
This Valentine holiday book for young children will help parents of children ages 2-5 share the meaning of love. The rhyming text and delightful illustrations tell the story of a child's love for his family―and his special love for Jesus.
Step out into a snowy Valentine's Day with Jasper the bunny as he searches the forest valley for a special gift for his loved one. In his picture-book debut, David Petersen, the Eisner Award–winning creator of Mouse Guard, tells a delightful tale that becomes the perfect way to say "I love you."
When Marvin shows Milton how to make valentines, they decide to make one for each person in their neighborhood.
You're loved a lot! Love is in the air-and candy kisses and glitter, too-as one youngster learns just how much she's loved in this carry-along board book about Valentine's Day!
Everyone loves a sweet bedtime story―and this one has the added bonus of teaching children a lifestyle of healthy prayer. Starting with sweet and silly text about bedtime routines―teeth brushing, story time, and one more glass of water―this delightful book will then teach children how to pray: love God, ask Him for forgiveness, thank Him for many blessings, and offer requests. Throughout the bedtime rituals, Mommy and Baby giggle as they play a game to describe how much they love each other. This unique story will make bedtime prayers a real learning and bonding experience for parents and children.
Prince Chirpio likes growing up as royalty, but his selfishness and thirst for adventure prompts him to leave the kingdom and fly off to where he can make his own rules. He soon discovers that adventures can be lonely, and he misses the love and protection of his father. Can he go back home? Will his father still love him? Luckily, his father the king is eager to welcome Chirpio back and to convince his young prince that he will always love him―no matter what.
As Little Cub and Grampa Bear's fishing adventure is interrupted by mischievous otters, the young polar bear begins to question why we must love others… even the seemingly unlovable. In answering her questions, Grampa Bear gives tender explanations that teach Little Cub about the different kinds of love that is shared between families, friends, and mamas and papas. Grampa explains that all these kinds of love come from God and that it is important to love others because… "Any time we show love, Little Cub, we're sharing a bit of his love." This sweet tale will warm the hearts of young children as they learn about all the different sorts of love, while the gentle explanations of each provide a valuable opportunity to encourage children to share with others a "God-sized love."
What books about Valentine's Day will you read with your kids?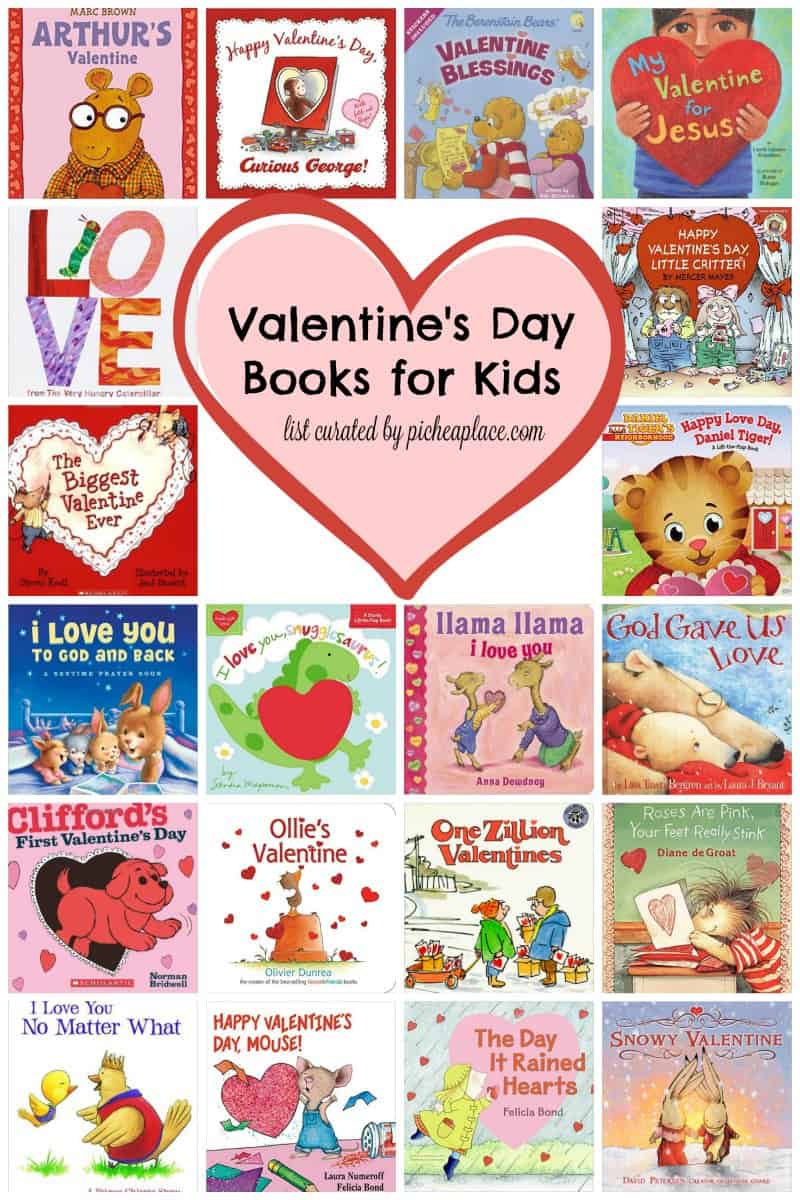 Book descriptions found on Amazon.com.