The snow has arrived in Michigan, and my kids are itching to do crafts and activities with a winter theme. We've made a list of snowy books for kids, and today we're creating our own Perler Beads patterns. But before we got started, we searched Pinterest for some inspiration.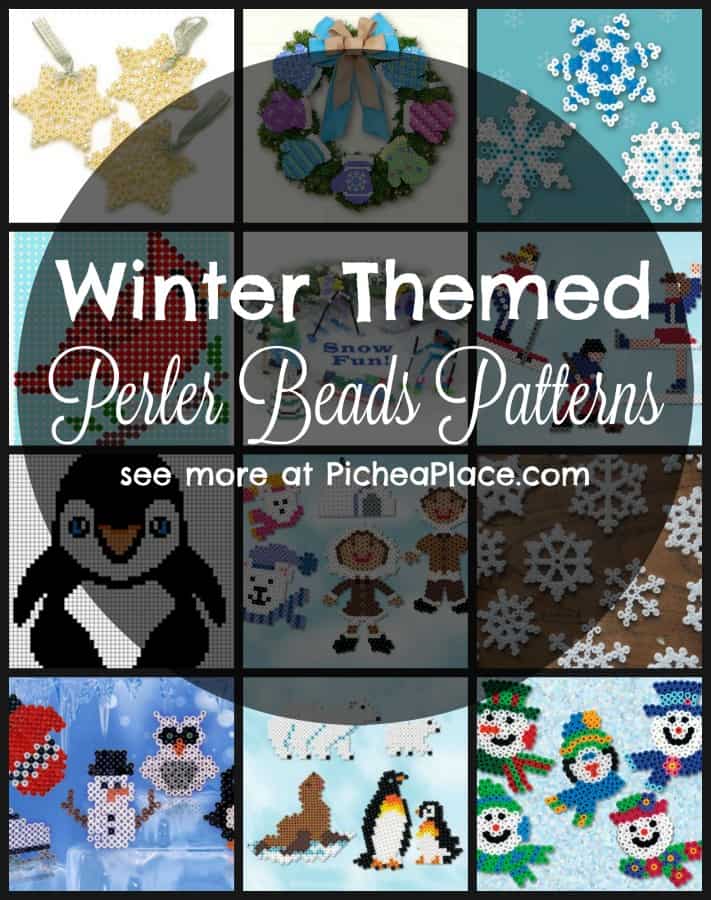 Here are a few of our favorite winter themed Perler Beads patterns that we found on Pinterest…

1. These fused bead snowflakes are so pretty, and they'd be fun to hang in a garland or on the window!
2. If you have your Christmas tree up still (or are looking to start making gifts for next year), these snowflake ornaments made with Perler Beads are beautiful!
3. Want to add some color to your snowflakes? These blue and white snowflakes would make fun coasters for a hot mug of cocoa!
4. Personally, I think these Perler Beads mittens are adorable, and they'd be fun to customize with your own design!

5. Raising Lifelong Learners recently shared a post on Arctic Tundra Animal Adaptations that would be fun to pair with these Arctic Animals made with Perler Beads.
6. I love seeing red cardinals in the snow – their feathers create such a beautiful contrast against the white snow!
7. Penguins are a favorite winter animal at our house, and my kids would love creating this favorite friend with Perler Beads.
8. Creating an Eskimo village, complete with people and polar bears, would provide hours of imaginative fun for any kids. Pair it with a book about Eskimos, and you've got a great learning opportunity!

9. Are your kids into winter sports? Create these fun Perler Beads winter athletes together!
10. Catch the fever of winter sports when you create this fun collection of winter designs including skiers, a sledder, and a hockey player. Four unique snowflakes and a coffee cup complete the group – fun for the whole family!
11. A true Michigan winter isn't complete until you've built a snowman or two, and these Perler Beads snowmen are perfect for building when it's too cold to build one outside.
12. Here are some patterns to make an ice skate, mitten, snowman, owl, and penguin out of Perler Beads.
Which winter themed Perler Beads pattern do you like the best?
Will you be trying any of them out with your kids this winter?