We have a special collection of books that only come out during the Christmas season – books that my kids look forward to reading together as a family each December – and one of my favorite things is adding to our collection each year. If you're looking for some great Christmas books for kids to share with your family, here are few to get you started…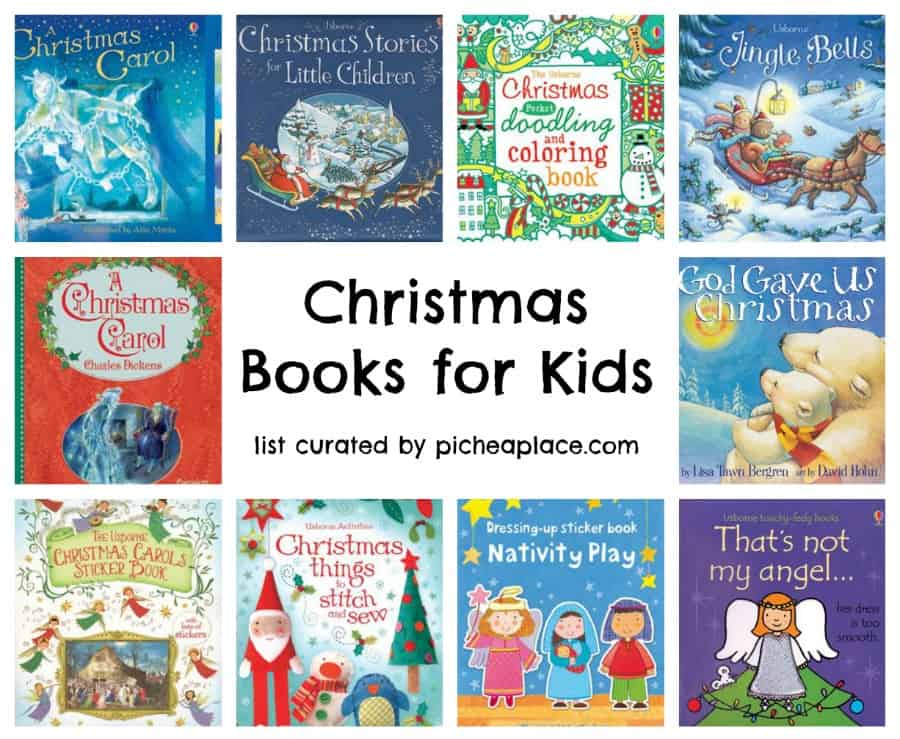 Related: Best Books for Kids
Christmas Books to Read Together
The Pine Tree Parable tells the heartwarming tale of a farmer and his family who nurture tiny seedlings into fragrant Christmas trees.
When the trees are tall enough to offer to their neighbors, the farmer's wife plans to keep the most beautiful pine tree for her family, until one snowy December night when a child teaches her the true meaning of Christmas.
A snowy night, a warm cabin, and a boy who hears the Christmas story told for the first time―beginning with Creation and ending with the Resurrection.
A classic Christmas picture book, One Wintry Night tells the story of a mountain boy who is injured in a snowstorm and seeks refuge in a cabin. While he waits out the storm, the woman who lives there tells him the Christmas story. In a magnificent blend of a contemporary setting with the history of God's redeeming love, Ruth Graham created a wonderful and unique version of the Christmas story. Breathtakingly illustrated by renowned artist Richard Jesse Watson, One Wintry Night is the perfect gift for the young and the young-at-heart that will fascinate both those who have heard the Bible story many times and those who know only a few details.
As Little Cub and her family prepare to celebrate the most special day of the year, the curious young polar bear begins to wonder… "Who invented Christmas?"
Mama's answer only leads to more questions like "Is God more important than Santa?" So she and Little Cub head off on a polar expedition to find God and to see how he gave them Christmas. Along the way, they find signs that God is at work all around them. Through Mama's gentle guidance, Little Cub learns about the very first Christmas and discovers that… Jesus is the best present of all.
This enchanting tale provides the perfect opportunity to help young children celebrate the true meaning of Christmas and to discover how very much God loves them.
Sam goes all by himself to deliver treats to his friends in an endearing new tale from the creators of the NEW YORK TIMES bestseller KISS GOOD NIGHT and DON'T YOU FEEL WELL, SAM?
Emma and her little dog Shu-Shu were thrilled to be invited to the King's birthday party. But what do you get a King for his birthday? Emma and Shu-Shu have no gift, but they bring the Christmas cake they made with Mom and put on their Sunday best as they dash to the King's carriage.  And of course, Emma couldn't go anywhere without her beloved Cherry-Bear.  On the way, they have encounters that lead them to bestow their cake, winter-cape, and even Cherry-Bear, on others. Now they're chilly, rumpled, and empty-handed—what will the King think? Emma frets, but when they finally meet the King at his palace, they discover they gave the King exactly what he wanted.
Children and parents will be reminded of the true meaning of Christmas, and that the greatest gifts we can offer to the Savior are gifts to the least of his brothers and sisters (based on Matthew 25:40). Families will be able to go online and be directed to notable charities to give their own gift to the King.
In the tradition of A Night Night Prayer, this precious little child wanders through the house on a snowy Christmas night offering a prayer of thanks and blessing. The child finishes with thanks to God for the greatest Gift of all.
Noting all the characters in the Nativity, this lovable little nighttime prayer book has interactive dialogue and soothing rhyme for a child to repeat as they look around their world at Christmastime.
Between the soft Christmas glow of the illustrations and the smooth rhythm of the child's prayer, A Christmas Prayer will make every parent and child want to snuggle up by the tree and offer a prayer of thanks to God for His many Christmas blessings.
My Christmas Collection
In Santa, Are You For Real? by Harold Myra, children will discover that there really was a Saint Nicholas. Through colorful illustrations and a heartwarming story, children—and parents—will learn how the original Saint Nick set an example for us today by keeping Christ at the heart of Christmas.
In The Legend of the Three Trees, vivid visual imagery brings this classic legend to life. The story begins with three young trees who dream—as children do—of doing big deeds. When the woodcutters come, the trees each find that the reality of their existence doesn't match their dreams… and yet… this touching story contains a simple lesson about God's plan for every life.
In The Tiny Star by Art Ginolfi, a tiny star who feels insignificant is chosen by God for a special job. The story teaches children that they are special, that God can and will use them, and that even the smallest are important to God.
This beautiful Christmas picture book is part of the Read and Share™ brand. It has a delightful center-spread pop-up of the nativity manger scene. Art is by Steve Smallman, who illustrated the Read and Share™ Bible. One of the unique features of this book-a very new slant on a very old story-is that it shows the coming and going of angels connected with the birth of Christ. Readers will see that angels brought a new message for ordinary people caught up in this wonderful drama of the birth of God's Son.
Charles Dickens' classic Christmas story, unabridged and fully illustrated. Ebenezer Scrooge is a mean-spirited old man who hates everything – even Christmas! But when three spirits visit him one Christmas Eve, Scrooge is taken on a journey into the past, present and future that will change him forever.
The classic Christmas tale by Charles Dickens retold for younger children and brought to life with beautiful illustrations and a sound panel. Ebenezer Scrooge is a mean-spirited old man who hates everything – even Christmas! But when three spirits visit him one Christmas Eve, Scrooge is taken on a journey into the past, present and future that will change him forever. Little children will love pressing the sound panel buttons and listening to the tinkling bells, ghostly groans and other sound effects.
The perfect introduction to different musical sounds, this sound-chip storybook follows Mole, Badger, and all their friends as they practice for a Christmas concert. Beautiful illustrations complete the package, bringing the magic and sparkle of Christmas to life.
A wonderful board book with delightful illustrations and buttons to play classic Christmas tunes. With simple text telling a festive Christmas story. Tunes include Deck the Halls, We Wish You a Merry Christmas and Silent Night. Picture tabs across the top enable young children to find their favorite scenes. Music arranged and produced by Anthony Marks.
A collection of six stories taken from Young Reading Series One titles "Stories of Snowmen" and "Stories of Santa." Featuring stories of fake Santas, stolen diamonds and a best-dressed Snowman competition. Perfect for cozying up with and reading aloud on cold winter nights, or for beginner readers to tackle alone. With jolly illustrations by Philip Webb.
A picture book version of the well-known Christmas song, with sound buttons to press to hear the melody. Featuring warm, charming illustrations by Elisa Squillace and music specially arranged by composer Anthony Marks.
The beauty and majesty of the Christmas Story is perfectly captured in this richly illustrated retelling, accompanied by the music for five well-loved Christmas carols.
What are some of YOUR family's favorite Christmas books to read together?