Do you read with your kids? One of my favorite things to do each holiday season is to visit the local library and stock up on great holiday-themed books to read together with my kids. Here's a great list of books about Thanksgiving to read with your kids.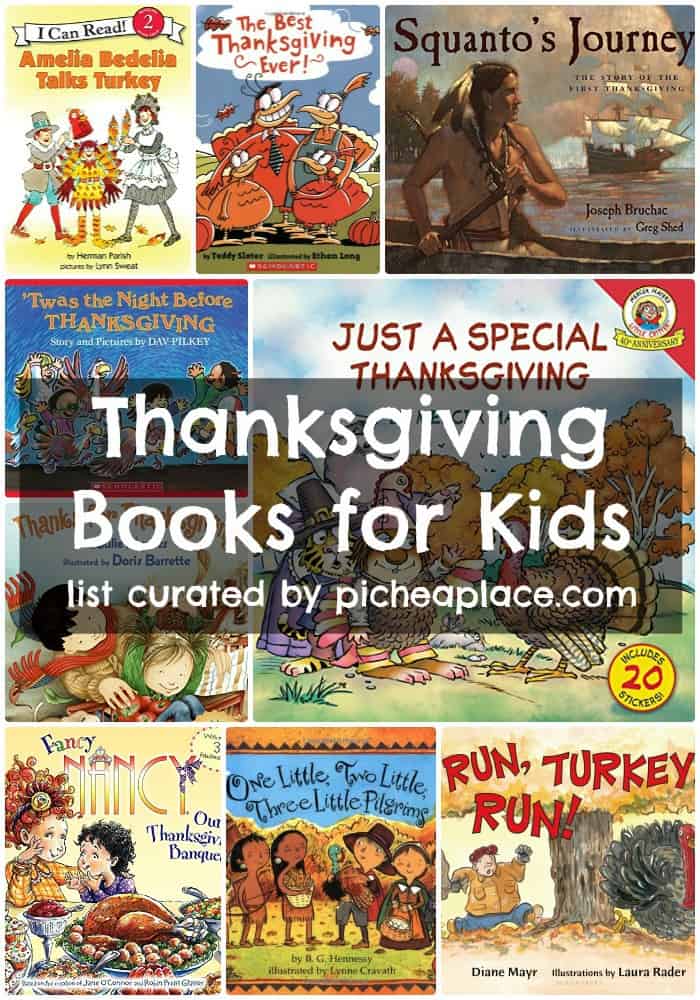 Related: Best Books for Kids
Thanksgiving Books for Kids
Little Critter: Just a Special Thanksgiving
Who doesn't love a Little Critter book?!?
Pete the Cat: The First Thanksgiving
The Berenstain Bears Give Thanks
The Berenstain Bears Thanksgiving Blessings
I grew up on the Berenstain Bears, and I love the opportunity to share these books with my kids!
Thanksgiving Is for Giving Thanks
Jenny had to read this book for school last year, and we all enjoyed learning more about the first settlers of America.
Pinkalicious: Thanksgiving Helper
The Pilgrims' First Thanksgiving
Squanto's Journey: The Story of the First Thanksgiving
Another great Thanksgiving read – it's a repeat on our list each year!
'Twas the Night Before Thanksgiving
One Little, Two Little, Three Little Pilgrims
Amelia Bedelia is so funny – we absolutely love her!
Fancy Nancy: Our Thanksgiving Banquet
The Berenstain Bears: Thanksgiving All Around
Even my 2yo loves to search for the "I Spy" objects on each festive page!
Scooby-Doo and the Thanksgiving Terror
Katie Saves Thanksgiving (Katie Woo)
What are your kids' favorite Thanksgiving books?