Getting away from the every day routine is important for busy families wanting to connect. We recently enjoyed a "last minute" family fun weekend in Northern Michigan, skiing and playing in the snow. It was a perfect mini family vacation that allowed us to disconnect from the world and connect as a family.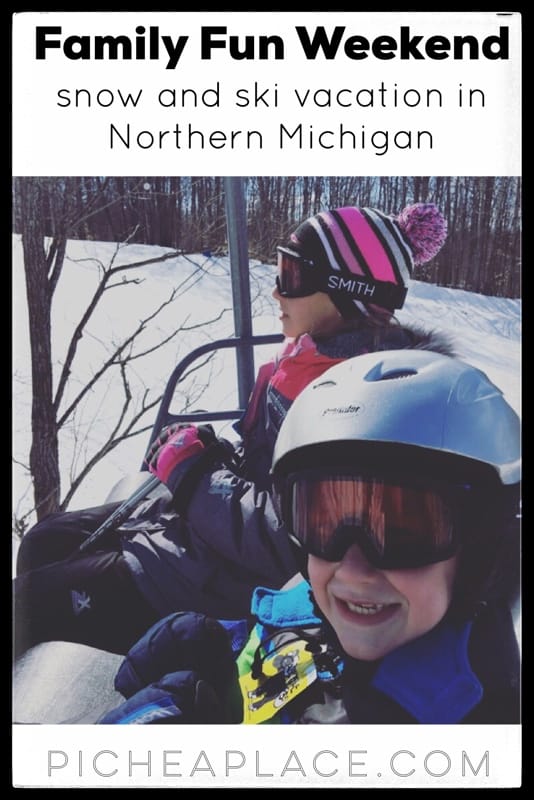 We had a family ski vacation penciled-in for President's Day weekend since early December, but because the winter weather in Michigan is unpredictable, that was as far as we'd gotten on making plans. When the weekend "snuck up" on us, we found ourselves needing to finalize plans in a hurry. And we managed to "throw together" a family fun weekend in the snow on a ski vacation in Northern Michigan.
Family Fun Weekend: Last Minute Lodging for a Family of Six in Northern Michigan
Originally, we'd considered a trip to Cannonsburg in Grand Rapids (about two hours away from where we live) to take advantage of their $25 lift and rental option on Sunday nights. Since we knew finding a last-minute hotel room in Grand Rapids wouldn't be too challenging, we kept putting it off.
As the weekend grew closer (read: it was Wednesday night, and we planned to ski on Sunday), we still hadn't made any definite plans. My husband had been looking at other skiing options in online and sent me some information about Crystal Mountain near Traverse City (three and a half hours away). I'd grown up skiing at Crystal Mountain, but he'd never skied there.
Finding Lodging: Swagbucks and Expedia
Thursday morning I began to pull together the details for a Crystal Mountain ski weekend. After running some numbers based on what I could find online, I called the resort to see what they would be able to do in terms of a stay-and-ski bundle. We discovered that staying on-site at the resort was probably not going to work with our family vacation budget, so I jumped on Expedia's website to find other local lodging.
Tip: I always start searching for hotels on Expedia through Swagbucks as I can earn up to 10 Swagbucks for every dollar I spend. This particular trip earned me 1800 SBs, which translates to approximately $18 in Amazon gift cards (or other awesome swag and gift card options).
Finding Family-Sized Lodging: Cabin vs Hotel
It wasn't long before I discovered that trying to book a hotel room for six people two days before you want to take a trip in a popular Northern Michigan winter playground with limited hotel options wasn't going to be easy or cheap. We ended up finding a cabin about an hour away from the ski resort that would fit our family of six and was in our price range – two nights for around $250. Plus, with the cabin, we had access to a fully stocked kitchen, so we were able to make and eat as many of our own meals "at home" as we wanted, saving us additional money.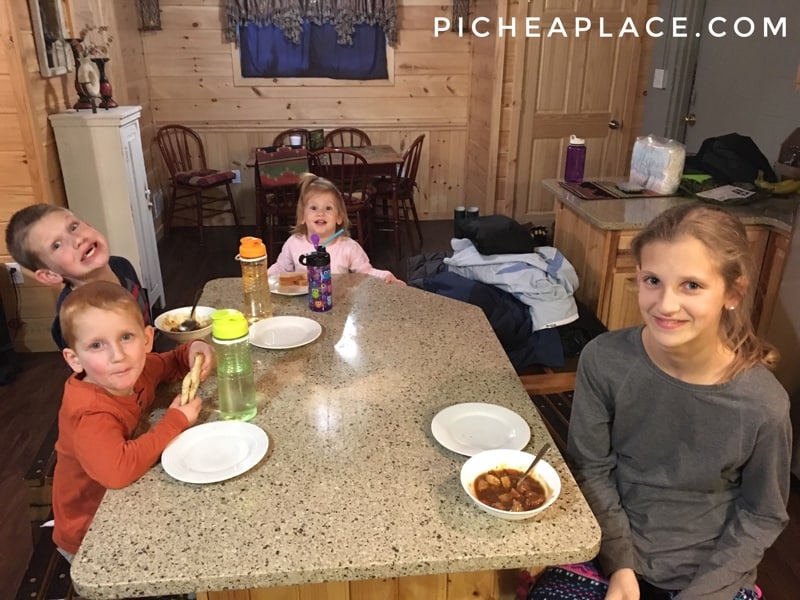 Family Fun Weekend: Family-Friendly and Budget-Friendly Ski Resort Options in Northern Michigan
Once our lodging reservation had been made, it was time to figure out the logistics for skiing. While my husband and I are competent skiers, none of the kids had ever skied before. Add to the mix an almost-two-year-old who wasn't skiing, and we definitely were going to have some kid-juggling to do.
Skiing in Northern Michigan: Crystal Mountain
As I priced the lift tickets, rentals, and daycare fees, I discovered that the Sunday special rates I thought we were going to be able to take advantage of at Crystal Mountain weren't in effect due to the holiday weekend. That left us searching for other skiing options, as it was going to be almost $500 for five of us to ski – definitely not in our family vacation budget for a three-day weekend.
Skiing in Northern Michigan: Caberfae Peaks
We discovered there is another ski resort that was actually closer to the cabin we'd reserved (with a non-refundable reservation) – Caberfae Peaks near Cadillac, MI. Not only was it considerably closer (both to the cabin AND to our home), but the lift and rental rates were much more affordable. The only difference was they don't have on-site childcare available. I decided I wasn't going to ski (to save money and make the kid-juggling more manageable), and we managed to get lift tickets and rental equipment for the other four for under $200 for the day.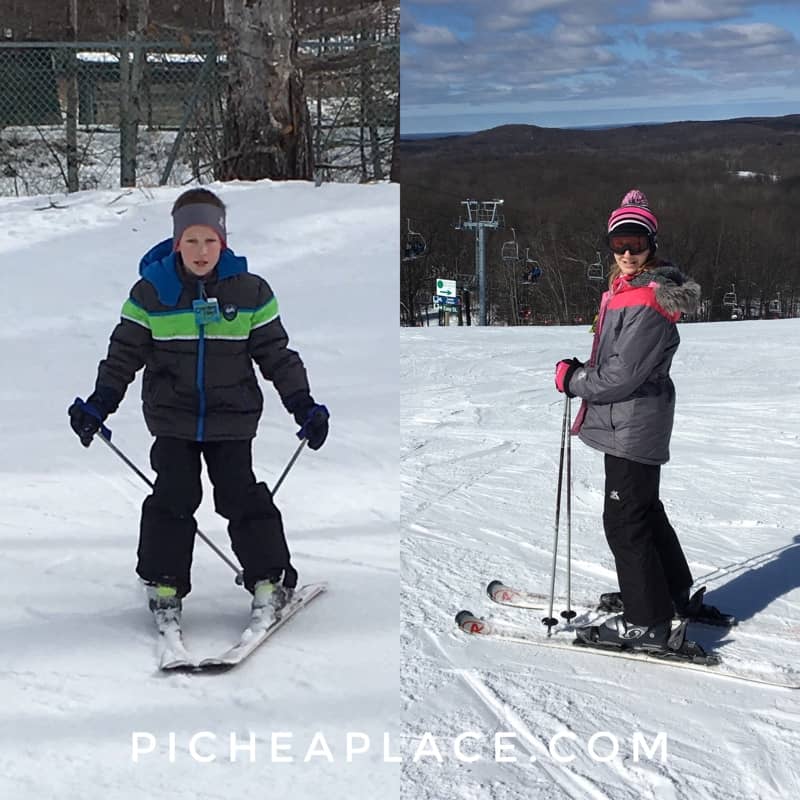 Family Fun Weekend: Unplugged and Surviving It
Saturday morning, we packed our bags (including food for four meals plus snacks – we figured we'd grab fast food for lunches since we weren't going to be at the cabin during those periods) and loaded up the vehicle. An easy drive up US-127 and a jog west toward Lake Michigan once we got north of Clare, and we arrived at the cabin we had rented mid-afternoon. After getting a lay of the land, we unloaded the vehicle, unpacked our bags, and got dinner started in the slow cooker.
Tech-Free Family Fun Weekend
We'd decided to make the trip a "technology free" vacation since our cell/internet service was going to be spotty at best when we were at the cabin. The kids weren't super excited about leaving their Kindle Fires behind, but they ended up having a great time without TV, DVDs, or tablets.
We played card games, put together puzzles, and just enjoyed being together as a family without the distractions that technology can often bring. The oldest two even learned how to play Euchre – a popular card game in the Midwest that actually played a big role in my husband and I becoming friends.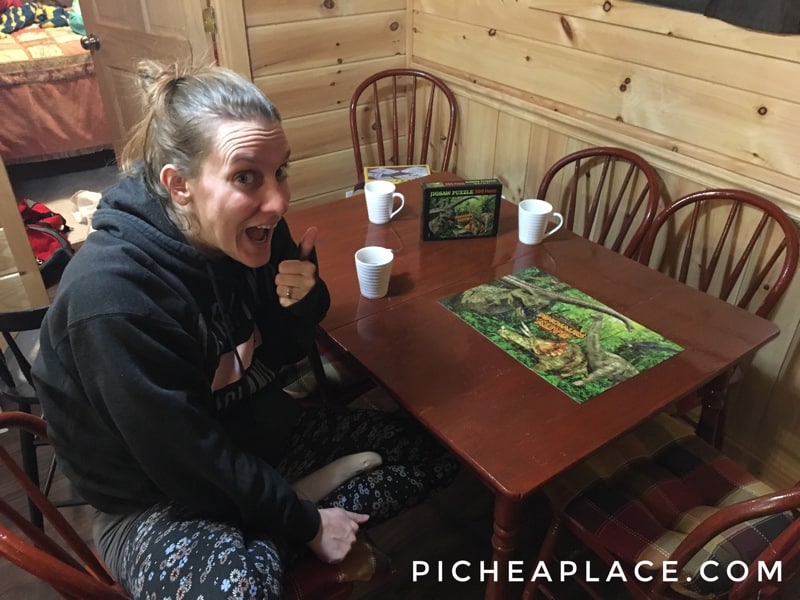 Getting "Lost" without Technology
After breakfast Sunday morning, we gathered our ski gear and loaded up to head to Caberfae Peaks. Unfortunately, since we didn't have cell service at the cabin, we couldn't pull up the directions on our phones. We decided our best course of action was to backtrack and head out of town the way we'd come in the day before, knowing that US-131 wasn't too far away.
When we were finally able to pull up the map on our phones, we realized we'd gone the "long" way, but we weren't too far off course. In the end, it turned out to be a blessing to have arrived at the ski resort slightly later than we'd hoped as we were able to avoid any lines at the ticket window and rental counter.
Family Fun Weekend: Skiing with Kids in Northern Michigan
Since none of the kids had ever skied before, I made plans for the toddler (almost 2yo) and I to hang out at the bottom of the bunny hill for most of the day. I brought an umbrella stroller and backpack carrier with me, giving me a couple different options for keeping her contained and safe from the ski traffic. After trying the stroller for a bit (it didn't push well in the snow and she wasn't loving it), we opted for the backpack carrier the rest of the day.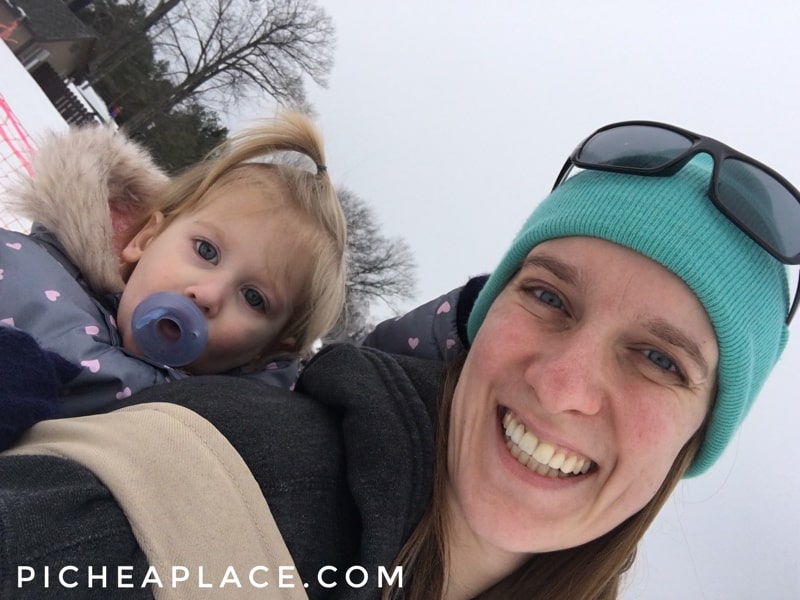 Family Fun in the Snow
Daddy and the bigger kids had a blast skiing all day. The boys (4.5yo and 9.5yo) never left the bunny hill, but Jennie (11yo) was ready to try the chairlift and bigger hills with Daddy by mid-morning, so they took off while I watched the boys ski. We took a break for lunch and enjoyed some snacks in the ski lodge. (Next time we'll know that it's OK to bring a slow cooker of chili and/or cooler – that's what the majority of families had done.) Then they all headed back out for a few more hours of fun in the snow.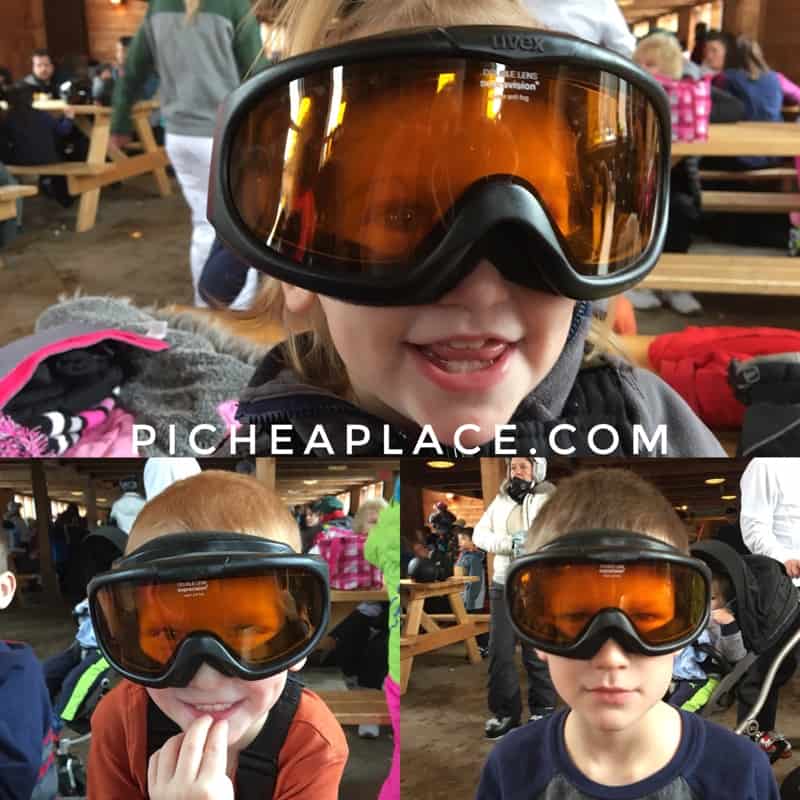 Knowing When to Quit
By late afternoon, I was exhausted (hello, extra 25 pounds on my back) and could tell the 4yo was fading quickly. I texted my husband (we actually had decent cell service at the ski resort) and let him know I was going to be getting the boys ready to head back to the cabin. By the time I had the three youngest loaded in the vehicle, my husband and oldest were ready to turn in their equipment and head back to the cabin with us.
My husband and big kids enjoyed skiing at Caberfae Peaks so much that they've made a second a trip up there this winter, and they're already planning to make several trips next winter. It was a family-friendly atmosphere with plenty of skiing options for all levels of ability, and the price was very reasonable.
Family Fun Weekend: Snow & Ski Weekend in Northern Michigan
For a "last minute" trip, our family fun weekend in Northern Michigan was a great success. We bonded as a family, got to share some new experiences with our kids, and made some memories that will last a lifetime!