Driving back and forth between Michigan and Indiana almost every weekend since September, we've been spending a LOT of time in our van. A few weeks ago, it occurred to me that I could be "redeeming" the time that we've been spending in the van by utilizing my kids' love of music to help them (and me) memorize Scripture.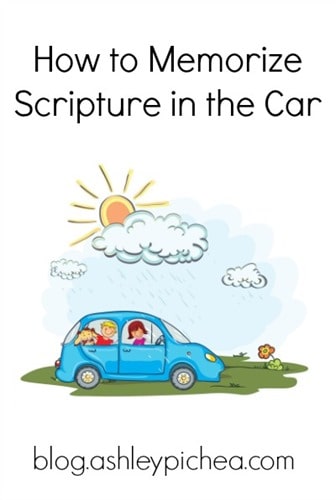 How to Memorize Scripture in the Car
After several hours of listening to VeggieTales' Hosanna CD, my kids have pretty much memorized the entire set of worship songs and have been singing them 24/7.
When I began to consider the fact that if they're memorizing songs so easily, I remembered that I have several Seeds Family Worship CDs. I realized that I could easily switch their VeggieTales CD out for Seeds CDs and we could spend our weekly trips memorizing Scripture with the help of music!
So starting this weekend, we'll be listening to Seeds Family Worship CDs in the car, working on memorizing Scripture together, hiding God's Word in our hearts!
Are you intentional about Scripture memory?
How do you help your kids memorize Scripture? Do you have a plan for memorizing Scripture? Could ordering a CD from Seeds Family Worship help you hide God's Word in your heart?