Praying God's Word for your marriage is one of the most powerful ways to watch God at work in your husband/wife's life. When you pray the Scriptures for your spouse, you know that you are praying the will of God for his/her life, and you can have confidence that God wants the same for him/her as you do. If your spouse is struggling with a lack of joy, pray these Scriptures for him/her, knowing that God wants to bless him/her with unspeakable joy…
Bible Verses about Joy
Psalm 5:11-12 But let all who take refuge in you rejoice; let them ever sing for joy, and spread your protection over them, that those who love your name may exult in you. For you bless the righteous, O Lord; you cover him with favor as with a shield.
Psalm 63:5-7 My soul will be satisfied as with fat and rich food, and my mouth will praise you with joyful lips, when I remember you upon my bed,
and meditate on you in the watches of the night; for you have been my help, and in the shadow of your wings I will sing for joy.
Proverbs 10:28 The hope of the righteous brings joy, but the expectation of the wicked will perish.
Romans 15:13 May the God of hope fill you with all joy and peace in believing, so that by the power of the Holy Spirit you may abound in hope.
1 Peter 1:8-9 Though you have not seen him, you love him. Though you do not now see him, you believe in him and rejoice with joy that is inexpressible and filled with glory, obtaining the outcome of your faith, the salvation of your souls.
Psalm 118:24 This is the day that the Lord has made; let us rejoice and be glad in it.
Proverbs 15:23 To make an apt answer is a joy to a man, and a word in season, how good it is!
Nehemiah 8:10 Then he said to them, "Go your way. Eat the fat and drink sweet wine and send portions to anyone who has nothing ready, for this day is holy to our Lord. And do not be grieved, for the joy of the Lord is your strength."
James 1:2-3 Count it all joy, my brothers, when you meet trials of various kinds,3 for you know that the testing of your faith produces steadfastness.
Proverbs 10:28 The hope of the righteous brings joy, but the expectation of the wicked will perish.
Philemon 1:7 For I have derived much joy and comfort from your love, my brother, because the hearts of the saints have been refreshed through you.
Psalm 30:5 For his anger is but for a moment, and his favor is for a lifetime. Weeping may tarry for the night, but joy comes with the morning.
John 15:11 These things I have spoken to you, that my joy may be in you, and that your joy may be full.
3 John 4 I have no greater joy than to hear that my children are walking in the truth.
Psalm 33:21 For our heart is glad in him, because we trust in his holy name.
John 16:24 Until now you have asked nothing in my name. Ask, and you will receive, that your joy may be full.
Galatians 5:22-23 But the fruit of the Spirit is love, joy, peace, patience, kindness, goodness, faithfulness, gentleness, self-control; against such things there is no law.
Philippians 4:4-7 Rejoice in the Lord always; again I will say, rejoice. Let your reasonableness be known to everyone. The Lord is at hand; do not be anxious about anything, but in everything by prayer and supplication with thanksgiving let your requests be made known to God. And the peace of God, which surpasses all understanding, will guard your hearts and your minds in Christ Jesus.
Additional Prayers for your Spouse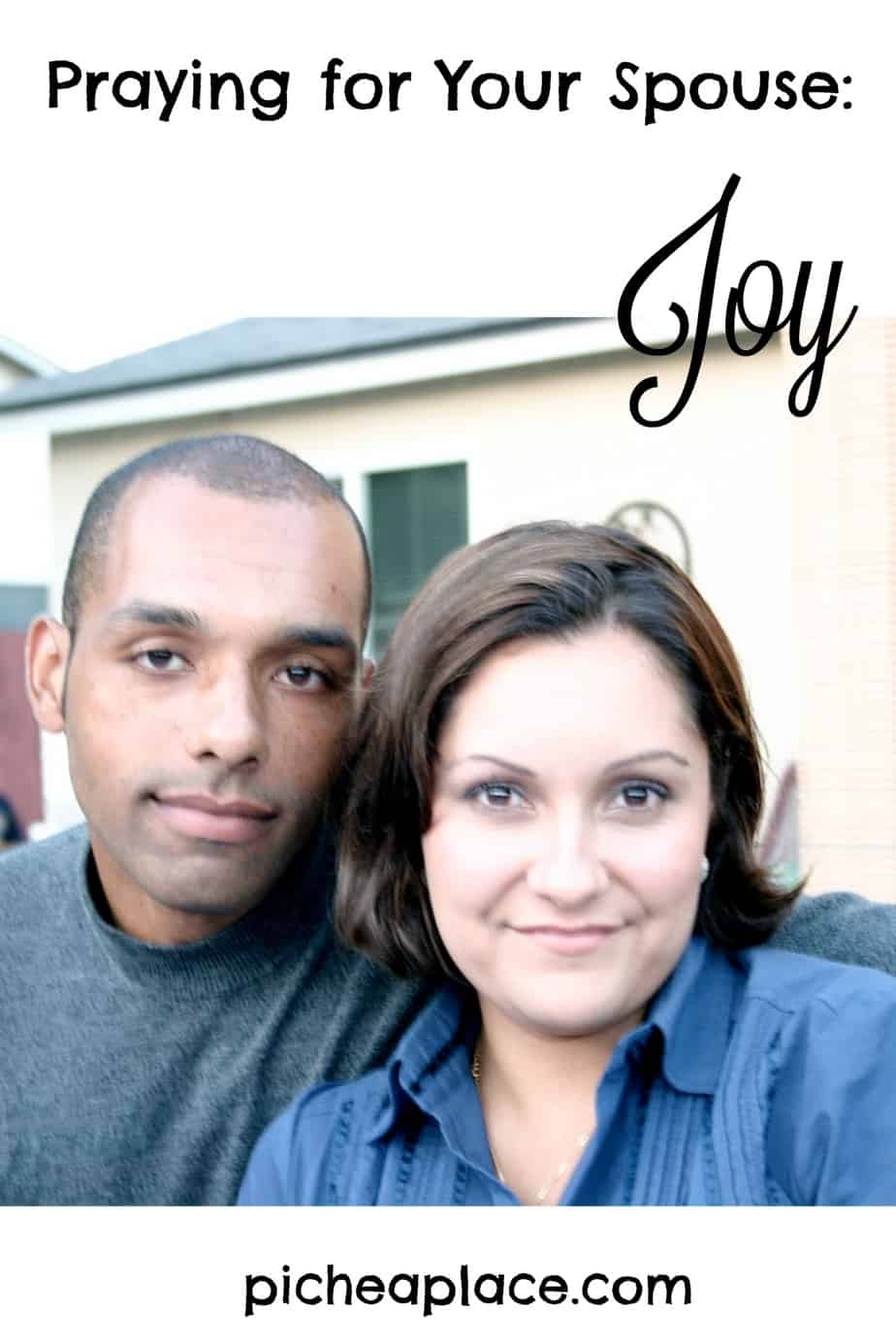 original photo credit: https://www.flickr.com/photos/ian-arlett/4860929897