I love to experiment with my slow cooker, and recently I threw a bunch of "random" ingredients in and came out with an amazing recipe for salsa chicken and rice burritos. This recipe is seriously delicious and has become one of our favorite crockpot chicken recipes.
My kids wouldn't eat it (which is strange because they like all the ingredients in their individual states), but I didn't let that stop me from making it again. I call it food crack. It's just that yummy.

Ingredients:
One of my favorite parts about this recipe? It's inexpensive and super easy, especially when I am able to buy all my ingredients at Aldi, and they're ones I almost always have on hand!
The salsa chicken and rice ingredients:
approximately 1-2 lbs of chicken (I used two frozen chicken breasts, thawed)
1 cup of salsa (we like Aldi's mild salsa)
1/2 bag of frozen corn (approximately 6-8 oz)
1/2 packet of taco seasoning (more or less depending on your spice preference)
1 cup of uncooked rice
For the burritos, we used the following ingredients:
burrito shells
shredded cheese (we used the taco blend from Aldi)
sour cream
Instructions:
1. After spraying your slow cooker with non-stick cooking spray, add the corn (frozen).
2. Add the salsa.
3. Add the chicken (if you don't thaw it, you can just double the time needed to cook).
4. Add the taco seasoning.
5. Cook on HIGH for 2-3 hours or LOW for 4-6 hours (if you're working with frozen chicken, add at least 2 hours to be sure the chicken is cooked thoroughly).
6. 30 minutes before you are ready to eat, make the rice following the instructions on the package. Pull your cooked chicken out of the slow cooker and shred it with a fork.
7. Mix the shredded chicken and cooked rice to the slow cooker and mix the ingredients together.
8. Serve on a burrito shell topped with shredded cheese and sour cream.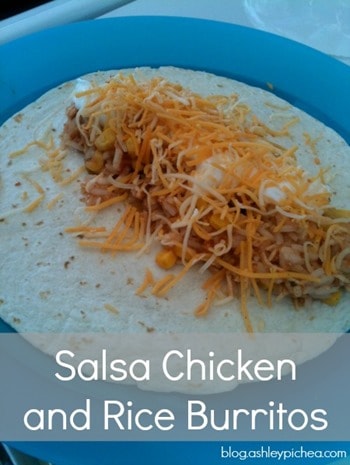 ** This also makes for GREAT leftovers – I like to top the salsa chicken and rice with shredded cheese before reheating and then adding sour cream and eating it with tortilla chips! **